Portillo's, the fast casual restaurant concept known for its menu of iconic Chicago-style favorites, opened officially in Fort Wayne on December 5, 2019.
Portillo's Fort Wayne location, which is near Glenbrook Square Mall at the intersection of West Coliseum and Speedway Drive, will be their 6th Indiana location and their 62nd opening!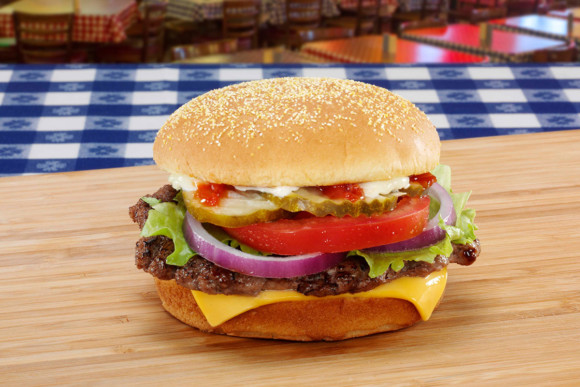 "Portillo's is excited to expand to Northeast Indiana's booming retail and economic hub," said Michael Osanloo, CEO of Portillo's. "Indiana has become a second home to our brand, and we look forward to joining the Fort Wayne community."
The 7,800 square foot Fort Wayne location includes seating for more than 190 guests, a seasonal outdoor patio with seating for 48 guests, serve draft beer, have a double drive-thru and adjacent parking lot.
If you aren't familiar with this iconic restaurant, here are a few questions that you might have:
WHAT IS PORTILLO'S FAMOUS FOR?
Portillo's is famous for the Chicago-style Hot Dog. This hot dog, is an all-beef Vienna dog topped with mustard, tomatoes, neo-green relish, white onions, a pickle spear, sport peppers, and celery salt. Their famous hot dog also has that "snap" when people refer to when eating a hot dog.
The Fort Wayne location will not offer everything that Portillo's is famous for, however, guests can expect to enjoy their famous Chicago-style Hot Dogs, Italian Beef, char-grilled burgers, fresh salads and Portillo's Famous Chocolate Cake.
DOES PORTILLO'S SERVE BREAKFAST?
At this time it does not.
HOW IS THE PORTILLO'S FORT WAYNE LOCATION DECORATED?
The Fort Wayne Portillo's will pay homage to a part of Fort Wayne's history by having a mural featuring the Fort Wayne Daisies and additional key pieces that will be representative of the area.
Here are a few cool facts about Portillo's:
They sold 2.3 million slices of this delicious dessert in 2018
In 2018, they sold 16 million hot dogs. To put that into perspective, if you stack all of those hot dogs end to end, they would stretch from Villa Park, IL to Brandon, Fl.
They produce 200,000 pounds of Italian Beef each week
Their starting wage for their Fort Wayne location will be $10 - $14 depending on experience
Portillo's offers nationwide delivery
They have a food truck! Make sure to follow @thebeefbus on Instagram!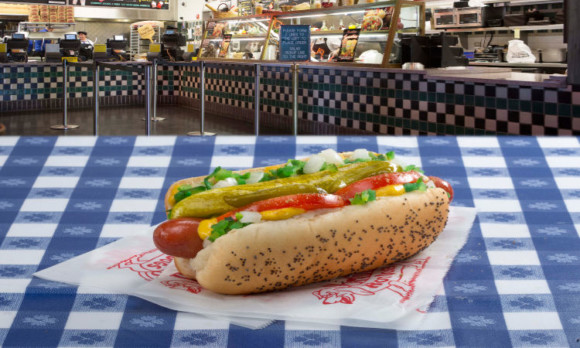 If you think you've got what it takes to work at Portillo's, they are definitely want to talk to you! The Portillo's Hiring Center is located at the Ramada Plaza at 305 E. Washington Center Road in Fort Wayne and will be open from Monday - Friday 9 am - 7 pm. To apply online, head over to portillos.com/careers or text "PORTILLOS" to 25000.
Make sure to follow their social pages on Facebook, Twitter and Instagram.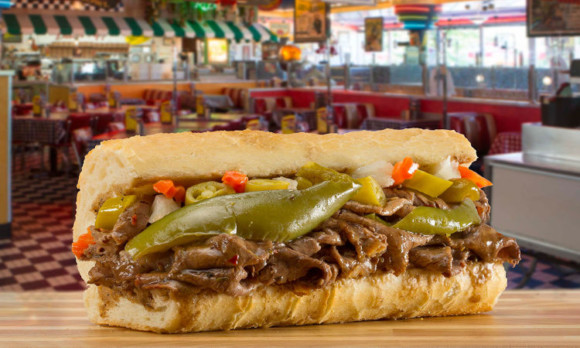 MORE ABOUT PORTILLO'S
In 1963, Dick Portillo invested $1,100 into a small trailer to open the first Portillo's hot dog stand in Villa Park, IL, which he called "The Dog House." Years later, Portillo's has grown to
include restaurants in more than 50 locations across several states. Portillo's is best known for its Chicago-style hot dogs, Italian beef sandwiches, char -grilled burgers, fresh salads and
famous chocolate cake. The Portillo's brand also includes Barnelli's restaurants that serve award-winning ribs, pastas with homemade sauces, and fresh sandwiches, soups, and salads.
Portillo's ships food to all 50 states via Portillos.com. Portillo's Home Kitchen is the company's fast-growing catering business.
Photos courtesy of Portillo's