Post contains affiliate links. Purchases made through links provide us with a small commission. As an Amazon Associate I earn from qualifying purchases. Please refer to our disclosure policy for more information.
The Inn at Christmas Place is the perfect way to keep that Christmas feeling all year long. As soon as you pull up to the Inn, it will feel like Christmas.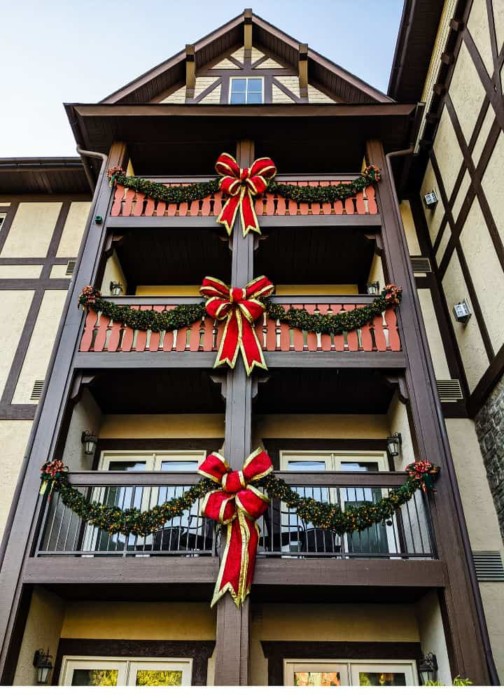 Christmas time in the Smokies. There is nothing like it at all! The snow-covered mountains, the smell of clean country air, the yummy comfort food and greetings by some of the nicest people in the US!
If you are wanting to get into the Christmas spirit, regardless of the time of year, then you must plan a trip down to the Great Smoky Mountains and stay at The Inn at Christmas Place!
THE INN AT CHRISTMAS PLACE
WHAT POPULAR ATTRACTIONS ARE CLOSE TO THE INN AT CHRISTMAS PLACE?
Dollywood is only about 5 minutes away. Also nearby is the Hollywood Wax Museum, the Titanic Museum, Tanger Outlet Mall, MagiQuest, Brian Hoffman's Remembering Red - A Tribute to Red Skelton, Paula Deen's Lumberjack Feud, The Island,
Alcatraz East Crime Museum
and The Comedy Barn. and The Old Mill. These are just a few of the attractions near the hotel. There are so many things to do about the Smokies that one can not simply list them all.
You can leave your car at the Inn and walk to many of the attractions and restaurants. If you've never been to the Smokies before, imagine a long strip with all kinds of stores,
restaurants
, and businesses. That's how the Parkway is. There are also trolleys available for you to use if you don't want to drive your vehicle.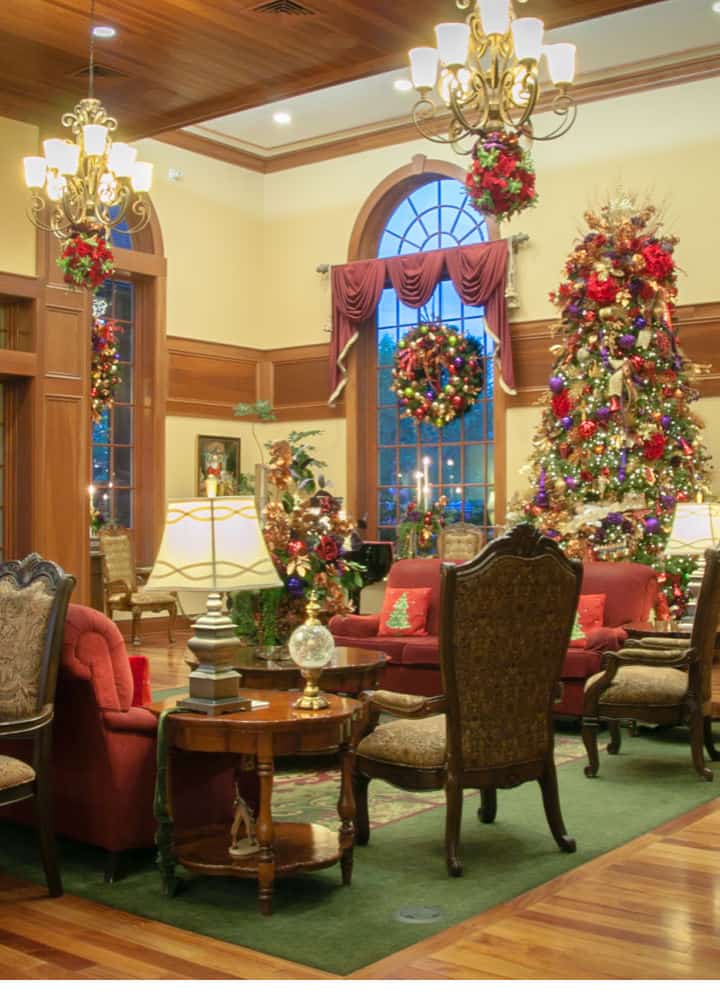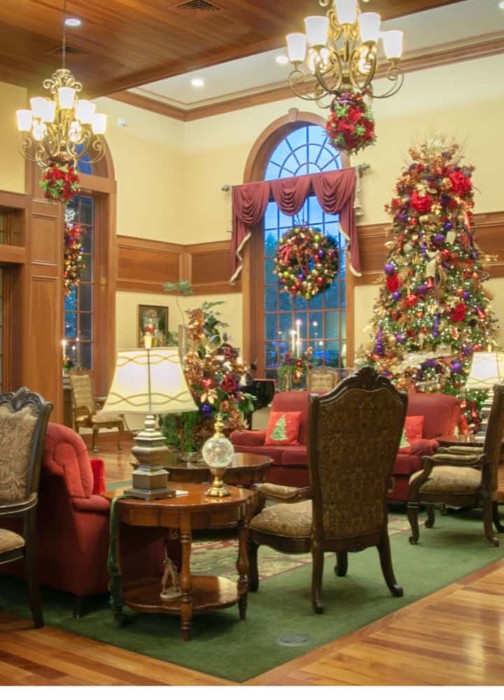 WHAT ARE SOME OF THE PROPERTY AMENITIES AT THE INN AT CHRISTMAS PLACE
They have both an indoor/outdoor pool, Free WIFI, Free breakfast, spacious rooms, surprise character visits and so much more! Head over to The Inn to learn more!
IS BREAKFAST INCLUDED IN YOUR ROOM?
Yes, a full breakfast is included! You will find fresh made-to-order omelets, scrambled eggs, Belgian waffles, tasty breakfast meats, biscuits and gravy, hash browns, and grits. Plus bagels, toast, pastries, doughnuts, and fresh fruit. Also, you will find hot and cold cereals, yogurt, juices, and coffee!
WHICH ROOM AMENITIES ARE AVAILABLE AT THE INN AT CHRISTMAS PLACE?
A flat-screen TV, a refrigerator, DVD player, coffee maker, and refrigerator.
WHAT FOOD AND DRINK OPTIONS ARE AVAILABLE AT THE INN AT CHRISTMAS PLACE?
You will find complimentary tea and coffee in the lobby each day. A free breakfast is also included in your stay.
WHAT ARE SOME OF THE RESTAURANTS CLOSE TO THE INN AT CHRISTMAS PLACE?
Starbucks Coffee is literally right across the street. Restaurants nearby are The Mellow Mushroom (you gotta try their pizza), Pigeon Forge Deli, Bullfish Grill, Blue Moose Burgers and Wings, Marble Slab Creamery, and Johnny Carino's just to name a few.
OUR THOUGHTS ON OUR STAY HERE
This is our post about our trip in 2012. This was originally posted on Mommy's Gone Shopping Again on October 13, 2014. This was NOT a sponsored post. We are using the updated pictures from The Inn at Christmas Place due to our photos being out of date.
2012
Earlier this year, we were able to take a vacation as a family of four instead of as a family of three and decided to go to the Great Smoky Mountains.
We have been to the Smokies several times and we try to go down at least once a year. We normally stay at different hotels each time we visit, however, after our last stay, I definitely want to stay at our last hotel, The Inn at Christmas Place, again!
On this trip, since our youngest wasn't with us on this past Christmas, we decided to have a belated Christmas with her while we were there. So finding this hotel was absolutely perfect!
First, let me say that The Inn at Christmas Place is absolutely breathtaking! When you pull in, you are greeted by the bell boys. Check-in went smoothly as the staff was wonderful and friendly.
The hotel was immaculate! One would think with all of the decorations there would dust all over them and that is totally not the case! They had staff each day dusting all of the decorations!
Each floor had a different themed scene at the elevators.
Our room was very spacious! We had a mini-fridge, lots of cabinet space, a coffee maker, and a huge vanity in the bathroom. We had a balcony room and we faced the parkway and the courtyard. The only time we heard traffic noise was when there was an occasional siren or we had the patio door open. The doors shut very quietly and we had wonderful quiet sleep each night.
We also had a special Christmas tree in our room as we had told the staff we were having a belated Christmas with our youngest! We were able to bring some groceries from our home as well as beverages for our children and everything, including extra paper plates and napkins I brought fit inside the cabinets!!
Allen, one of the Concierge staff, helped us obtain the show tickets we wanted, told us about must-see places, and even told us he was the one who put the Christmas tree in our room and wanted to make sure that it was ok.
The breakfast each morning was delicious. Everything was warm where it needed to be, cold where it should have been, and the breakfast rooms were very clean. We even enjoyed made to order omelets! The last day wasn't that good though as we were there at 8:30 and there were no clean glasses and there were lines for breakfast.
Our oldest loved the housekeeping staff that cleaned our room as she went over and beyond each time she cleaned our room. Each day they left Hershey kisses in our room and she even left extra Hershey kisses for our children's stuffed animals!
One of the highlights of our trip, was on our first evening, as the Singing Santa was there! There is nothing like sitting back and enjoying Christmas songs by a roaring fire and listening to a soft-spoken southern gentleman, aka Santa, singing!
Free coffee and water were available each morning at the front desk and you are RIGHT across the street from Starbucks if you need your Starbucks fix!
The cost is definitely a bit more than at other local hotels. However, the price is worth it! We will definitely stay at the hotel again!
The staff definitely goes over and beyond! No smells in the rooms! No dust in the rooms! And your room is CLEAN! I even took my shoes off and just had my socks on. Considering I never do that at a hotel, that speaks very highly of how clean it was!
There was an indoor pool as well as an outside pool.
The next time you are in the Smokies, you will need to make reservations at this amazing hotel! You won't be sorry! You can also find several reviews for them at TripAdvisor.com. They are one of the top hotels in Pigeon Forge!
My experience on a trip may vary greatly then yours due to a variety of reasons. Transplanted Buckeye Media, MomSkoop and the owners of this blog are not responsible if your trip, lodging or food experience doesn't turn out the way ours did.