Post contains Amazon affiliate links.As an Amazon Associate I earn from qualifying purchases. Please refer to our disclosure policy for more information.
Declutter your Bedroom is eight easy steps! There's no better time than now to declutter, refresh, and de-stress in your bedroom!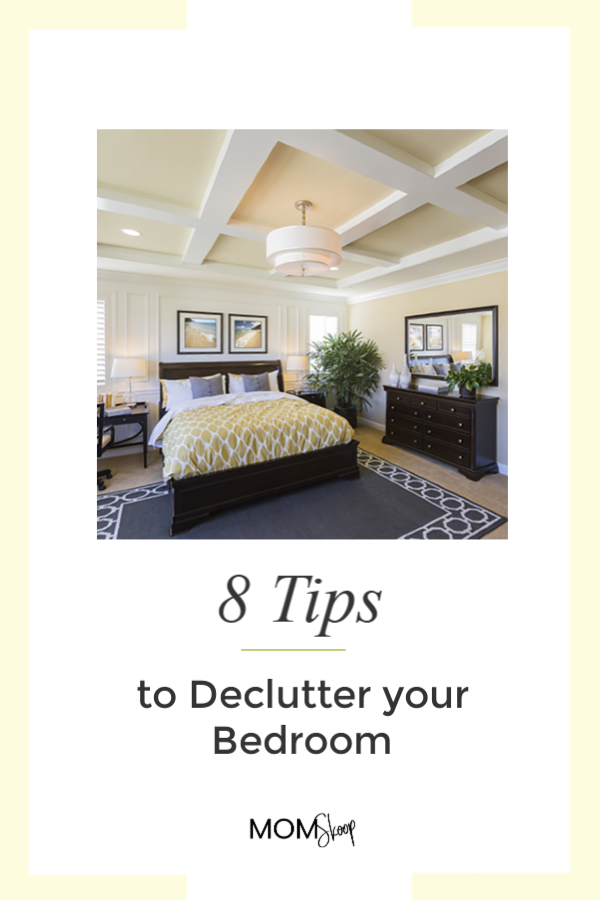 When your bedroom is filled with clutter, getting rid of it can be quite overwhelming. The best way to declutter your bedroom is by using tips from professional decluttering services. Getting rid of clutter in your bedroom ensures you have a neat and tidy place to sleep. The following are 8 tips to effectively declutter your bedroom.
Start by clearing one area and use it as your declutter zone. It can be a three-foot perimeter around your bed. The rule to use is anything placed on the starting zone is useful and won't be thrown away. Arrange items according to different categories such as clothes, shoes, bedroom electronics and so forth.
Take a moment and look at your room while you visualize how you want it to look. What pieces of furniture are the most essential? What is on the floor? You should easily get rid of clutter once you have figured out what is essential, and have visualized how the room will look uncluttered.
Clear Off One Counter…Then Another
All flat spaces in your bedroom should be clear of clutter. Start with one counter if you have several of them. Clear off everything and remain with one or two essential things. For example, if you have a bedside table, you can clear everything and remain with your alarm clock.
Now that you have cleared the counter(s), try a shelf. It will not matter the type of shelf. You can start with a bookshelf or a closet. If you decide to work on the bookshelf, start by handling one shelf at a time.
The items you pick should be those that you use often, but you usually place them anywhere in the bedroom. Create a a designated spot for them – and put them there every day. For example, put night time chargers in a charging station instead of laying everywhere. This way, you will be putting them there the moment you are done using them and not only are they neat, but you can always find them. Do this for everything in your room a few things at a time.
There are things in your bedroom that you no longer use. For instance, you may have some clothes that no longer fit you or are just not your style. Such items can be given to charitable organizations locally or nationally. Get a box and throw in anything you think you can donate to charity.
Sometimes when you declutter your bedroom, there are things that you may not be sure whether you will use or throw or donate to charity. Get a large box and use it as your maybe box. It is where you will place items that you are not sure what you want to do with them. These can be sorted out once the room has been effectively uncluttered.
Once you have finished getting rid of clutter, schedule a weekend to declutter your bedroom in the future. This may be three to four months later. Decluttering has to be done on a regular basis if your bedroom is to remain neat and tidy.
Looking for additional tips for reorganizing other parts of your home? Check out these posts for further inspiration!