Post contains Amazon Affiliate links. As an Amazon Associate I earn from qualifying purchases. Please refer to our disclosure policy for more information.
Chuck roast that has been simmered to perfection is what sets these tacos apart. If you've never had Barbacoa Street Tacos before, then you are in for a real treat! If you are looking for a new spin on Taco Tuesday, then this recipe is it!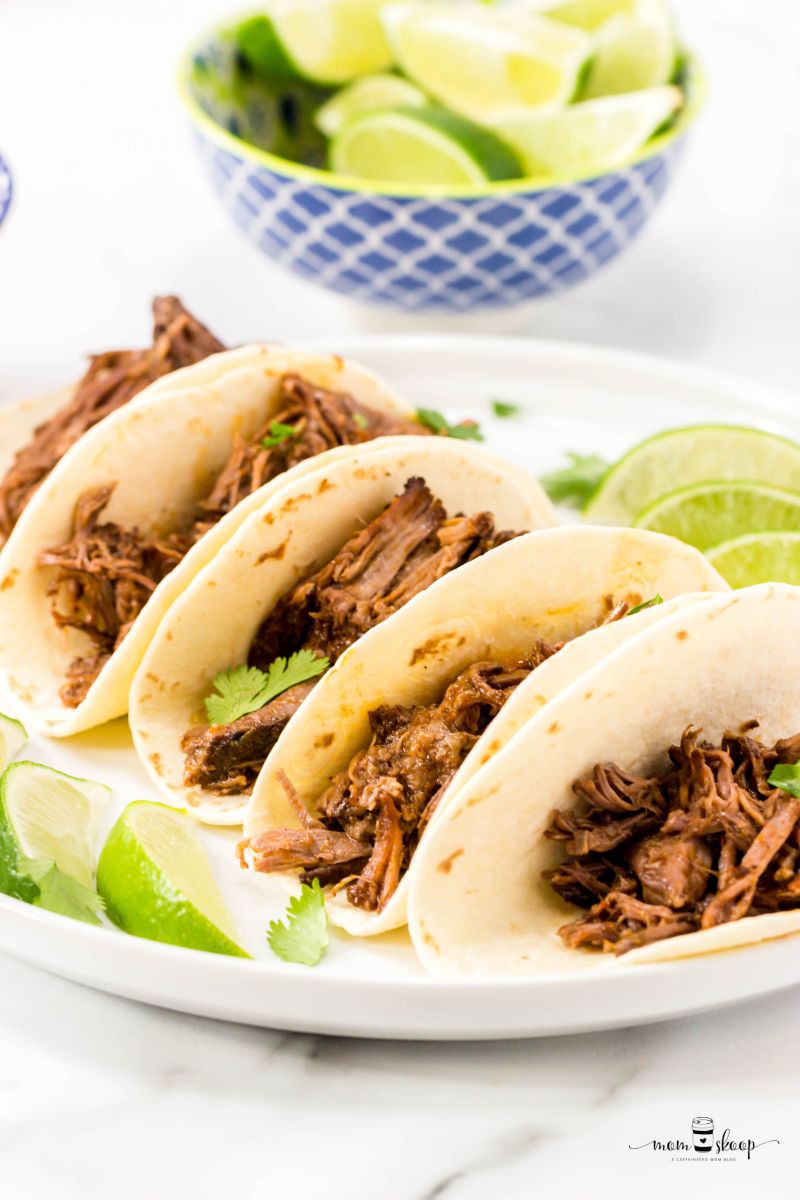 The great thing about making Barbacoa Beef is that you can also use it in quesadillas, burritos or burrito bowls or even salads. Of course, you can even eat it with just a bowl of rice and just drizzle some fresh squeezed lime juice over it. Regardless of how you enjoy it, once you make beef this way, your family will definitely want to make it again!
If you are looking for additional Mexican themed dishes to go along with this recipe, here are a few other ideas that we think you will enjoy such as this delicious Chicken Tortilla Soup, this yummy Mexican Rice and of course no Fiesta themed meal is complete without homemade Salsa!
Barbacoa is a traditional Mexican dish that is normally typically made with beef, Usually, it is seasoned with dried spices and chilies, and it is slowly cooked to perfection.
Jump to:
Why Make This Recipe
It's Easy - this is a one-skillet recipe.
Versatile - you can use this juicy beef in a variety of ways.
Ingredients
You will find a complete list of ingredients in the recipe card below.
Beef chuck roast - you can use a different type of roast if you prefer, however, this cut is the one we think works the best.
Salt - make sure you use kosher and not table.
Garlic - you can mince fresh, or you can buy minced garlic. Either is fine.
Chipotle peppers in adobo sauce - make sure to use some of the adobo sauce that is in the canned chipotle peppers. It really adds a lovely kick to the dish.
Brown sugar - this will add a nice sweetness to the beef and help cut down the spiciness. If you need to, you can always add a bit more.
Fresh limes squeezed - you can also use lime juice that you buy in a bottle. It's totally up to you.
Instructions
Below are a few in-process steps as well as photos for reference.
Step 1: Preheat the oven to 325 degrees. Next, preheat a heavy skillet, like a cast-iron skillet that is large enough to fit the roast. Then add in the oil and the seasoned piece of beef roast. Sear on each side.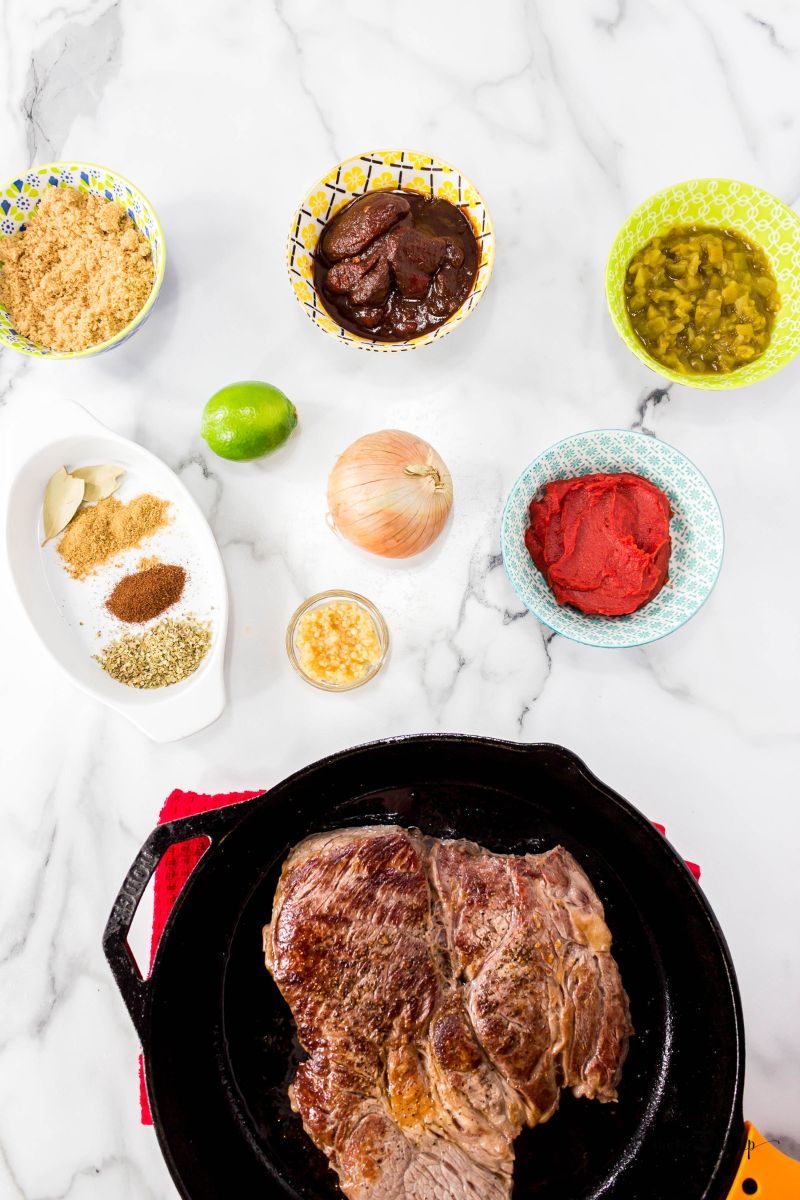 Step 2: Using a blender, blender together the remaining ingredients EXCEPT the bay leaves.
Step 3: Pour the sauce over the seared meat in the skillet.
Step 4: Cover and place the oven-proof skillet into the oven for 2 to 3 hours. Check on the roast every hour so that you can baste the roast in the juice and turn the roast over.
Step 5: When it's done, remove the skillet from the oven and place the beef in a baking dish and shred the meat.
Step 6: Serve and enjoy!
Substitutions
cilantro - if this isn't your thing, feel free to omit.
tortillas - if you don't want to use street-sized tacos, use whatever sizes your family prefers. It's also a great way to use up any leftover taco shells or tortillas in your pantry.
Chipotle peppers in adobo sauce - you can omit this if you don't want the spicy kick that these add.
Variations
Oven - you can make this in the oven at 325 degrees for 3 to 4 hours. Just place the cast iron skillet with the beef right in the oven and let it slow cook in that.
If you'd rather not serve this up in tacos, you could make a burrito wrap or bowl. You could also make up a delicious and flavorful salad. This spicy beef would also be out of this world on top of nachos!
One of the best things about making these tacos is that how versatile it is. You can put on any combination of toppings that you and your family like. Why not create a taco bar and set up different dishes full of:

green onions
fresh pico
sliced jalapenos
your favorite salsa
queso cheese
sliced or diced up avocado
sour cream
cilantro
lettuce
tomatoes
Equipment
Skillet
Blender
Knife
cutting board
Storage
Refrigerator: If you have any leftovers, you can store them in the fridge in an airtight container for up to five days.
Reheating: To reheat, you can either heat it up in a microwave-safe plate with a cover or you can heat it up on the stove in a small saucepan until it's heated through.
Freezer: Place the meat in freezer-safe containers or plastic bags and freeze for up to 3 months. To reheat, thaw the meat overnight in the fridge. When you are ready to heat it up, simply reheat using one of the reheating instructions above.
Top Tip
Add more liquids through the cooking process if you feel that the meat is starting to dry out.
FAQ
What does Barbacoa Taste Like?
Barbacoa beef tastes like flavorful spicy beef.
What's the Difference between Barbacoa and Carnitas?
Barbacoa refers to how the meat is cooked. When you make Barbacoa Beef, it means that the beef is slow-cooked until fork tender and then it's shredded. Carnitas are all pork. The pork is also slow-cooked and then finished off by being browned in a skillet so that it's crispy.
Why Didn't My Meat Sear or Brown Properly?
Normally that happens either because your pan wasn't hot enough or if the meat was too wet. 
Let's talk about what I mean by what I just mentioned. When you want to sear the meat. The pan has to be hot. That's why I love using my cast iron skillet. It really helps not only retain the heat, but it gets hot and sears meat perfectly. 
Secondly, what I mean by the meat being too wet is that before you put the roast into the hot skillet, wipe it down. If the beef is dripping in the juice (blood) from the package, just take it to the sink, give it a good rinse off, and dry the meat with some paper towels.  
📖 Recipe
Barbacoa Street Tacos
Chuck roast that has been simmered to perfection is what really sets these tacos apart. If you've never had Barbacoa Street Tacos before, then you are in for a real treat! If you are looking for a new spin on Taco Tuesday, then this recipe is it!
Equipment
Skillet

Blender

Knife

cutting board
Ingredients
2 - 3

lb.

beef chuck roast

2

tablespoon

vegetable oil or olive oil

1

tablespoon

kosher salt

1

tablespoon

black pepper

1

yellow onion

diced

1

tablespoon

minced garlic

6

oz.

tomato paste

4

chipotle peppers in adobo sauce

2

tablespoons

brown sugar

1

tablespoon

ground cumin

¼

teaspoon

ground cloves

1

teaspoon

oregano

4.5

oz

green chilies

chopped

2

bay leaves

4

fresh limes

squeezed
Toppings
street tacos

tomatoes

optional

shredded lettuce

optional

sour cream

optional

cilantro

optional
Instructions
Preheat the oven to 325 degrees.

Heat a cast-iron skillet or heavy skillet to medium-high heat. Add in your favorite oil. Liberally season both sides of the meat with kosher salt and black pepper. Let the meat brown on each side for approximately 3 to 4 minutes until it gets a sear on all sides.

In a blender, add the chopped onion, minced garlic, tomato paste, chipotle peppers, and some of the adobo sauce that was in the can, brown sugar, ground cumin, ground cloves, oregano, and green chilies. Put the lid on and turn the blender to blend or pulse. Once everything is blended, pour it on top of the beef roast. Then add the bay leaves to the top.

Cover with foil or the oven-proof lid for your skillet and place in the oven.

Cook in the oven for 2 to 3 hours until the beef is fork-tender. Check on the roast every hour and turn so the meat has a chance to thoroughly get coated in the sauce.

 Once the Barbacoa beef is done, remove it from the oven, place it into a shallow baking dish, and shred it either by using two forks or place it in a mixing bowl and shred it with your mixer.

Serve with your favorite toppings and street tacos.