Post contains Amazon affiliate links.As an Amazon Associate I earn from qualifying purchases. Please refer to our disclosure policy for more information.
Crab Rangoon are deep fried bites of warm cream cheese and crabmeat. These tasty Crab Pillows are crunchy, easy to make, and can be fried or baked
HOW TO MAKE Easy and crispy CRAB RANGOON
If you have ever dined at a Chinese restaurant in the US, then you have probably noshed on these delicious crab appetizers. However, did you know that you cannot get these at a restaurant in China?
Before you get started on these easy to make appetizers, here are a few answers to some questions you may have
WHAT INGREDIENTS DO I NEED TO MAKE THIS HOMEMADE CHINESE APPETIZER?
White crab meat, garlic, powdered sugar, cream cheese, Worcestershire sauce, and wonton wrappers.
You may be wondering if you need fresh crab or canned and honestly, I have used both before, however, I do prefer to use canned crab when I make the crispy appetizers.
WHERE CAN I FIND WONTON SKINS IN THE GROCERY STORE?
Our wrappers are normally in the dairy section near the Tofu and Egg Roll wrappers.
WHAT TYPE OF SAUCE DO YOU EAT WITH CRAB RANGOON?
I actually like to eat Crab Rangoon without any sauce, however, you can serve them up with a Sweet and Sour Sauce, a Sweet Chili Sauce, or soy sauce would also make a simple dipping sauce.
HOW DO YOU SEAL CRAB RANGOONS? strong>
You will need to brush the edges of the wonton wraps with a little bit of an egg that has been whisked or with water. Then once you put the filling inside, you can seal the Rangoon in two different ways.
You can either fold the wrapper into a triangle or you can pinch the sides together to make a pocket.
HOW TO MAKE BAKED RANGOONS WITH CRABMEAT
Follow our recipe as below, except preheat your oven to 425°F and place the crab puffs on a aluminum sheet pan. Bake for approximately 8 – 10 minutes. The total time to make these tasty appetizers is about 30 minutes.
Or if you prefer using your air fryer, you can reheat them in there. Just preheat your air fryer to 300 degrees and place the crab cheese wontons in there for about 8 minutes. However, make sure to keep an eye on them so they don't get too done.
If all of this talk about appetizers is making you hungry? If so then you need to head over to our page that is full of yummy appetizers.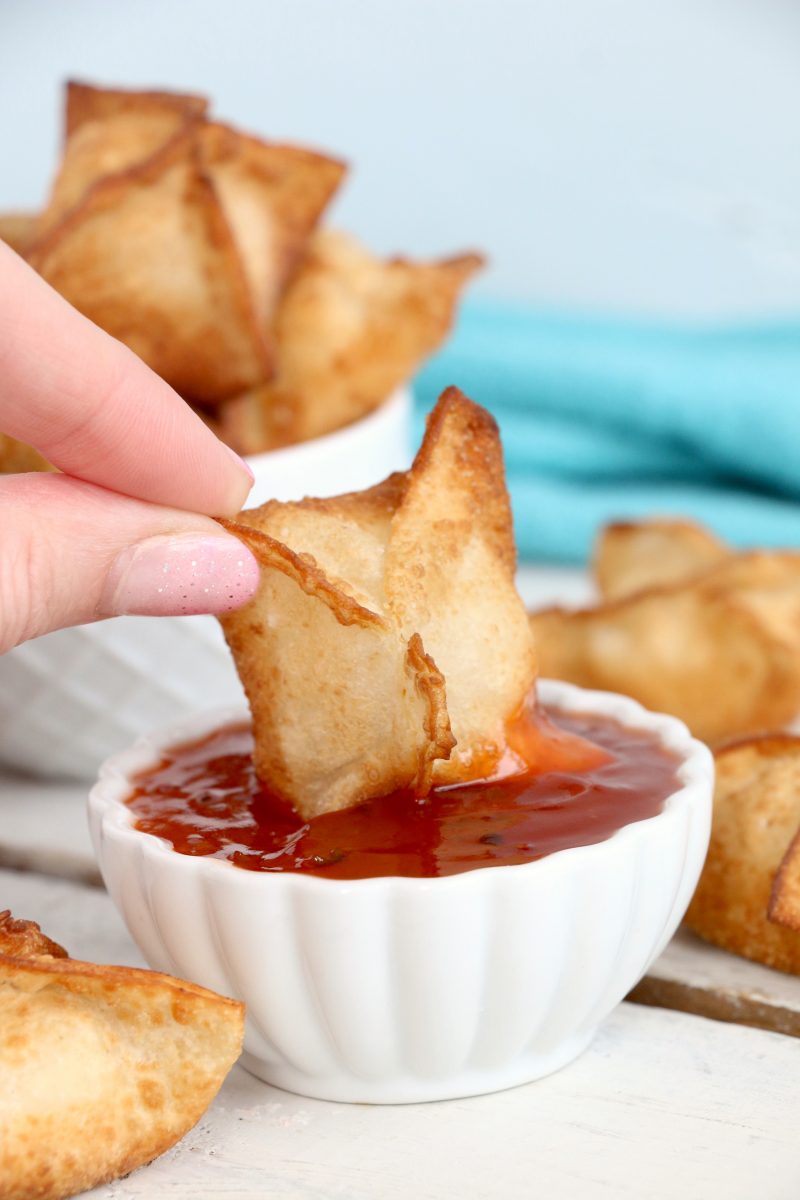 MAKING HOMEMADE CRAB RANGOONS AT HOME

Below is a quick breakdown of the recipe. To get the full printable recipe card, head down to the bottom of the page.
Mix together ingredients
Prepare the wontons
Bake or deep fry
Enjoy
Here are photos of how to pinch wonton wrappers together when making Crab Rangoon.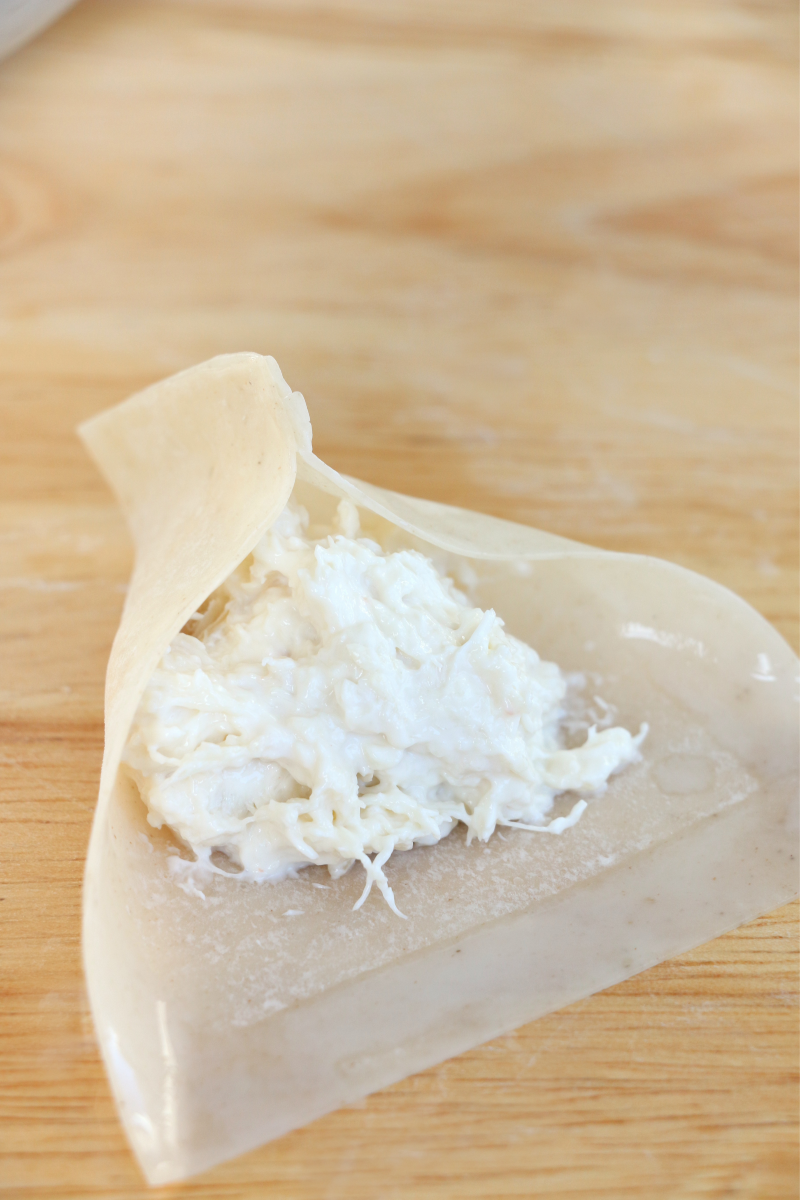 Homemade Crab Rangoon
Homemade Crab Rangoon that are full of crab meat and cream cheese are so easy to make at home that you'll want to make them each week!
Ingredients
6 oz. can white crab meat or imitation crab meat, drained
6 oz. cream cheese, softened
1 teaspoon Worcestershire sauce
1 teaspoon minced garlic
1 tablespoon powdered sugar
20 wonton wrappers
Water
about 2 cups vegetable oil
Instructions
In a medium mixing bowl, combine cream cheese, Worcestershire sauce, garlic, and powdered sugar.
Mix in crab meat.
Place a tablespoon of crab mixture in the middle of each wonton wrapper (do not overfill the wrapper or it will not seal properly).
Brush a small amount of water or egg that has been whisked, on all four edges of the wonton wrapper.
Pinch corners together, sealing them completely.
Fry wontons in oil heated to 350 degrees for about 1-2 minutes or until lightly golden.
Allow to cool on a paper towel
*If you decide to bake these in the oven, make sure to lightly spray your baking sheet with cooking spray so they don't stick.
To finish off the appetizer, you can slice up a couple of green onions and sprinkle them over the top of the appetizers and the plate.
Nutrition Information:
Yield:

20
Serving Size:

1
Amount Per Serving:
Calories:

259
Total Fat:

25g
Saturated Fat:

3g
Trans Fat:

1g
Unsaturated Fat:

20g
Cholesterol:

18mg
Sodium:

132mg
Carbohydrates:

6g
Fiber:

0g
Sugar:

1g
Protein:

3g