Post contains affiliate links. Purchases made through links provide us with a small commission. As an Amazon Associate I earn from qualifying purchases. Please refer to our disclosure policy for more information.
Summer is a time for outdoor fun: Swimming, bbq, sprinklers, picnics, and frozen treats galore. What better way to celebrate a birthday (or just celebrate for no reason at all) than with all the cold, delicious goodness of ice cream? An ice cream sundae party is quickly becoming a favorite for kids of all ages and now you can get your summer sweet tooth groove on with this Free Printable Ice Cream Party Pack.
Ice Cream Party Time + Free Printables!
The possibilities with planning an Ice Cream Party are truly endless!  You can customize the toppings, ice cream flavors, bowls, napkins, and decorations!  Another great thing about having an Ice Cream Party is that everyone from ages 1 - 100 will love it!
Don't forget the FREE printables at the bottom of the post!
Here are a Few Tips to Make your Next Party a Success!
1. Decide on your guest list: Will it be just for your family? Or will your kids be inviting some of their friends over? Make sure to confirm with your guests if anyone has any food allergies so you can make substitutions if needed. Frozen yogurt is always a great substitution!
2. Plan the decorations: The possibilities are endless! You can keep it simple and focus totally just on the tableware (spoons, bowls, napkins), or you can go all out with balloons, garland, and/or table décor! Check out these fun decorations!
36 Inch Inflatable Ice Cream Cones 3-pack
Talking Tables We Heart Ice Cream Hanging Décor Garland for a Summer Party or Children's Birthday (10 Ft), Multicolor
Talking Tables Street Stalls Ice Cream Food Cart Street Stall for Party Decoration, Multicolor
Ice Cream Cone Shaped Happy Birthday 33
Zilue Party Hanging Ice Cream Tissue Paper Honeycomb Ball Wedding Birthday Decoration Set of 5 mix
Ice Cream Party Decorations Pack: Includes Hanging Garland banner, 3 Inflatable Ice Cream Cones and 3 honeycomb Hanging Cones
3. Consider how you will keep the ice cream cool: You can put the ice cream containers into metal buckets filled with ice, cold water, and table salt.
4. Purchasing tableware: This can be as basic or fun as you want it to be. There are no rules when it comes to tableware! Grab bowls out of the cabinets and silverware out of the drawer. Or you can use fun ice cream styled tableware like these below.
Rainbow Paper Polka Dot Ice Cream Cups 12 oz (qty 60) & Matching Plastic Spoons (qty 60) Set (by BrightandBold)
Ice Cream Sundae Cups - 50-Piece Disposable Paper Dessert Ice Cream Yogurt Bowls Party Supplies, Rainbow Polka Dots, 8-Ounce
Greenco Vibrant Colors Ice Cream Dessert Bowls and Spoons (Set of 12)
Green Direct Plastic Sundae Ice Cream Frozen Yogurt Cups with Spoons Pack of 12 Ice Cream Dessert Bowls
Watercolor Ice Cream Cone Napkins
Also, make sure you have a variety of ice cream cones available for the guests who prefer those instead of their ice cream served in bowls.
**TIP: Set Ice Cream Cone holders on the sundae bar table to help smaller guests keep their cones steady while they pile on the toppings.
5. Keep It Fun: Use a chalkboard to create a custom Flavor Combo Menu to inspire guests on crazy taste combinations. Example: " Chocolate Ice Cream + Banana Slices + Chocolate Chips = Chunky Monkey". You can also ask the guest of honor to create the "Flavor of the Day" and place the recipe at the top of the menu for others to try.
6.  Ice Cream Party Toppings:  Set up a table with these ingredients:
Maraschino cherries

Magic Shell syrup

Granola
Oreos, chocolate chip cookies, graham crackers (crushed)
Fresh fruit
Chocolate chips (semi sweet, white chocolate, butterscotch, etc)
Whipped cream
Syrups (chocolate, caramel, strawberry)
Candies (gummies, candy bars chopped, M & Ms)
Sprinkles
Pop for Floats (root beer, cola, orange or whatever other flavors you think your guests will love)
7. Entertainment: You can plan some fun ice cream themed games like "Pin the Cherry on the Cone" make a Piñata in the shape of a cone and fill it full of candy/goodies.
8.  Additional Food:  Here are some suggestions for some yummy Ice Cream themed treats!
Ice Cream Cone Cupcakes
Ice Cream Cone Cupcakes are easier to make then you think! All you need are a few ingredients and about an hour and you can create these delicious cupcakes!

Upside Down Ice Cream Cone Cupcakes!
Upside Down Ice Cream Cone Cupcakes are an easy and simple to make dessert that is also kid-friendly and perfect any time of the year! 
Check out this recipe

How to Make These Yummy Ice Cream Cone Fruit Cups
Ice Cream Cone Fruit Cups are a sweet and tasty way to serve up fruit for an ice cream themed party or just for a fun after school snack.
Check out this recipe

Blueberry Ice Cream Dessert with Graham Crackers!
Blueberry Ice Cream Dessert topped with Graham Crackers and garnished with fresh blueberries is a tasty twist on ice cream! 
Check out this recipe

Patriotic Red, White, and Blue Ice Cream Brownie Parfaits
Patriotic Red, White, and Blue Ice Cream Brownie Parfaits are full of chewy brownies, sweet ice cream, and topped with chipped cream and sprinkles! 
Check out this recipe
And of course, no party is complete without Printables!  Make sure to check out these Ice Cream Party printables!  Did I mention they were totally free!  Just download them and print them off!
Free Printable Ice Cream Party Pack Includes:
Download the Ice Cream Party Invitation
You can download the Table Cards by clicking here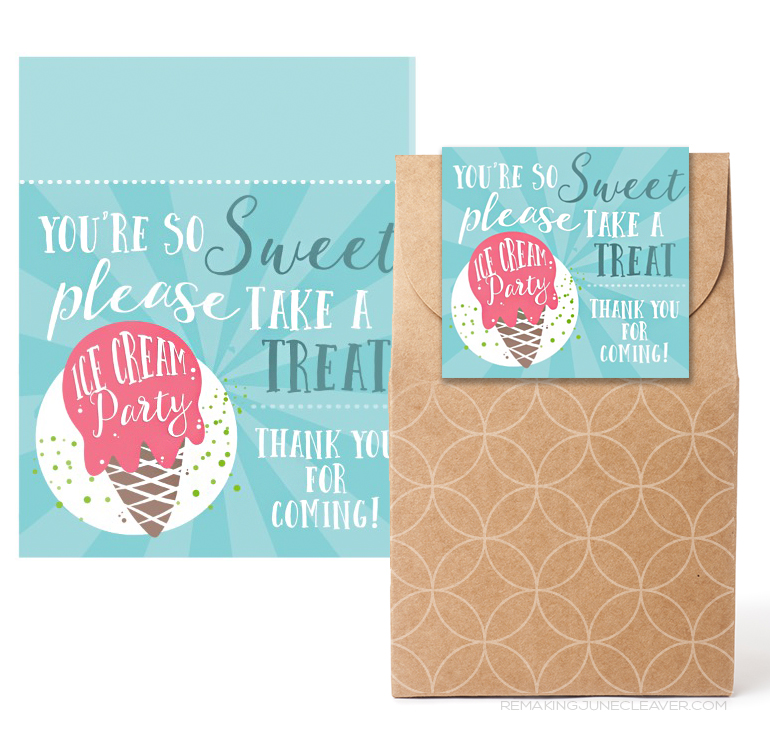 You will find the Thank You Bag Tags Here
Get the fun Ice Cream Party Bottle Wraps here.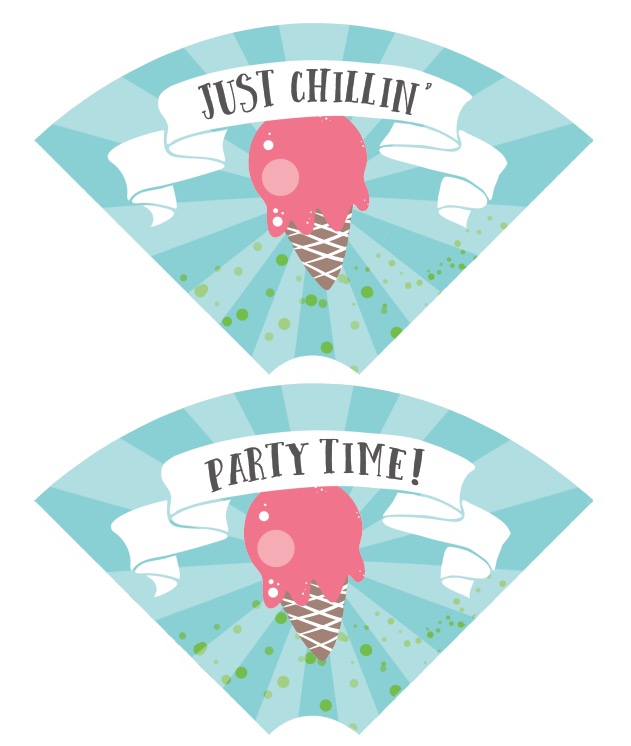 Of course, you need the Cone Wraps
Have you hosted an ice cream party before? How did it turn out?