Post contains affiliate links. Purchases made through links provide us with a small commission. As an Amazon Associate I earn from qualifying purchases. Please refer to our disclosure policy for more information.
Places to eat at in Put-in-Bay are more plentiful than you may think. Craving fresh fish? Irish? Caribbean? You can find it on the island!
As you drive through the streets of Put-in-Bay on your golf cart, you will be greeted by a wonderful aroma of a variety of food from all directions!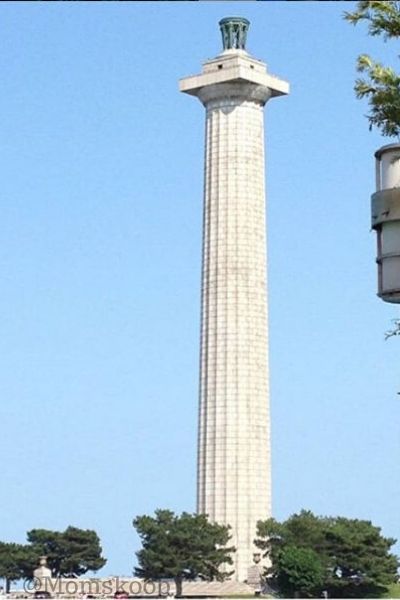 Whether it be from The Boardwalk or The Forge, you will find a variety of dining options for your dining pleasure on the island.
The restaurants on the island, as well as the ones along the shores of Ohio, all have one thing in common. That common denominator is the access to fresh Lake Erie Perch. Trust me when I say you haven't lived until you've had a fresh Perch Taco! Yes, I said Taco! Also, one must not leave out fresh Lake Erie Walleye. You can find this fresh catch at a variety of Put-in-Bay restaurants.
After a short ferry ride from either Catawba Island, Port Clinton, or Sandusky, you will arrive at South Bass Island, which is where the village of Put-in-Bay is. There are two ferries that service the island and those are Miller Ferry and Jet Express.
In the 1870s, South Bass Island started being used as a safe harbor for ships. According to island history, sailors would "put it in the bay" when they were seeking refuge from the unforgiving waters of Lake Erie.
Put-in-Bay is not only known for it's wonderful selection of restaurants, it's also known for it's rich heritage. That heritage is obvious as you take a tour of the island on your golf-cart.
One of the trademarks on Put-in-Bay that shows the deep history that the island is famous for is Perry's Monument. When you visit the island, you definitely need to make time to stop and visit this historical monument. If it is open to visitors, the journey to the top is worth it! The views are amazing!
Another one of my favorite parts about the island are the old homes! There is one particular one that I absolutely love! I could easily make it my Summer home! I mean, after all, it is considered the "Key West of Lake Erie".
When you are planning your visit to Put-in-Bay, here are a few tips to keep in mind:
Motorized vehicles are allowed and are transported by ferry, however, it is strongly recommend to use a golf cart while visiting the island as parking space is limited.
The best time of the week to visit the island is during the week. We have visited both during the weeks and different days throughout the week. The weekend is a lot busier and crowded.
Lake themed souvenirs are plentiful so bring a lot some extra cash for those!
Here are the top PLACES TO EAT
The Boardwalk
The Keys
The Put-in-Bay Candy Bar - granted this isn't a restaurant, but you definitely gotta stop by!
Pasquale's Café
The Forge
Hooligans
Goat Soup and Whiskey
Joe's Bar
Round House Bar*
Mojito Bay Tiki Bar*
*These are not kid-friendly, however, I wanted to include them in case you need a break and are looking for some refreshing adult beverages. 
1. The Boardwalk
This is one of my husband and I's favorite places to eat on the island.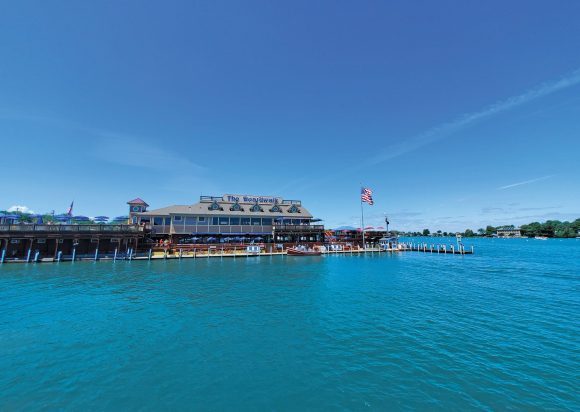 The Boardwalk is located on the water. You can dine either inside, on the Main Deck, or on the Upper Deck. There are multiple restaurants located at The Boardwalk. You will find the Fish Shake, Little Gallery, Book's Seafood, The BURGEE BAR, ClawDaddy's Bar, and last but not least the Upper Deck. This deck is home to Rita's Cantina Margarita Bar and Deck. If the Upper Deck is open, I highly suggest dining there. The views of the water, the relaxed atomosphere, as well as watching the boats coming in and out of the harbor are very soothing to the soul. One often forgets that you are still in Ohio.
One of the key must tries at The Boardwalk is their famous Lobster Bisque, their Lake Erie Perch and Walleye sandwiches and tacos.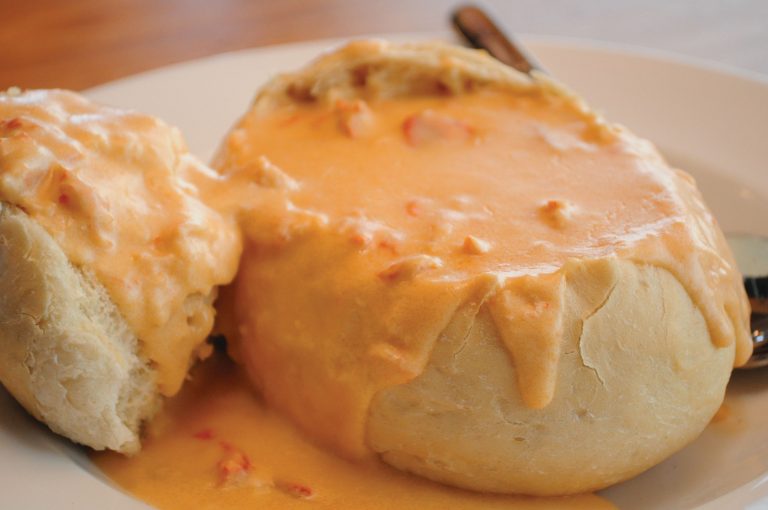 This restaurant, as well as The Keys, both offer great views of Perry's Monument.
2. The Keys
This restaurant is a close second for me. The Keys is also on the water so when you add in the music of Jimmy Bugger and the laid back atmosphere, you'll think you are actually in the Keys.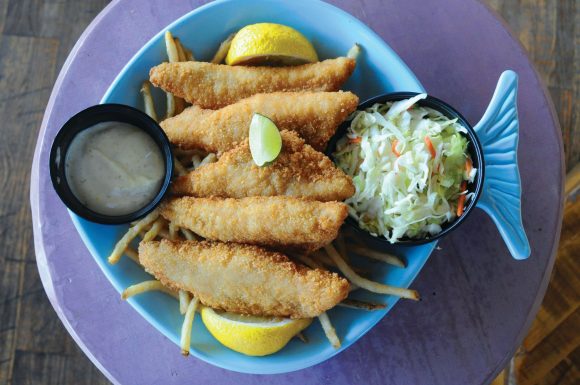 If you enjoy adult beverages, then the Rum Runner is something you may want to indulge in. I mean it's 5 o'clock somewhere in the world, right?  They also offer a nice selection of food to nosh on while enjoying the view. 
3. The Put-in-Bay Candy Bar
Okay, so this isn't exactly an actual "restaurant", however, since you will be looking for something for dessert, you will definitely need to stop here.
Want candy? Check. Want to try a Buckeye? Covered. Craving an ice cream treat made with ice cream from Ohio's Oldest Dairy, Toft's? You can get that there too.
It's a great way to cover everyone's sweet tooth after dinner.
4. Pasquale's Cafe
Pasquale's has been in business for over 20 years and is well known as one of the yummy places to eat at in Put-in-Bay! They serve breakfast, lunch, and dinner. Did I mention they also serve breakfast all day long?
While dining at this local favorite, you can enjoy views of DeRivera Park and downtown Put-in-Bay.
This café is known for their dish, the "Hot Mess". It is full of cheese, scrambled eggs, hash browns and bacon.
5. The Forge
Known for their "Atlantic Crepe" full of salmon, capers, and crème fraiche, this is an unique dining option while you are on island time.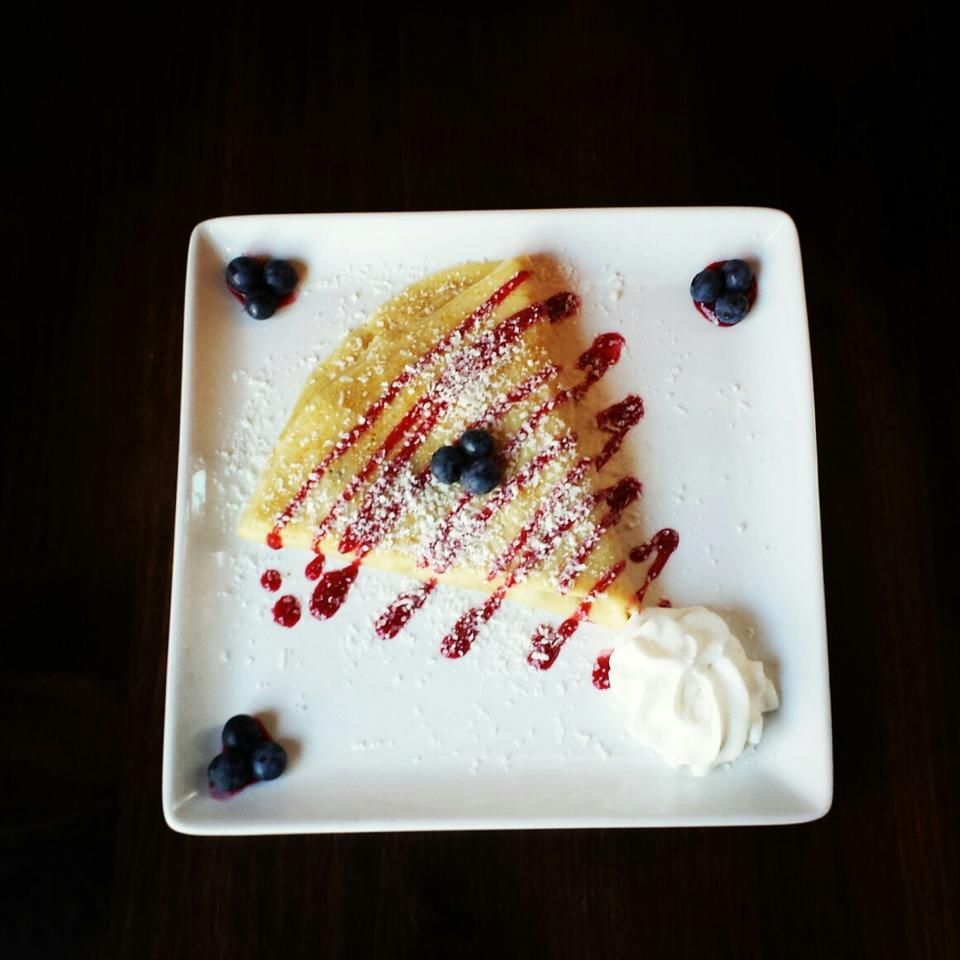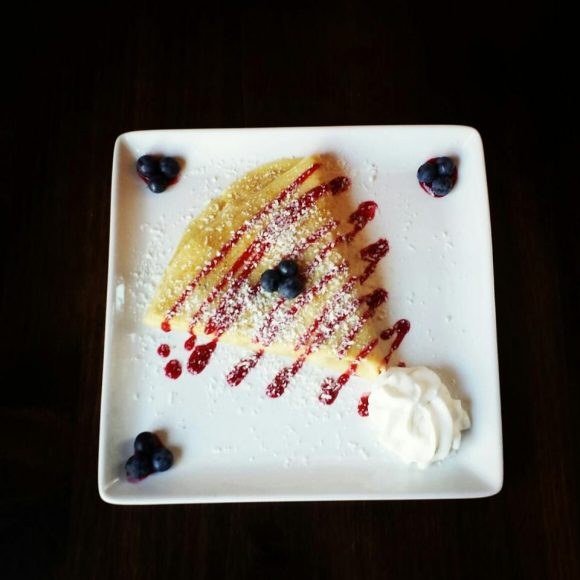 If you are looking for the 3 "C's" which are: Coffee, Crepes, and Cocktails, while visiting the island, this might be the place to consider dining at.
6. Hooligans
Looking for Fish & Chips? How bout Guinness Wings? Or a yummy Bavarian Pretzel? This Irish Pub has you covered.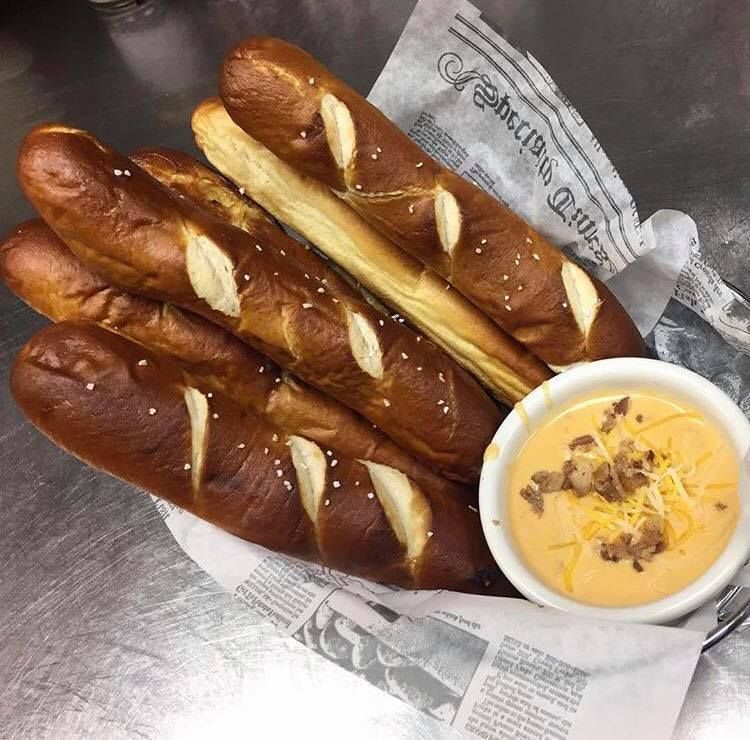 This fine establishment is a great way to enjoy a taste of Ireland while still in Ohio.
7. Goat Soup and Whiskey
We haven't visited the restaurant yet; however, we are definitely looking forward to it on our next visit to South Bass Island.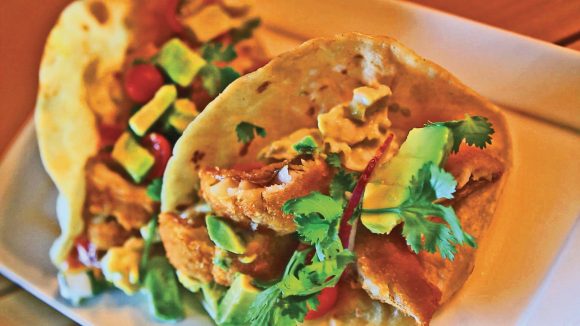 Offering everything from Walleye fries to Duck Breast, this is a tasty suggestion to try on your next visit.
8. Joe's Bar
This gastro pub, also rated a 5 star dive bar, is in one of the oldest building on the island.
This quant establishment is known for their house made Sloppy Joes, their "Jacked-Up Burger" and their "Sloppy Scotty".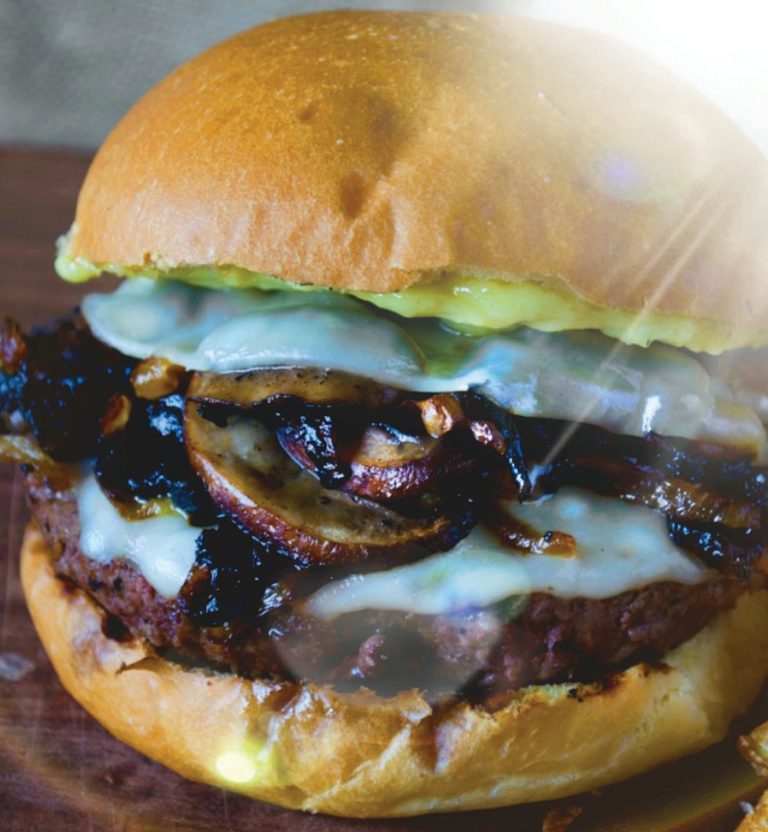 If you are looking for a place that puts a spin on tradition favorites, then you must check it out.
These two places aren't kid-friendly; however, they are definitely worth mentioning.
Round House Bar
This round tavern has been a staple in the area since 1873.
One of the iconic features about this bar is that when the neon "Whiskey" light above the front door is lit, it means they are open.
*You must be 21 or over to enter this establishment.
Mojito Bay Tiki Bar
This thatched-roof tiki bar will give you Caribbean vibes without leaving Ohio.
Offering mojitos in over 20 different combinations, this bar is something to consider stopping by if you are craving a cool drink on a hot summer day.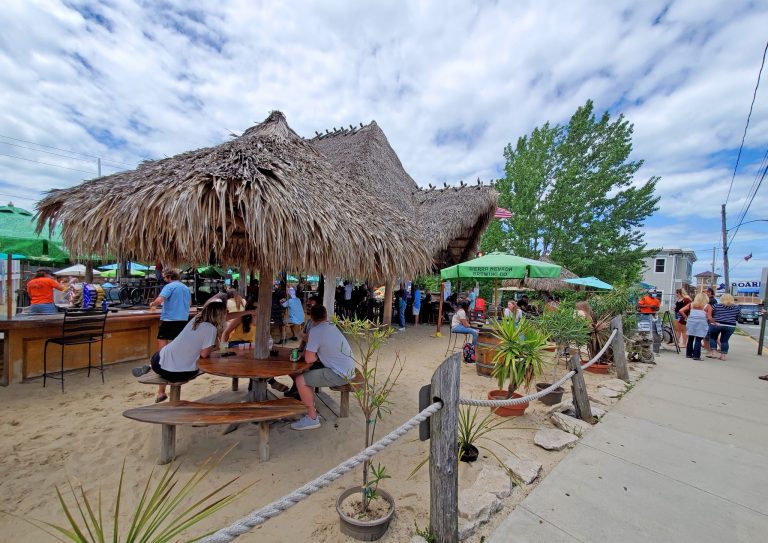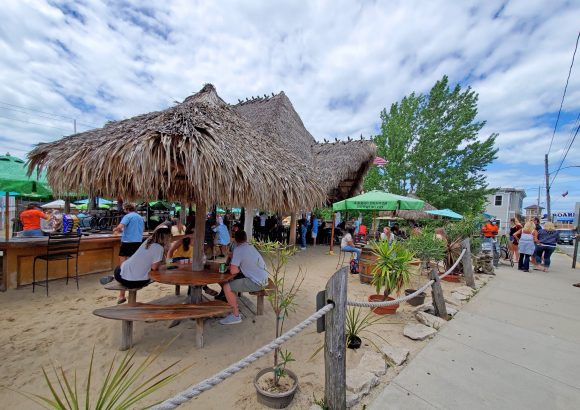 This post in no way covers all of the Places to eat at in Put-in-Bay! If you are looking for a road trip that offers both atmosphere and unique and tasty food options, then Put-in-Bay is definitely a place you need to visit.
Planning a trip to the islands of Ohio is a definite must! The islands offer something for everyone. Head over to the Lake Erie Shores & Islands website. The site is full of great travel information, and they will help you plan a terrific visit to the area. Did you know that local CVBs provide free help in planning your travel itineraries to their area? 
*As with all of the travel posts that we put on the blog, we are not responsible if your visit doesn't go as ours did. We are not responsible for any part of your trip to the area, the weather, the food, your luggage getting lost, or if attractions are closed. Every time one travels, you never know what you will encounter.