Post contains affiliate links. Purchases made through links provide us with a small commission. Please refer to our disclosure policy for more information.
Santa Hat Cupcakes are so easy to make that you will make them a new family baking tradition this year!
Yes, I know it's only September and it's still hot outside, but it's never too early to start thinking about Christmas!  Santa will be here before you know it!  The parties, the shopping, the lists, the STRESS!  LOL Oh my!  Are you ready?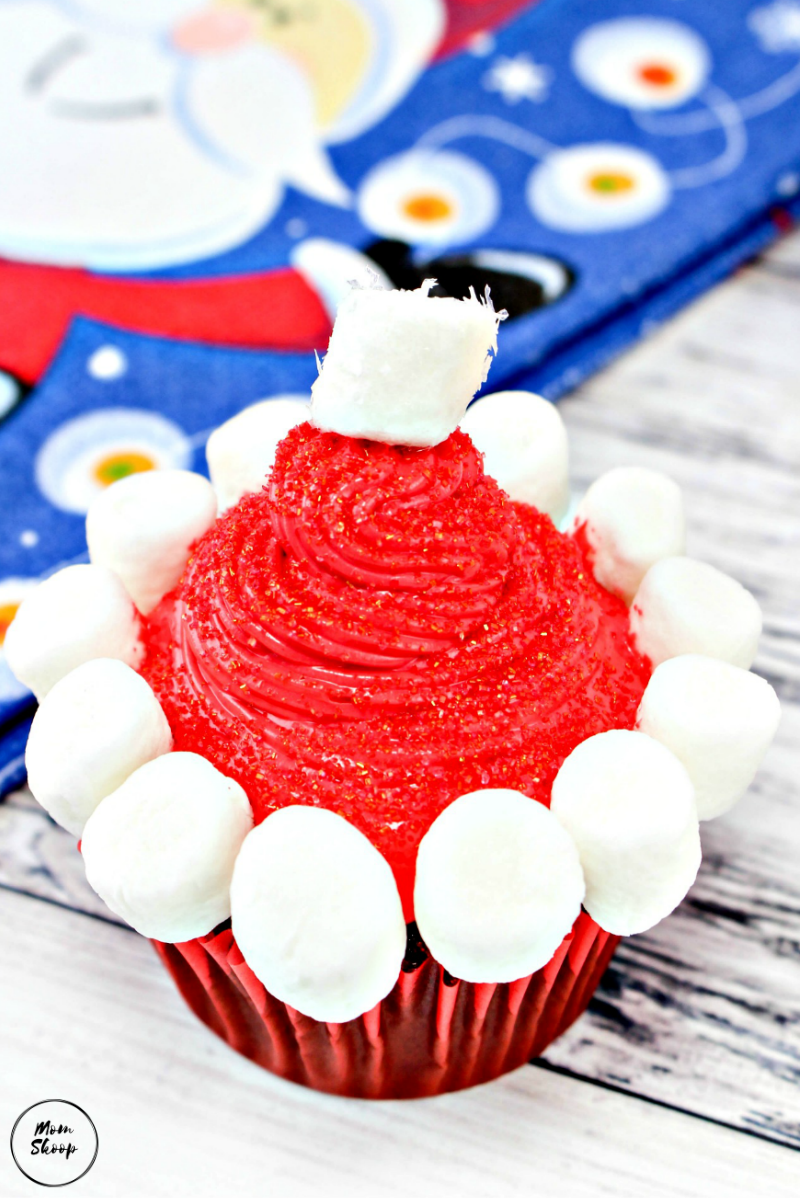 I always start making a few lists so things don't suddenly creep up on me.  One of the lists I am making is my baking goal list!  I love to bake so I've learned to start watching for sales on basic baking ingredients so I have everything on hand.
Here is a great recipe to make Santa Hat Cupcakes and  I hope it will become a favorite for your family!  Plus this is a great recipe to get the kids involved with!
This recipe is really easy to put together!   You will need a cupcake mix or store bought cupcakes, vanilla frosting, mini marshmallows, red gel food coloring, red sugar, and white edible glitter (optional).
Make sure to check out the bottom of the post for more Holiday inspiration!
Santa Hat Cupcakes!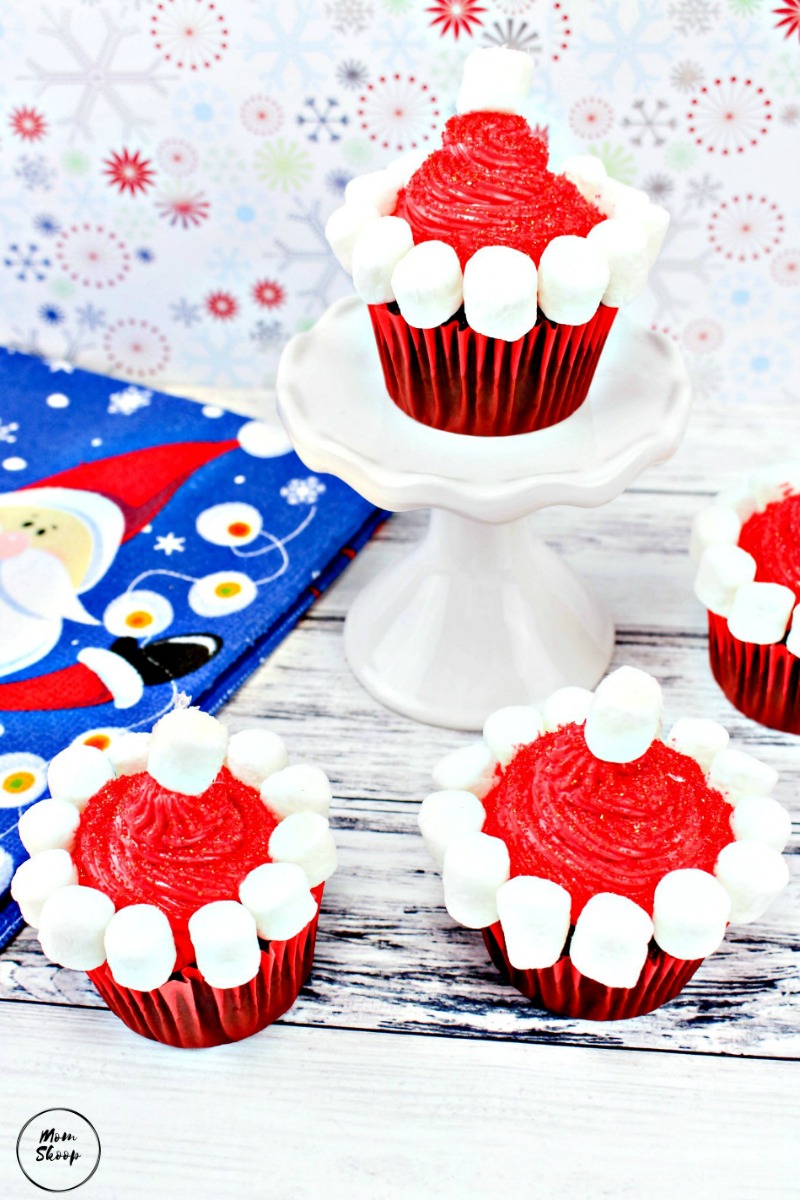 *Makes 6 cupcakes or you can double it for 12
Ingredients Needed to make Santa Hat Cupcakes:
– 6 Prepared Cupcakes, unfrosted
– 1 Can Vanilla Frosting
– 1 ½ cups Mini Marshmallows
– Red Gel Food Coloring
– Red Sugar
– Optional: White Edible Glitter
Directions
Color the frosting red, put in a piping bag, and pipe swirls of frosting on each cupcake upwards to a point so it looks like a hat and sprinkle red sugar all over..
Place marshmallows all around the bottom edge of each frosting hat so it looks like the white part of Santa's hat.  Take 6 marshmallows and dampen with a bit with water, and sprinkle the white glitter all over them. Stick one on the top of each hat.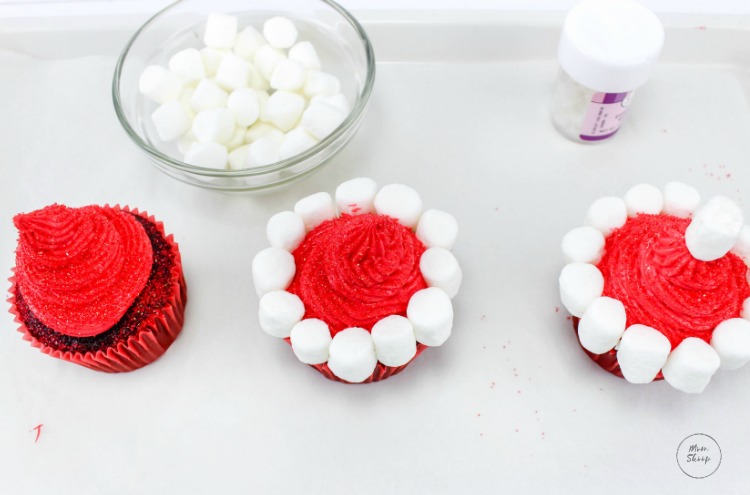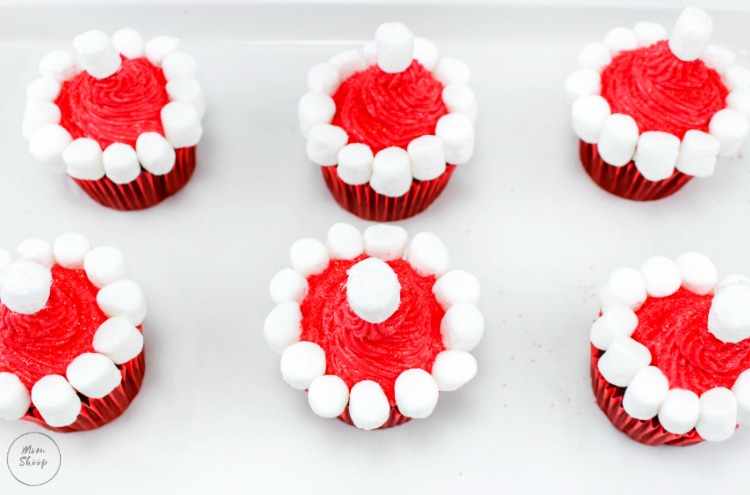 And there you go!  Santa Hat Cupcakes that are not only cute but they are an easy holiday treat to make!  Enjoy!
Looks for some fun Holiday Inspiration? Check out these posts: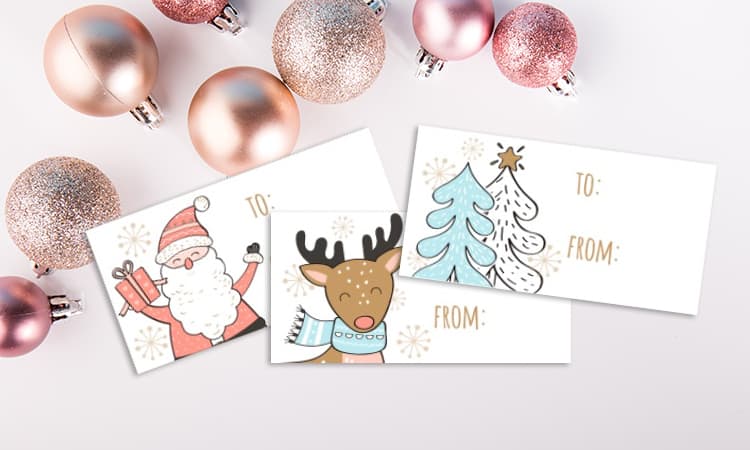 Printable Christmas Door Hangers
Tags :
christmas
cupcakes
desserts
holidays
recipes
Santa