*This post contains affiliate links.  Please refer to our disclosure policy.
Southwestern food of any type is something I can make weekly. I absolutely adore tex-mex food so any new recipe I come across is always a great excuse to eat southwestern food more often!
Unfortunately, our grocery budget isn't always super "let's try something that has a lot of ingredients" friendly. So, when I found this recipe, I decided to change things up a bit. I use more canned ingredients then I did fresh. I know, I know. Before I'm reminded that fresh is always better, believe me I agree. But sometimes substituted items work great and are a lot more budget friendly.
This delicious, one-skillet dish packs a ton of flavor into every bite. Adding some fresh lime juice and cilantro right before serving really brightens the flavors and pulls them all together. This soup makes a great appetizer, or pair it with a crisp, green side salad for a light, yet satisfying meal.
My husband is always such a skeptic when I make something new. He doesn't mind trying new things, it's just sometimes he's like, "why did you change it". However, this is one of those recipes he absolutely loves! I was asked to make it again this week. He's even said I could start making it weekly for him! So, for me, that's a double win! Easy on the budget AND something he likes!
The seasonings to make this recipe are pretty basic and should already be in your pantry. Garlic, salt, pepper, cumin, chili powder, oregano, cayenne. The other ingredients are also pretty basic. Canned chicken, chicken broth, frozen corn, black beans, and canned tomatoes.
I hope your family enjoys this soup as much as we do!
Southwestern Chicken Soup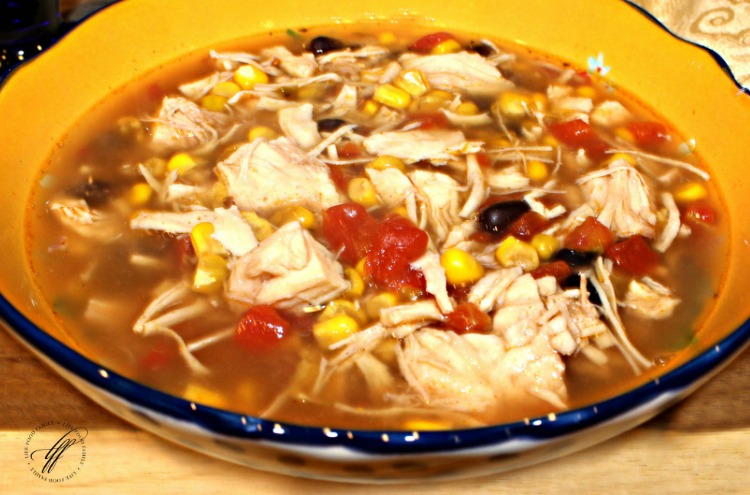 Prep time: 20 minutes
Cook time: 30 minutes
Serves: 8
Ingredients:
2 T. extra virgin oil
3-4 cloves garlic, roughly chopped
3 12.5 oz canned chicken
Salt and black pepper, to taste
24 oz chicken broth
1 12 oz bag frozen corn
2 15-oz. cans black beans, rinsed and drained
1 10 oz canned tomatoes with green chilies
2 t. ground cumin
1 T. chili powder
2 t. dried oregano
½ t. cayenne pepper
4 limes quartered (optional)
¼ c. fresh cilantro, chopped (optional)
Directions:
1. Heat olive oil and garlic in a large, high-sided skillet over medium-high heat. Sauté garlic until golden brown, about 4-5 minutes. Remove browned garlic with a slotted spatula and discard.
2. In a dutch oven, add the garlic, canned chicken, salt/pepper, chicken broth, frozen corn, black beans, canned tomatoes, cumin, chili powder, oregano, and cayenne pepper.
3. Heat the stove to medium and simmer until heated through, approximately 15/20 minutes. If time allows, simmer longer to give flavors more time to mingle. Remove from heat and stir in juice from 2 whole limes and fresh cilantro. Serve at once with remaining lime wedges. You can also top with tortilla strips to add more texture to the soup.
What are some of your favorite tex-mex recipes?