Post contains affiliate links. Purchases made through links provide us with a small commission. As an Amazon Associate I earn from qualifying purchases. Please refer to our disclosure policy for more information.
Shopping at Kohl's should be a must starting in 2020! With our tips, you can learn how to rock the savings and stretch your money further.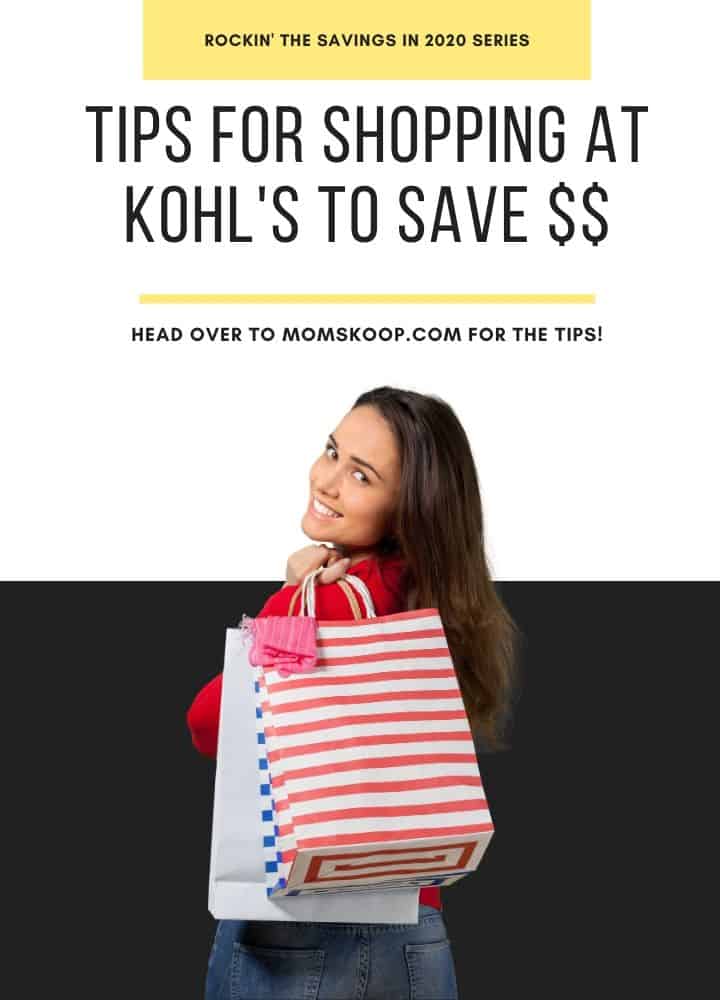 Kohl's, at least in my opinion, is one of the easiest stores to find fabulous deals in!
Between being able to stack coupons to their outstanding clearance sections, there is no valid reason that you SHOULDN'T be shopping there!
Not only can you buy clothing there, but you can also buy a lot of stuff for your home as well. Bedding, towels, dishes, pots and pans, rugs, and so much more!
Are you ready to take your shopping game at Kohl's to a higher level? For our Rockin' the Savings in 2020 Series, I thought we would start off the series by focusing on Kohl's.
Here are some tips to help you maximize your savings!
1.Best Time to Shop at Kohl's?
Did you know there was a time period when you can get great deals?
A couple of times a month, they offer their Night Owl and Early Bird specials. The Night Owl special prices are online from 2:00 pm to midnight and in-store from 3:00 pm until 11 pm on Fridays. The Early Bird special prices are online from midnight until 3:00 pm and in the store from 7:00 am until 1 PM on Saturdays. (Make sure to sign up for Kohl's emails so you know when these specials are).
2. Best Days to Shop at Kohl's?
The best days are on Friday and Saturday they are running their Night Owl/Early Bird sales.
3. What day is Senior Discount Day at Kohl's?
f you are a Senior 60 and over, you can get an extra 15% off your purchase on Wednesday!
4. How can I shop for Free at Kohl's?
The best way to shop for free at Kohl's is to earn and redeem gift cards for Kohl's at Swagbucks. If you don't have an account already, sign up through my link and join Swagbucks today! I've earned several gift cards by doing searches, quizzes, watching videos, etc. It takes minutes each day and it's a great way to earn free gift cards!
Also, ready to save 15% right away? Text SAVE07 to 56457 and sign up for their text alerts!
5. Can I use Expired Kohl's Cash if I forget to redeem it?
No, unfortunately, you can't. There used to be a time when you could, but they no longer allow it.
6. How to earn Kohl's Cash
They have several earning periods throughout the year when you can earn $10 in Kohl's Cash and sometimes more! All you need to do is spend a minimum of $48 to qualify! At the end of the transaction, your cash will print out for you to use during the redemption period. It's like you are being paid to shop!!
Something I recently learned, but haven't tried yet, is to combine receipts during the promotion period to see if I can still earn the Kohl's Cash. For example, let's say during their cash earning promotion, I spent $25 in one transaction, $15 in another, then another $10, I should be able to show the receipts to the cashier to get my $10 Kohls Cash since I spent $50.
7. Can I earn Cash Back when shopping online at Kohl's?
YES! All you have to do first is to create an account at Ratuken (previously Ebates) and click on Kohl's. Then click on "Shop Now". Not only will get cashback for shopping online, but you will also be earning Yes2You Rewards through Kohls, saving money AND possibly earning Kohl's Cash! It's a win-win! Cash for you, cash for you, and cash for you!
8. Do I have to print off my Kohl's coupons at home to bring to the store?
No. Download Kohl's app, set up your account, and then anytime you are shopping, just head over to the app. There you will find your wallet that has all of the coupons that you have available, your Yes2 You Rewards number and balance.
You can also store your Kohl's gift cards in the app, so you don't have to worry about leaving them at home!
If you are a Yes2You Rewards member, just by downloading the app, you will get an extra 50 reward points! HELLO???!! And since all you need is 100 to get a $5 reward, you will be that much closer to having more money to spend!
9. Can you Stack Coupons at Kohl's?
YES! They are one of the few stores that will let you stack coupons. For example, let's say when you are checking out you have all of the items listed below. This is how they will apply them to your purchase.
Kohl's Cash
Department Specific coupon (like $10 off of $40 bedding)
Dollar-off (like a $10 off of $25)
Percent-off (like 15, 20, or 30% off)
Yes2You Reward Certificates
10. Does Kohl's have a Price Match Policy?
They do! They will match a competitor's in-store price and will match Kohls.com price on an identical item. They do NOT price match competitors' online pricing.
11. Can I ask Kohl's cashiers for coupons?
Occasionally yes, they will have scratch offs available that you can use. Just ask your cashier!
12. Does Kohl's have a Gift Registry?
Yes, they do! And if your guests spend $200 on items from your registry, you earn $40 in Kohl's Cash! How great is that!
13. Is it worth getting Kohl's Credit Card?
YES, it is! I know many say multiple credit cards are a bad thing, and I agree they are. However, a few store cards that will work FOR you are a must. BUT, most importantly, you HAVE to pay the balance off as soon as you get the statement OR as soon as you make the purchase. Sometimes I've run into the items NOT being posted right away so I just wait a few days and pay the balance off on the computer.
Here are some reasons you should get the Kohl's Credit Card:
20% off your First Purchase
A coupon for 15% off when your card arrives
12 yearly promotions for either 15%, 20% or 30%
$10 gift card for your Birthday
14. What is the Yes2You Rewards?
This is basically a Kohl's loyalty reward program. For every 100 points you spend, you earn $5.
Here are some quick ways to earn points:
100 points after creating an account and making a purchase
Earn 1 point for every $1 spent
Earn 50 points by downloading the Kohl's app
Earn a $5 reward every time a friend joins. And yes, if you give me your email, I can send you an invite!
15. Does Kohl's offer a Military Discount?
YES! With your Military I.D., you will receive 15% off of your purchase.
16. How do You read their LCD screens by the items?
Look at the LCD screen and if you see a "square" that means the prices are the lowest of the season.
There are also codes in the upper right corner of the LCD Price Tag.
The codes are as follows:
BB – Bonus Buy
BGH – B1G1 ½ off
PP – Product Placement and sale price is fixed and not a % discount.
S = Sale and will be on sale for 1 – 2 weeks
NM – Will be marked down again.
17. Can I return my Amazon packages there?
Yes, in many stores they have a separate area to process your Amazon returns.
18. Can I order online and pick up in the store?
Absolutely! I have done it several times. It's a great way to make sure the store has it in stock and it's a fabulous time saver!
19. Does Kohl's have a Clearance Section?
Do they ever! I have found jeans marked down to $4. I have gotten shoes for myself and my kids for $5!
They have clearance sections in each area of the store. You must take the time to explore each one of them! You won't be sorry!
20. Can I use their coupons on anything in the store?
No, as some brand have restrictions, however, you can use your Kohl's Cash on anything in the store.
Ready to start shopping at Kohl's? If you haven't already, I think you will quickly become a fan!
Looking for more information about starting a budget in 2020? Make sure to check out our post for tips on starting a family budget.
Happy Shopping!