Post contains Amazon Affiliate links. As an Amazon Associate I earn from qualifying purchases. Please refer to our disclosure policy for more information.
Acrylic nails are easier to do at home then what you think! With a few basic tips and supplies, you can easily do your own nails at home.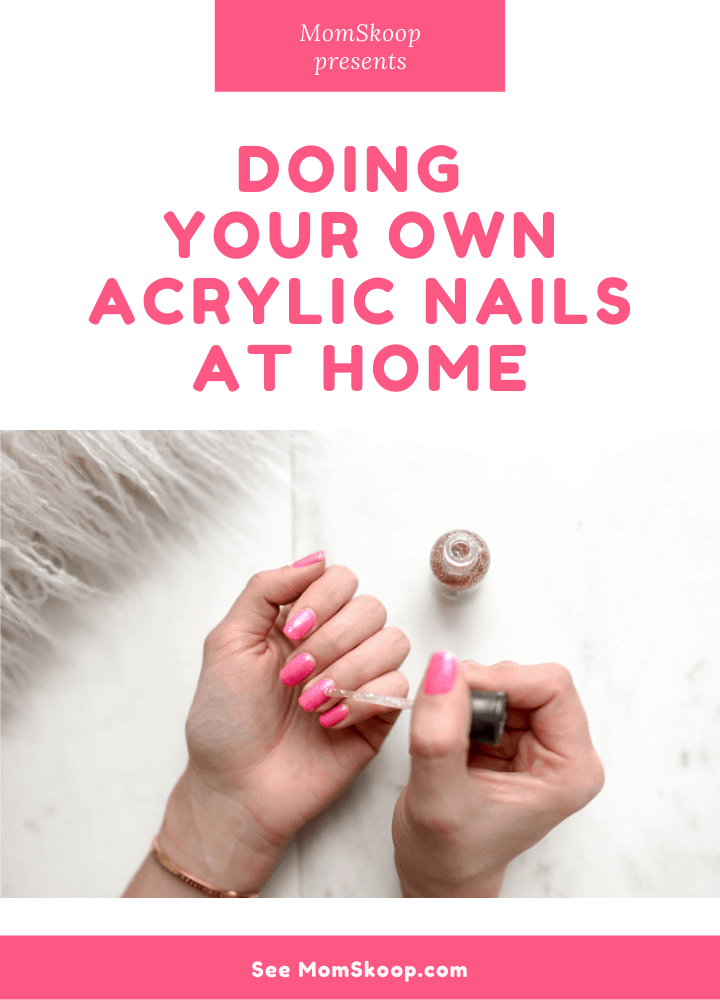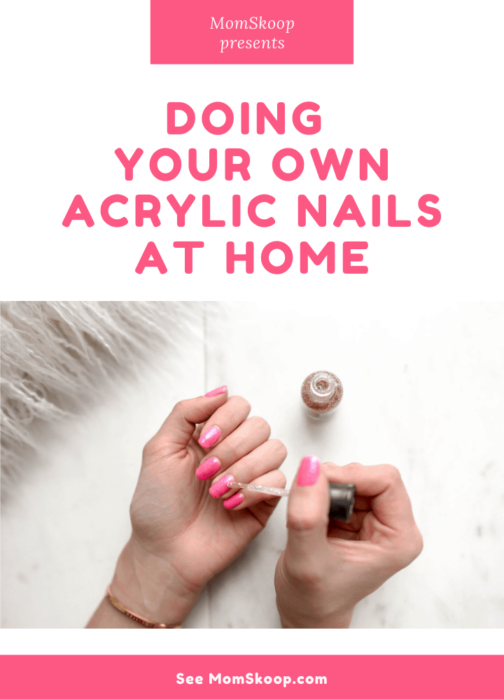 Having your nails done at a salon is definitely a nice indulgence. However, this type of pampering isn't always easy on the pocketbook.
Did you know that learning how to do your own nails isn't that hard to do? With just a few supplies and know how, you will be able to do your own acrylic nails in the comfort of your own home!
Before we jump in and start talking about everything you need to do your own nails at home, let's talk first about nail tips and acrylic nails.
What are Nail Tips?
Quite simply, they are false nails. These nail tips are pre-cut pieces of plastic. You can buy them in either clear or white.
One thing to keep in mind is that they are extremely long and you or your nail tech will need to cut them down to the size you want your false nails to be.
What is Acrylic?
Acrylic is a man-made chemical that comes in powder and liquid form for nails. A mixture is made by mixing the liquid acrylic and the powder together and then brushing that over your natural fingernail to blend the nail tip to your natural nail.
Are Acrylic Nails bad for your nails?
Due to the fact it is difficult to remove the acrylic nails, they may ruin your natural nails for a short time. While your nails grown back out, you will need to use a nail hardener on your nails as well as take extra steps to keep your nails healthy.
What are Gel Nails?
Gel nails look more like real nails. To create gel nails, you will apply a gel primer on each nail (and the nail tips) and allow it to dry. Then you will apply gel foundation and polish to each nail and then cure your nails under an LED light.
There are a few steps involved with doing gel nails, however, one of the bonuses is that they will normally last longer than doing acrylics. The downside though is that having them done by a nail tech will set you back a bit more.
Our contributor Kenda, did a fantastic tutorial on Doing Your Own Acrylic Nails at Home. She also put together a step by step DIY nail tutorial using the Kiara Sky Dip System.
Is it Cheaper Doing Your Own Nails at Home vs a Salon?
At first it may not seem so due to the cost of the supplies that you need to purchase, however, since many of the supplies can be reused more then once, it will quickly offset the expense.
What Do You Need to Start Doing Nails at Home?
You don't need a lot of accessories to do your own nails, however, make sure that you have everything you need before you begin.
One key thing to keep in mind is that you will want to cover and protect the surface where you will be doing your nails. I have actually ruined our kitchen table by making the mistake of not having it covered enough.
The most important thing you will need is something to store all of your nail supplies in. May we suggest this:
Blue Hills Studio Storage Cart with 6 Drawers
Here are the basic supplies that will you need:
ASP Form-A-Nail – The must have for home acrylics
Mia Secret Acrylic Professional Full Nail Kit
Diamond Nail File
If you decided to do your acrylic nails at home for the first time, I'd love to see pictures of your finished nails!
This post was originally posted on February 11, 2019.