Post contains affiliate links. Purchases made through links provide us with a small commission. As an Amazon Associate I earn from qualifying purchases. Please refer to our disclosure policy for more information.
Some of you may remember that I was a huge fan of the Form-a-Nail acrylic system. I even did a post about them in 2015. I was telling the truth - they were awesome and I used them the past two years. Then I caught a YouTube video a few months ago talking about the " easiest DIY nail system " that seemed too good to be true.
It was a dip powder and I'd tried the store versions. All of them. Ugh. They were not very easy, extremely messy, fell apart quickly, and never gave me professional results. So, of course, I was skeptical. I decided I had to try this new system out myself.
I am SO impressed.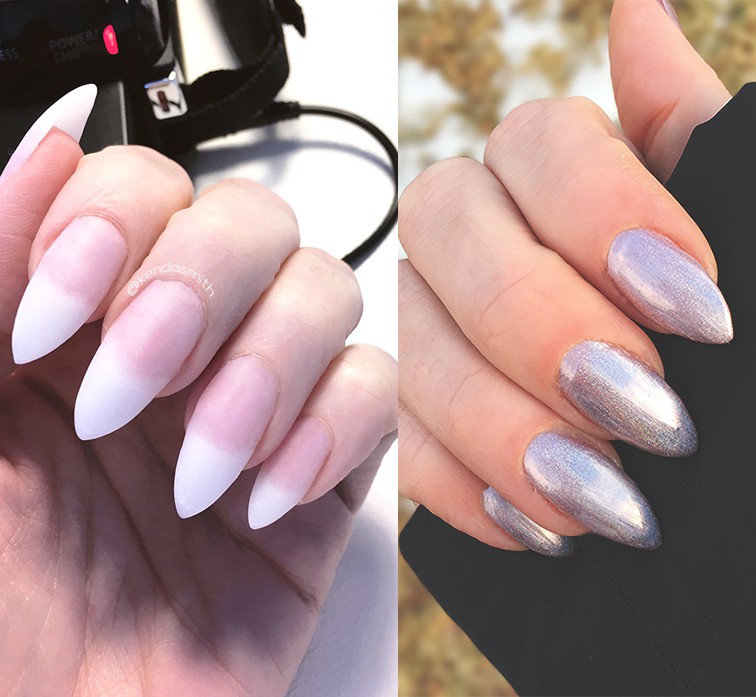 These are nail sets I created using the Kiara Sky Dip Powder System. Nice, right? What if I told you it also took me less than an hour AND I didn't have to use a drill to even them out? AWESOME. If you're a "see it when I believe it" type of person (me too), then check out my video below. I walk you through the process, step by step.
About Kiara Sky® Dip Powder
My choice for EASIEST DIY NAIL SYSTEM for 2017
Get stronger, lightweight and natural long-lasting nails with our easy-to-use dip powders and dip essentials that don't damage the nail bed. Formulated without harsh chemicals and with added vitamins and calcium to strengthen natural nails. Our Kiara Sky® Dip Powder contains complex bonds that keep it from chipping, discoloring and lifting. Available in 130 colors that matches with Kiara Sky® gel and nail lacquer. The healthier and exciting alternative in Nail Enhancements.
Ingredients: Polyethylmethacrylate, Acrylates Copolymer, Benzoyl Peroxide and PEG-12 Dimethicone. May also contain pigments or glitters.
---
So, now you know how easy it is. What about lifting? I have had my current set on (except for the one I replace in the video) for about 3 weeks. No lifting at all. I do have grow out space that I'll need to fill soon, but I have a feeling that will be even easier than the original set. I'll try to make an update video when it's time to fill. Subscribe to my YouTube channel to get notification!
---
PRODUCTS USED / RECOMMENDED:
Kiara Sky Dip Powder Starter Kit
Polish In Picture: Color Club Gel "Cloud Nine"
Stiletto Nail Tips
Buffer Blocks
LED Nail Lamp
Blue Hills Studio Storage Cart with 6 Drawers – My storage cart for nail supplies. If you decide to stock up on nail goodies, especially powders and liquids, you'll want to store them separately and securely.
---
What the heck are Nail Forms? Check out my 2015 Nail Forms Tutorial