Post contains affiliate links. Purchases made through links provide us with a small commission. As an Amazon Associate I earn from qualifying purchases. Please refer to our disclosure policy for more information.
DIY Acrylic Nails are easier than you think to do at home!  The best part about doing your nails at home is that you can do them in the comfort of your own home.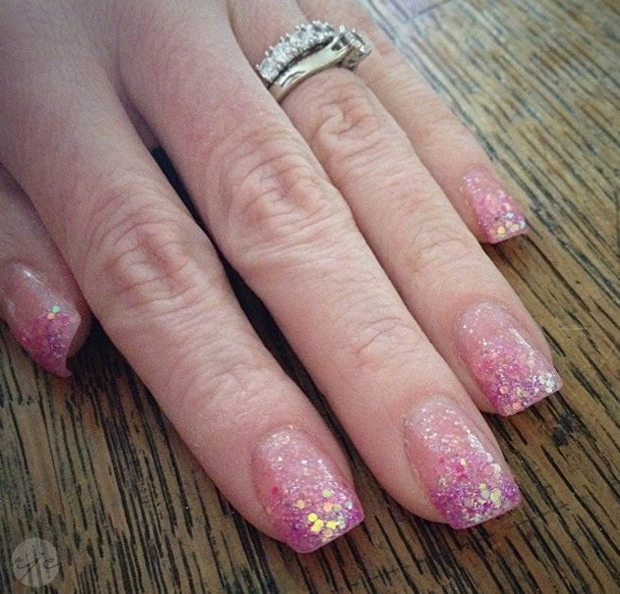 Everyone has a beauty treat they love. For me, it was always my nails. I loved going in for a full set of brand new acrylics or gels. When my hands look great, I just feel better. Unfortunately, that gets a little expensive after a while. I was paying $40+ per set and sometimes more depending on what 'extras' I wanted like UV gel or airbrush French manicure.
Have you ever wondered how to do acrylic nails yourself? I tried doing my nails by hand. It was messy and they never turned out right. There's a reason techs go to school to learn these hand-shaped techniques! Then I found a product that changed everything.
Once I found this product, I had put together a breakdown of how to do fake nails step by step so you can do your own acrylics at home!
* Check at the end of the post for a DIY nail update and video link showing how to fill the nails after and keep them looking great.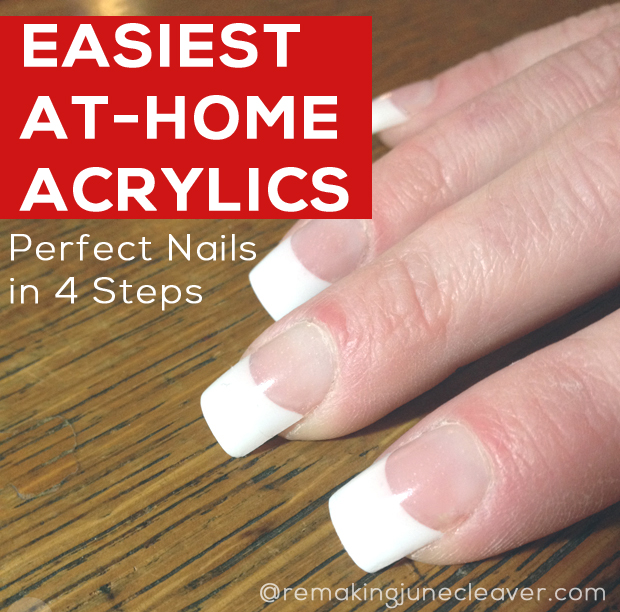 I did the French tip nails on my first try, sitting at my desk while I watched a movie on Netflix. Guess what - you can too. You just need these little gems...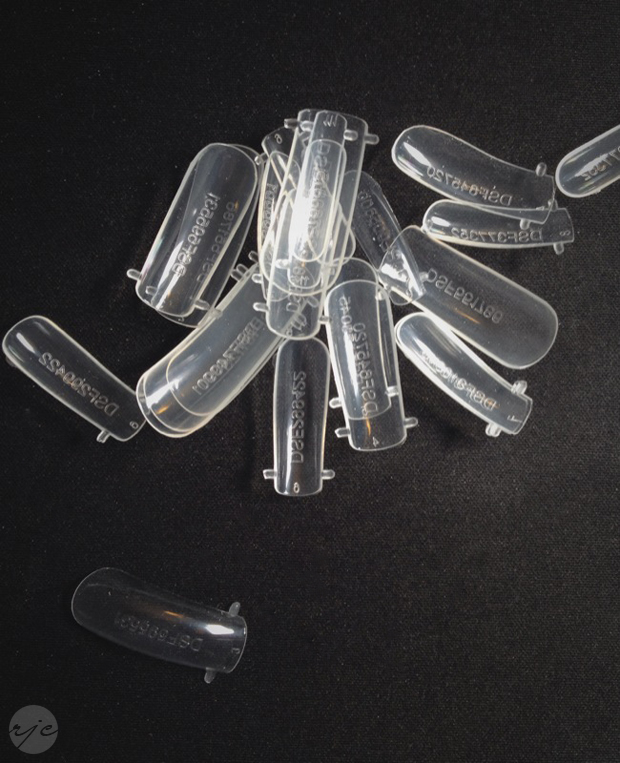 These are nail forms. They come in different brand names, but I personally use Form-A-Nail. They make acrylic nails simple, fast and more affordable. Typically you would have to fight with applying acrylic directly onto your nail or nail tip, struggling with working with the opposite hand, patting, sliding, filing it down, buffing it out... and still likely end up with ridges, bumps and uneven edges.
With nail forms none of that is an issue. Work with both hands, start over if you mess up, add glitter or accents, no filing or buffing required... all before the acrylic even touches your fingernail.
4 Easy Steps
Add artificial nail tip (after a bit of practice you can even skip this step!)
Apply acrylic to nail form
Press nail form onto nail for 15 - 20 seconds
File edges
Adding art is simple:
mix glitter into your acrylic before applying
place glitter directly into acrylic in form
place almost anything into the form with the acrylic: decals, gems, beads, even images from a magazine
It was so easy that I found myself grabbing up all kinds of supplies. This glitter sample tray was calling my name.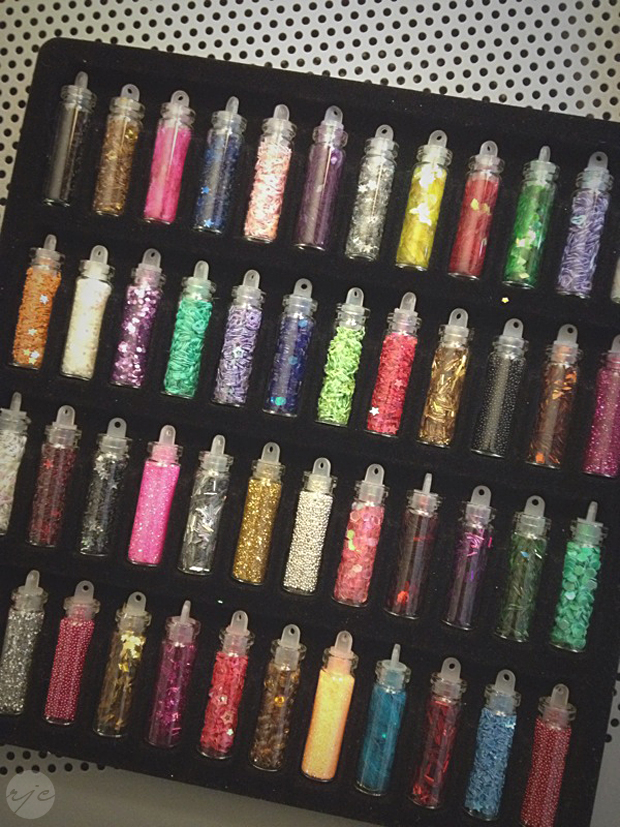 *The glitter set above is no longer available, however, check out these other fun options!
But, it wasn't enough. I had the nail art bug. The logical next step was fimo. Fimo sticks are sliced with a razor blade to make colorful images for your nails. Many people place them on TOP of the nail art. But that creates a layered 3D effect that can catch on fabric, break off, scratch your kids (found that out the hard way). With nail forms, you put the fimo slice UNDER the acrylic so they won't come off until you remove the nail.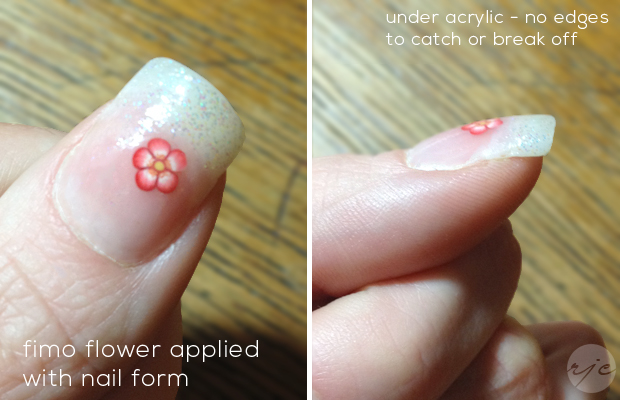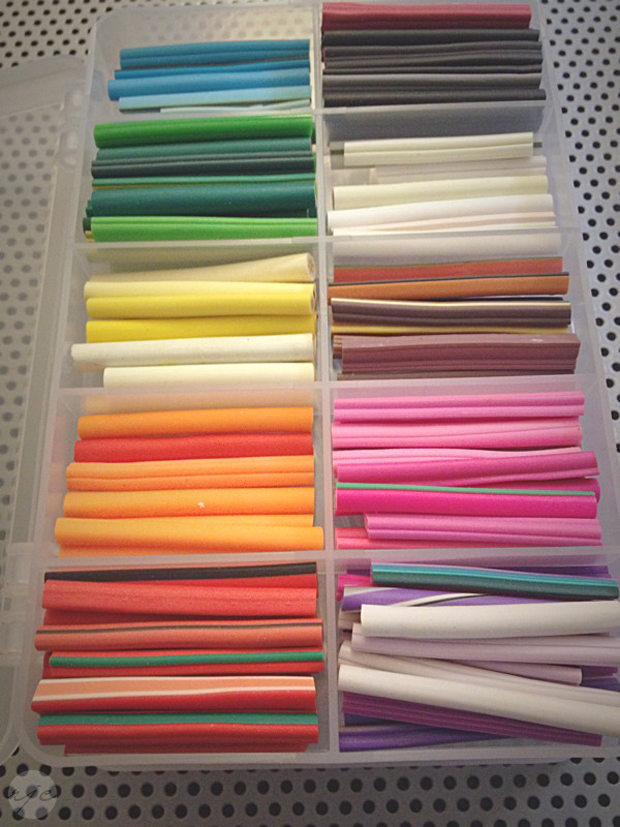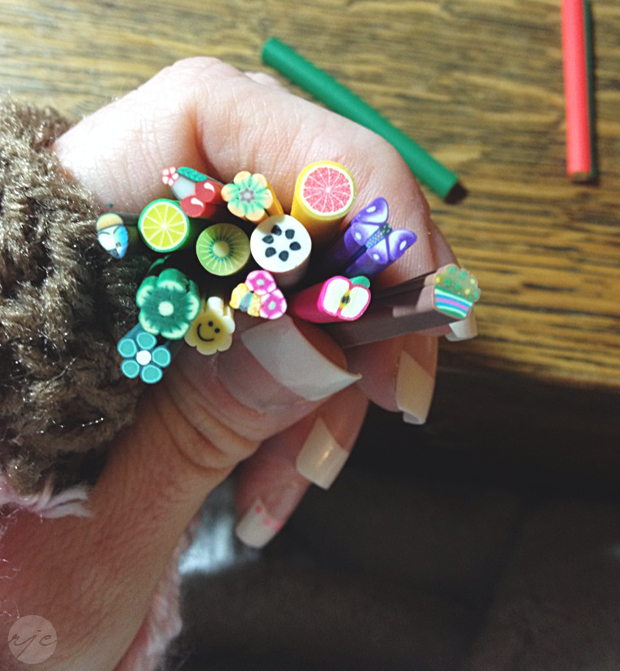 Please excuse my crochet hand warmers. My office gets really cold in the winter. And my giant thumb. Gotta love weird camera angles.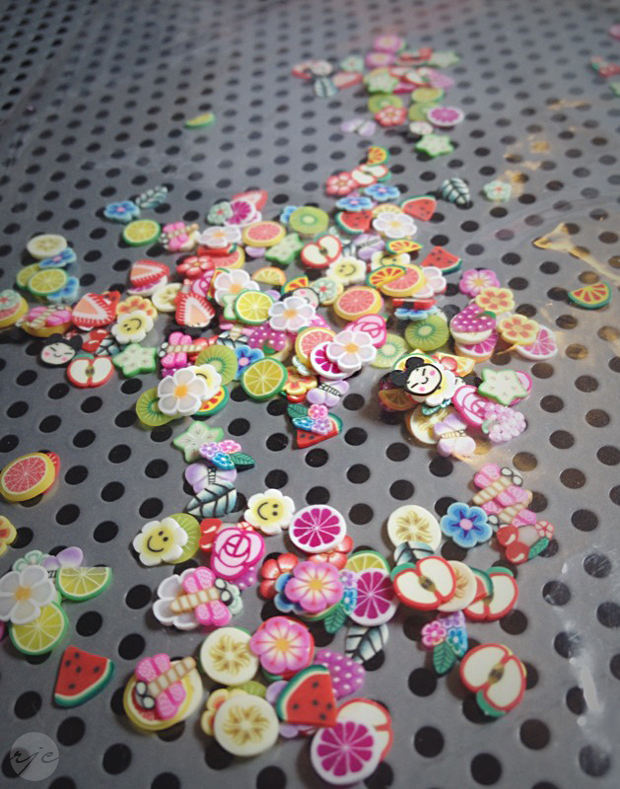 *Ready to get your own fimo? Check out these options:
I realize there are some people who aren't into going all out with design, fimo etc. Some just want a pretty, natural nail. I love that style as well. So I set out to see just how natural nail forms could look. I was very happy with the results.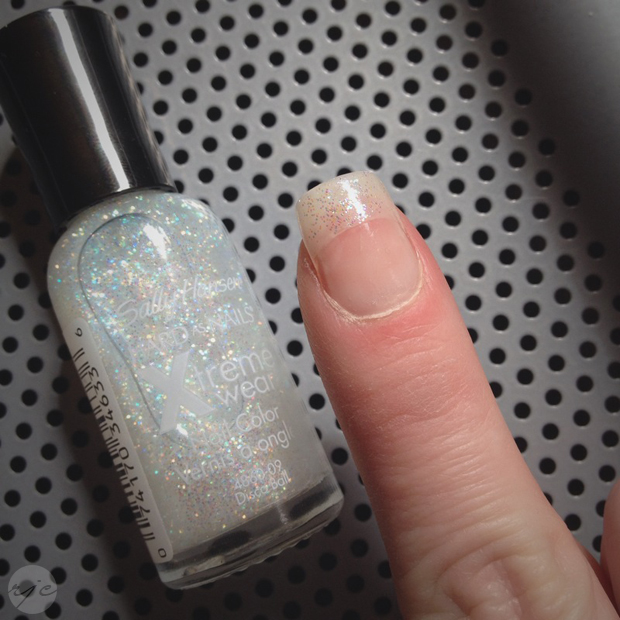 First attempt: Semi-transparent natural nail tip with clear acrylic in a nail form. I polished just the tips with Sally Hansen "Disco Ball'.
For my second attempt I used a traditional nail tip and overlayed with 'natural' acrylic on the tips and 'soft pink' on the nail beds. Again, applied with nail forms. This gave me a different natural look with more pink and it was a little bit stronger than the first try. However, both looked great and even more natural than what I usually received at the nail salon.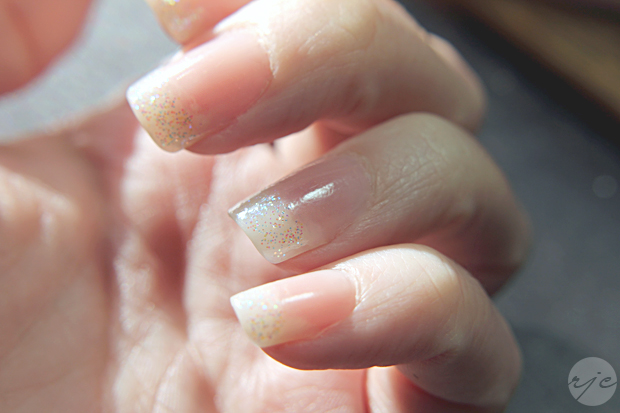 If you want to try DIY acrylic nails at home, but you've been scared you'll end up with a Pinterest "fail" instead - try nail forms. I think you'll be amazed at just how easy it really is.
Here is a breakdown of the products I used
So now you know how to do acrylic nails like a pro!
A lot of readers want to know how to fill the nails. Click HERE to watch a great video by Bold n Trendy Nails showing how to keep your at-home set looking great.
UPDATE: Check out my EASIEST DIY NAIL SYSTEM for 2017 [VIDEO HOW-TO] - MomSkoop!