Butter Pecan Cornmeal Muffins
Post contains Amazon Affiliate links. As an Amazon Associate I earn from qualifying purchases. Please refer to our disclosure policy for more information.
This Butter Pecan Muffin is full of sweet flavor and satisfying crunch.
Two of my all time favorites are cornbread and just about anything flavored with Butter Pecan. I was raised with sweet cornbread and corn muffins at dinner, lunch or even breakfast.
The Butter Pecan was (unfortunately) only with dessert. Today I decided to share a new twist on those two classics with you.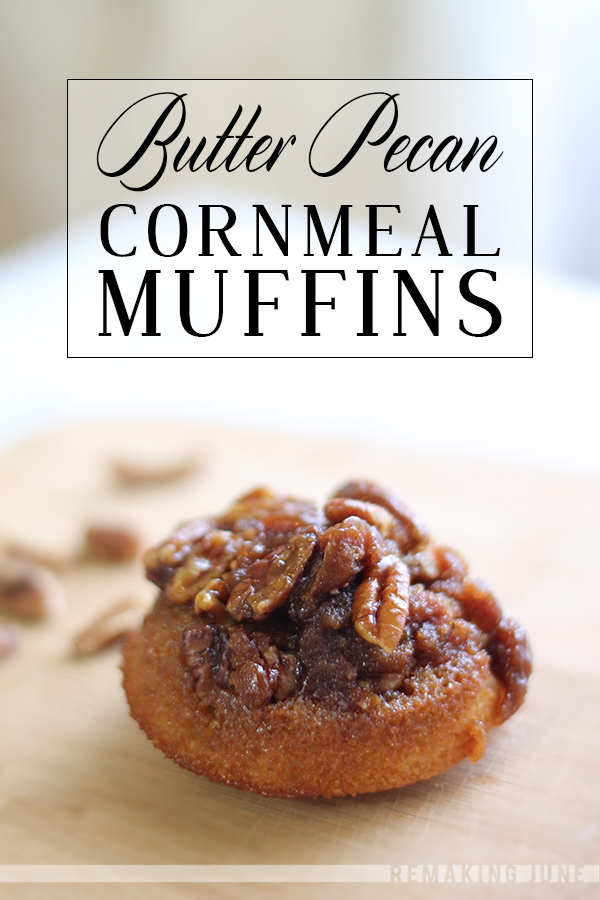 I'm sure some of you might be thinking, "Cornmeal… in dessert?" and to that I say ABSOLUTELY. You can make so many things with it – everything from pie crust to cookies. All it takes is the right combination of ingredients and some creativity (or maybe online inspiration).
So what's the deal with 'flipping'? Unlike other sweet cornmeal muffin recipes, we're going to bake the sugary, buttery goodness on the BOTTOm and flip them over to create a mouth watering, candied top. By cooking the sweetness under the batter, you create a beautiful, caramelized crunch that will make you come back for more.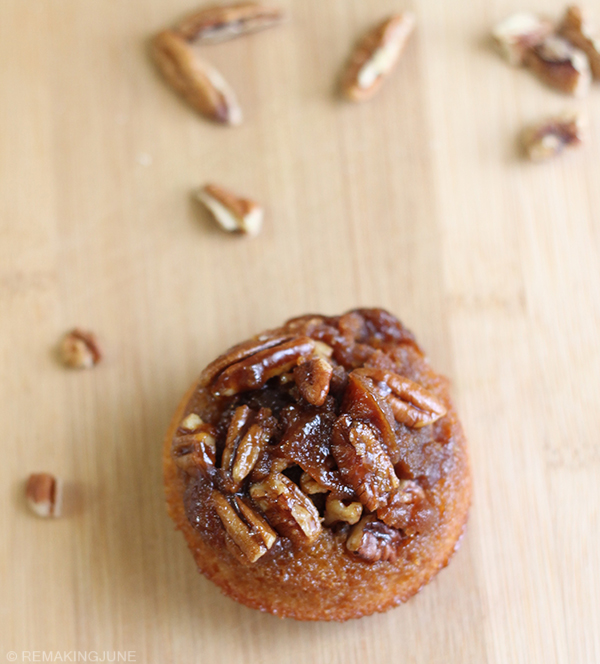 These muffins combine the sweet, buttery crunch of Butter Pecan with the soft, fluffy flavor of fresh cornmeal cake. I keep calling it a dessert, but I won't tell anyone if you decide to have one for breakfast with your coffee. Delicious!
Butter Pecan Cornmeal Muffins
Ingredients
3/4

c

milk

1

cup

P.A.N. White Cornmeal

4

oz

unsalted butter

1 stick

1

cup

dark brown sugar

3/4

cup

chopped pecans

3

eggs

1

cup

all purpose flour

2

teaspoons

baking powder

1/2

teaspoon

salt

3/4

cup

white sugar

1/2

cup

canola oil

or vegetable

2

teaspoons

vanilla
Instructions
Preheat oven to 350 degrees F.

Butter or spray muffin pan

Melt butter in small pan on medium heat

Once melted, add brown sugar and stir constantly on medium heat until sugar is melted

Add 1 teaspoon of vanilla and mix well

Remove butter/sugar mix from heat

In a separate bowl whisk flour, cornmeal, baking powder, white sugar and salt until blended

Add eggs, 1 teaspoon of vanilla, white sugar and oil

Stir well until blended

Spoon small amount of butter/sugar mix into each muffin pan spot

Next, add thin layer of pecan pieces over butter/sugar mix in muffin pan

Finally, scoop flour/cornmeal mixture into muffin pan

Place in oven and bake for 20 - 23 minutes until the edges of the muffins are brown and a toothpick placed into the center comes out clean.

Remove from oven and let sit until they are still warm.

Place a cookie sheet over your muffin pan and flip upside down to release muffins.

If you have additional pecan/brown sugar left in your muffin pan, scoop out and lay over tops of muffins.

Serve Warm
For my recipe I used P.A.N. Cornmeal. It's pre-cooked using only the best white corn for beautiful presentation and amazing flavor in your favorite dishes. It's easy to grab a mix and just toss it in a bowl. Trust me, I understand. But, the kitchen should be somewhere that creates adventure and surprises for your family. P.A.N., a company founded and based in Venezuela, offers a great (and easy) way to explore world flavor without even leaving your home. Bring a new taste to the table tonight!
P.A.N. Cornmeal isn't a new product, just new to American households. It's the favorite cornmeal of families all over South America thanks to the rich nutrients and versatility that cornmeal offers. Now we can enjoy P.A.N.'s delicious flavor and usefulness as well. Get rid of the boxed mixes and really step back into the kitchen to explore something new for dinner (or lunch, or breakfast…) with P.A.N. New to cornmeal creativity? Visit the P.A.N. Tumblr page for plenty of recipes and ideas to get you started.