Easy Canned Biscuit Donuts
Post contains Amazon Affiliate links. As an Amazon Associate I earn from qualifying purchases. Please refer to our disclosure policy for more information.
Canned Biscuit Donuts that are deep fried and dredged in cinnamon sugar or dipped in chocolate are a delicious and easy to make treat! If you are craving fresh donuts, but don't want to make a run to the local donut shop, these delicious donuts from canned biscuits are simple and will definitely satisfy your cravings!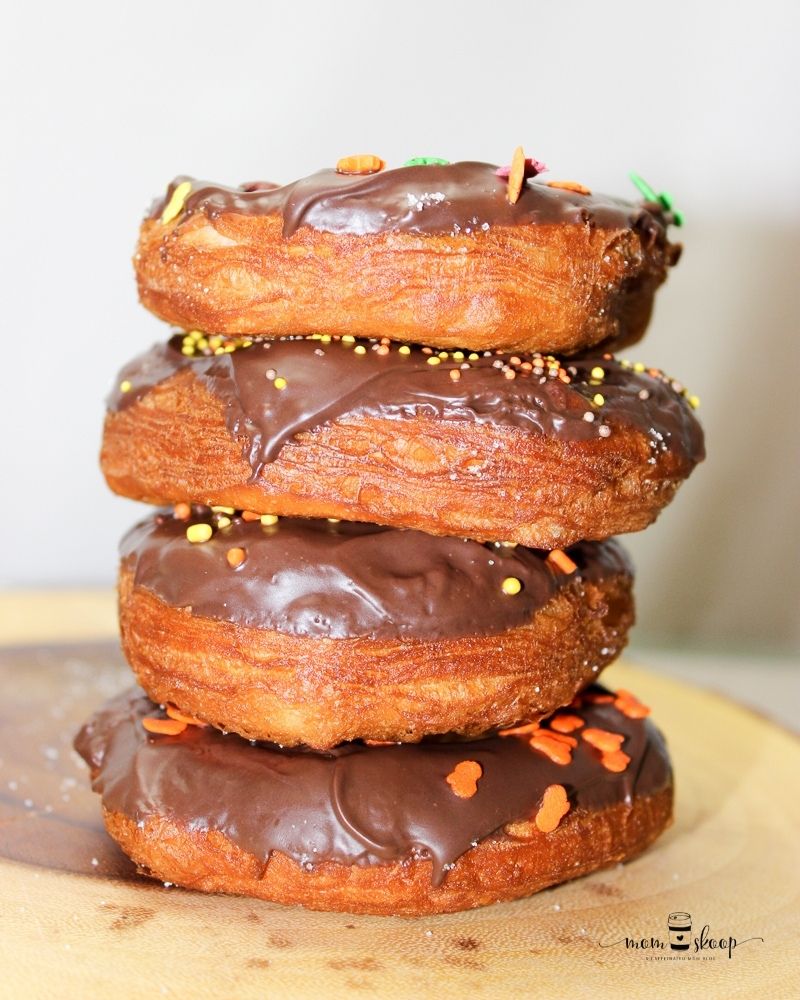 How to Make Donuts Out of Biscuits
Our homemade biscuit donuts are so easy to make that you may find yourself making them a lot!
These homemade donuts are great plain, dipped in chocolate and topped with sprinkles or simply coated in cinnamon sugar!
If you are craving Pumpkin Spice Donuts, you can coat the warm donuts with Pumpkin Pie Spice.
Breakfast doesn't have to involve a long drawn out process. Our Scones recipe is simple and quite yummy! Another easy breakfast idea that also works great as a snack are our muffins drizzled with caramel! Or our muffins that are moist and full of flavor!
Before you get started on this easy donut recipe from biscuits, here are a few questions you may have:
Why This Recipe Works
Easy – making homemade donuts is super easy when you use biscuits!
Versatile – the kids can get involved with the decorating.
Tasty – let's be honest, who doesn't love fresh and warm donuts?
Expert Tips, Ingredient List and Suggestions for Recipe Success
Oil – you can use canola or peanut.
Sugar – you can use whatever type of toppings for decorations.
Biscuits – any brand of canned or even frozen biscuit dough will work.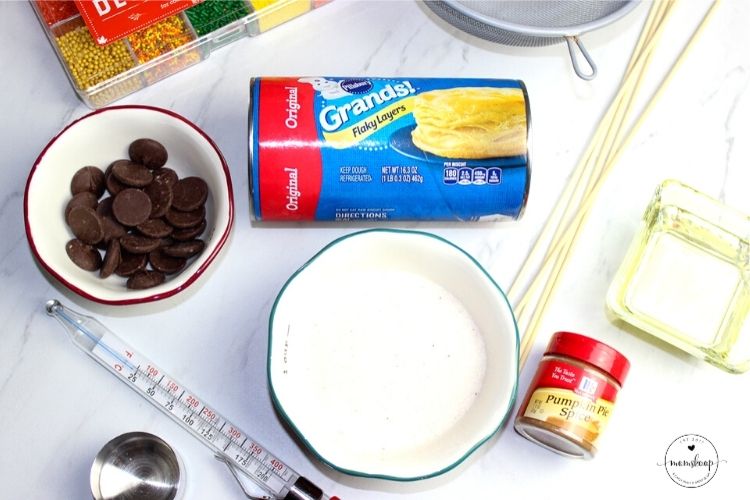 What is the Best Oil to Use?
I think canola oil is the best. You will want to keep the oil heated at 350 degrees.
How Do You Make Canned Biscuits Better?
By making them into donuts of course! Honestly though, you can add all kinds of things into the biscuits before baking them. You can also top them with melted butter after they are done baking.
You could also enjoy them by adding a sausage patty and cheese or by adding Canadian bacon, egg, and cheese.
Can You Freeze Biscuits from a Can?
Yes, you can. Remove them from the tube, place them on a baking sheet and freeze them until they are frozen solid. Then place them in a freezer-safe bag. Write the baking directions on the bag with a sharpie so you know what they are. They are good for up to three months. Then when you are ready to use them, bring them to room temperature then bake according to the directions on the tube.
What Can I Use to Cut Out the Middle of a Biscuit?
You can use a small round cookie cutter, a small glass, or even the top of a drink shaker (that's what I used).
What Do I Do with the Middle of The Biscuits After Cutting Them Out?
Make donut holes! That's why I love these donuts made from canned biscuits so much! You not only get donuts you also get donut holes! It's a win-win!
Step by Step Directions
Step 1: Preheat the oil.
Step 2: Prepare the biscuits.
Step 3: Add the donuts into the hot oil.
Step 4: Remove them when done and place on a paper towel to drain.
Step 5: Make the frosting.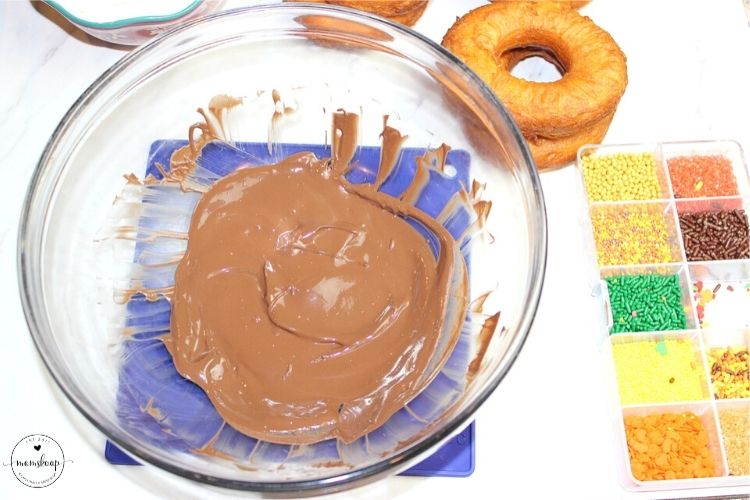 Step 6: Dip or roll the donuts in the coating.
MORE DONUT RECIPES
Have you tried this recipe? Did your family like it? Dislike it? We'd love to hear your thoughts in the comment section or you can leave a star ⭐️⭐️⭐️⭐️⭐️. If you found a different flavor profile or a tip that you'd love to share, we'd also love to know that! You can also follow me on
Instagram,
Facebook
,
Pinterest
, and
Twitter
!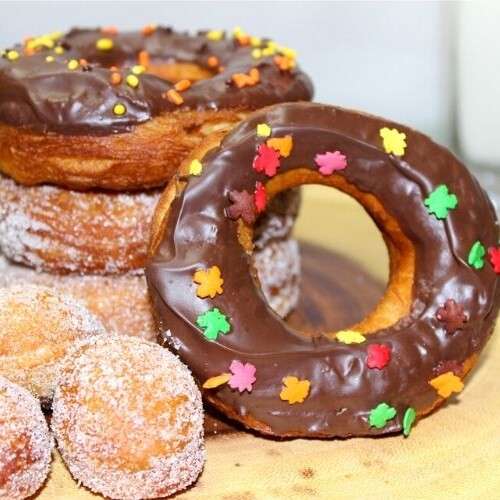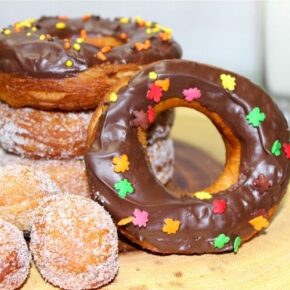 Easy Canned Biscuit Donuts
Canned biscuit donuts that are deep fried and dredged in cinnamon sugar or dipped in chocolate are a delicious and easy-to-make treat! 
Equipment
Tongs

Dutch oven

Paper towels

Saucepan or bowl to melt chocolate

Spatula
Ingredients
Canned biscuits

Cinnamon sugar mixture

just 1/3 cup of sugar and 1 tsp cinnamon mixed together

Ghirardelli Dark Chocolate Wafers

Sprinkles

optional

Canola oil

Circle cookie cutter
Instructions
Preheat 2 inches of oil in a Dutch oven or a large pot. It's not a good idea to use a small short sided skillet for this due to the hot oil splashing out.

While the oil is heating to 350 degrees, get your biscuits ready. Pat or roll out each biscuit to approximately 1 1/2 inches in height. Then cut out the middle of each biscuit.

When the oil is ready, add two to three biscuits in at a time. Using tongs turn them over after about three minutes so both sides get browned. Then repeat the same process with the donut holes.

Remove them immediately and place them on paper towels to drain.

After the donuts are done, melt the chocolate in a double boiler or microwave following the instructions on the package.

As soon as the homemade donuts are cooled down enough to touch, dip them in the chocolate and top with sprinkles, roll in a simple sugar mixture or roll them in cinnamon mixture.
Nutrition
Serving:
1
g
Calories:
202
kcal
Carbohydrates:
39
g
Protein:
1
g
Fat:
6
g
Saturated Fat:
1
g
Polyunsaturated Fat:
4
g
Cholesterol:
1
mg
Sodium:
87
mg
Fiber:
3
g
Sugar:
29
g