CHOCOLATE CHIP SCONES RECIPE
Post contains Amazon Affiliate links. As an Amazon Associate I earn from qualifying purchases. Please refer to our disclosure policy for more information.
Chocolate Chip Scones are full of chocolate chips and just a hint of cinnamon and vanilla. These scones are perfect to have any time of the day!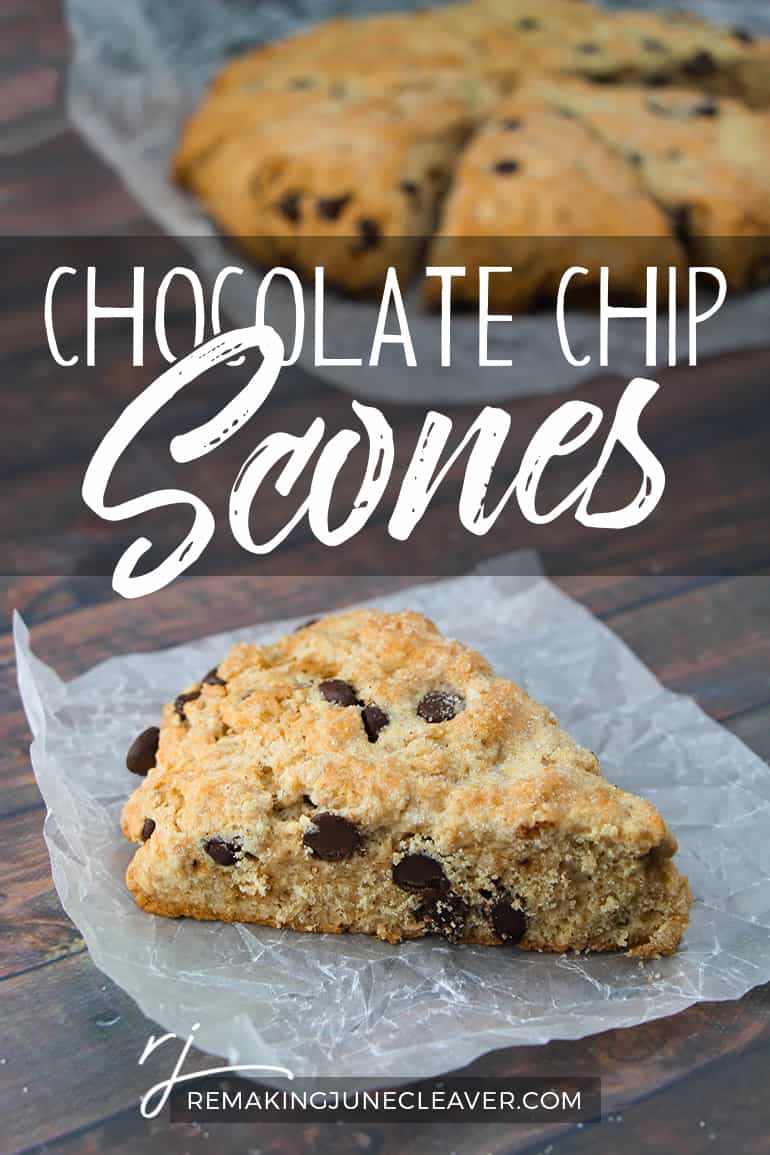 One of my favorite things to have in the late morning or early afternoon is coffee and cakes.
Of course, when I say "cakes" I don't mean chocolate cake with icing. I mean a flaky, crumbling scone or biscuit. These chocolate chip scones are sure to bring a smile to your face as you curl up with a good book, finish off a work report, or just indulge in some fluffy afternoon television.
Originating in the early 1500s, the origin of scones is often debated. Some say the original word is "Skone", while others say it comes from the Dutch word 'schoonbrot' (beautiful bread). Still others argue that it comes from Stone of Destiny, where the Kings of Scotland were crowned.
No matter what early history you choose to believe, we can all agree that homemade chocolate chip scones are a beautiful thing! So soft and crumbly…sweet and delicious. Perfect with coffee or tea.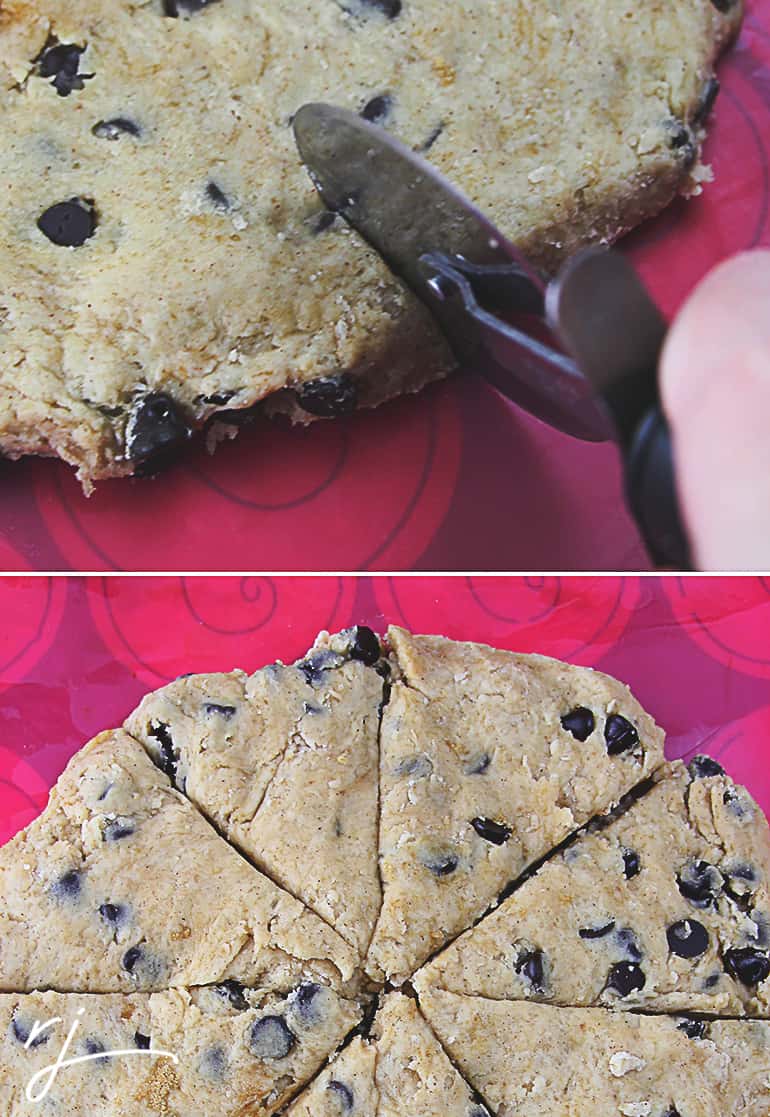 Chocolate Chip Scones – Variations
Try using dried fruit or nuts instead of chocolate chips. Crumbled bacon can also play beautifully with the sweetness of the brown sugar dough.  Not crazy about sugar? Add spices to make your scones savory, a perfect compliment to breakfast.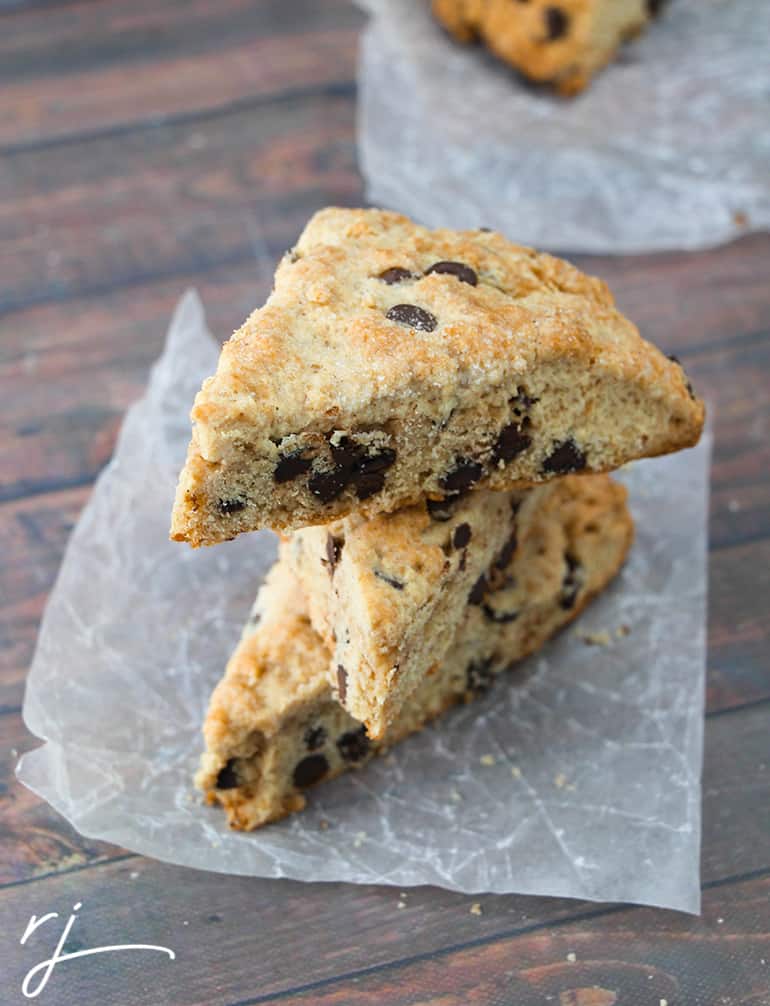 Chocolate Chip Scones Recipe
Chocolate Chip Scones
Ingredients
2

cups

flour

1/2

cup

brown sugar

2

teaspoons

baking powder

1

teaspoon

coarse salt

1/2

cup

COLD butter

1/2

cup

COLD heavy whipping cream PLUS 1 Tablespoon

1

large COLD egg

1

teaspoon

vanilla extract

1

cup

chocolate chips

or more to taste

1

Tablespoon

cinnamon

optional

2

teaspoons

sugar

for dusting
Instructions
Preheat oven to 400°F

Line a cookie sheet with parchment paper or a silicone baking mat and set aside.

In a large bowl, whisk the flour, brown sugar, baking powder, cinnamon and salt.

Using a pastry cutter, work the butter into the dry mixture until it is in pea-size lumps.

Make a well in the center of the dry mixture and set aside.

In a measuring cup, mix together the one cup heavy cream, egg and vanilla.

Pour the wet mixture into the well in the dry mixture and use a fork to incorporate until just moistened.

Add in the chocolate chips then fold out onto your parchment-lined cookie sheet.

Form into a 10" disc and use a pizza cutter to cut into segments. You can bake it like this or pull the segments apart for baking.

Brush the scones with the additional tablespoon of heavy cream and (optionallsprinkle with sugar.

Bake for 22-25 minutes, until lightly golden and raised.

Allow to cool slightly before serving.
This amazingly delicious and easy recipe for chocolate chip scones is perfect for bakers of all levels. Beginners and pros alike will enjoy experimenting with flavors for every occasion.
amzn_assoc_placement = "adunit0";
amzn_assoc_search_bar = "true";
amzn_assoc_tracking_id = "momskoop20e-20 ";
amzn_assoc_ad_mode = "manual";
amzn_assoc_ad_type = "smart";
amzn_assoc_marketplace = "amazon";
amzn_assoc_region = "US";
amzn_assoc_title = "Products You May Need";
amzn_assoc_linkid = "f03103019f7599f530198915c1ee92a6";
amzn_assoc_asins = "B00004OCJN,B01DKV08G6,B01B7AE1TW,B001C1MCHK";