Post contains affiliate links. Purchases made through links provide us with a small commission. As an Amazon Associate I earn from qualifying purchases. Please refer to our disclosure policy for more information.
DIY lip balm is easier to make then you think. With just a few ingredients, you can make your own customized lip balm that will keep your lips protected.
Summer is right around the corner which also means countless hours for your face in the Sun!
We make sure to apply sunscreen to our skin, we put hats on to protect our faces, we make sure to stay hydrated,but there is one body part we forget. That is until we get home and realize that our lips are starting to hurt. That is when we realize that we forgot one spot on our body to apply sunscreen to, our lips!
According to the Skin Cancer Foundation, lips have no melanin, so they are more susceptible to sun damage. In return, that sun damage can result in lip cancer! That is why it is so important to take care of our lips!
Until last Summer, I was awful about taking care of my lips during the Summer. I learned the hard way after a day in the sun! My lips were so dry, raw, and swollen. Lesson learned! Now each time I am in the sun I use lip balm.
The American Academy of Dermatology suggests that we use SPF every time we are outside on our lips whether it is cloudy or sunny. And we are to reply the sunscreen every two hours. Making sure that we protect our lips from sunburn is easier then you think!
Here are some easy Summer Lip Care tips to help keep your lips looking and feeling their best!
1. Look for lip products that have ingredients like beeswax as it helps seal the moisture in.
2. Look for lip gloss with a minimum of SPF 30.
3. Exfoliate your lips with sugar, coconut oil, and vitamin E oil to remove the skin cells that have died on your lips.
4. Moisturize your lips with lip balms like the DIY one below. A wonderful time to moisturize your lips is at bedtime. Apply lip balm liberally at night before you go to bed.
Making your own DIY lip balm with essential oils is very easy and it will help you keep your lips moisturized!
If you are looking for a DIY lip balm without beeswax how to, check out these posts:
DIY Organic Lip Balm Without Beeswax
If you haven't made your own lip balm before, you may be asking how do I make lip balm? Here are a few tips so you can make your own.
HOW DO YOU MAKE NATURAL LIP BALM:
The basic lip balm recipe calls for oil (coconut, grapeseed), butter (shea, cocoa, mango), wax (soy or beeswax), and your favorite essential oils.
WHAT ARE THE BEST ESSENTIAL OILS TO USE?
When making this diy recipe, you will want to use essential oils that are soothing for your lips. Look for essential oils such as: lavender, chamomile, coconut, or jasmine.
WHAT INGREDIENTS ARE NEEDED TO MAKE LIP BALM?
Coconut oil
Beeswax
Essential oils
WHAT SUPPLIES ARE NEEDED TO MAKE THIS LIP MOISTURIZER?
Lip Balm Containers
Washi Tape
Grater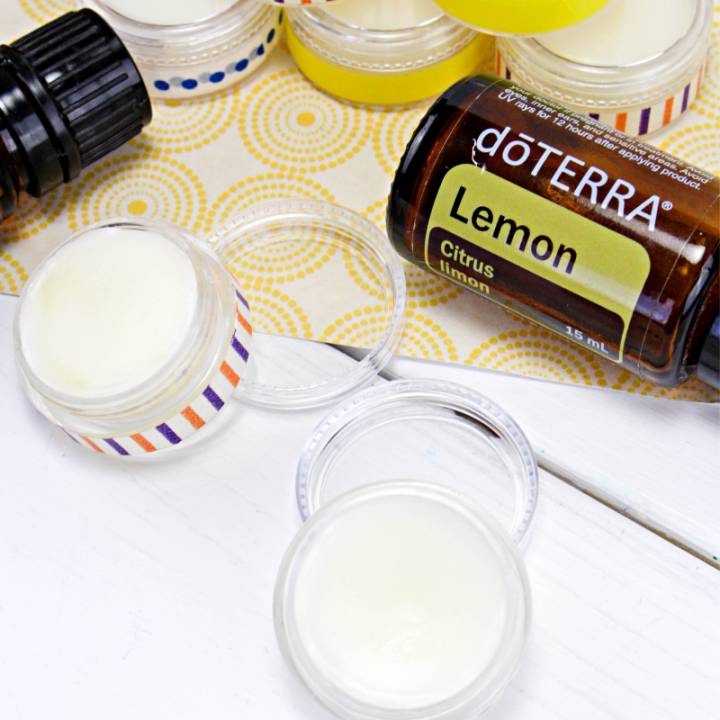 DIY LIP BALM PLUS SUMMER LIP CARE TIPS
DIY lip balm is easier to make then you think. With just a few ingredients, you can make your own customized lip balm that will keep your lips protected. 
Materials
3 Tbsp. Coconut Oil
3 Tbsp. Beeswax, grated
3 Essential Oils, different fragrances
Tools
Grater
Lip balm containers
Washi tape
Instructions


1. Grate the beeswax and measure out 3 tablespoons and put it into a glass measuring cup.
2. Add the coconut oil to the measuring cup and microwave it in 30 second intervals, stirring in between, until it's all melted.
3. Put about 3-4 drops of essential oils into each of your lip balm containers.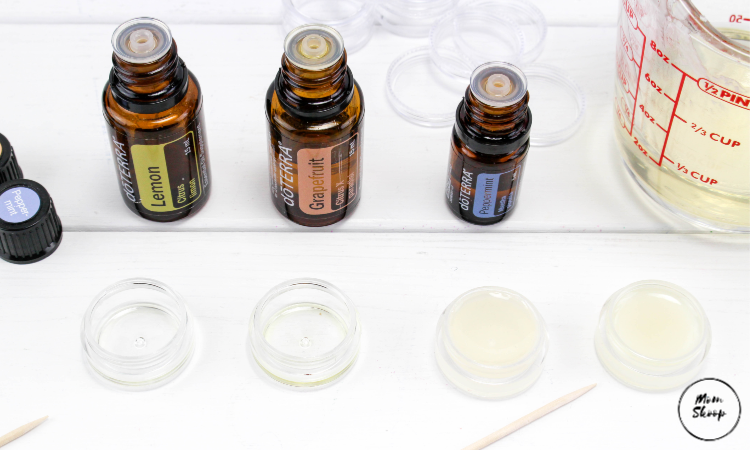 4. Pour the coconut/beeswax mixture into each container until filled to the top.
5. You can take a toothpick and do a quick stir in each container if you want to.
6. Let these set for at least an hour and become solid, then you can put the lids on.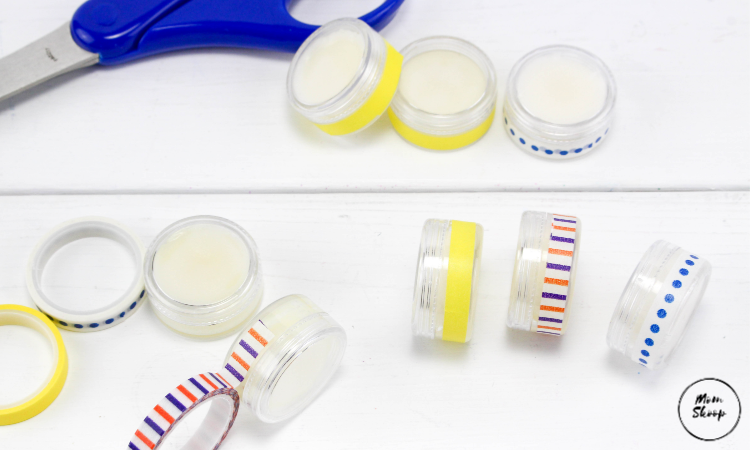 7. Use the washi tape and put a strip around the bottom of each container to make them look cute and fun.
8. Very easy way to use essential oils for party favors or just make for yourself.
Recommended Products
As an Amazon Associate and member of other affiliate programs, I earn from qualifying purchases.