These delicious, golden stuffed Arepas are perfect for any time of day. Breakfast, lunch or dinner, the satisfying crunch and cheesy bacon filling will have your family coming back for more. And the best part? They're super easy to make in a matter of minutes.
For my hot cheese and bacon sandwich, I used P.A.N. Cornmeal. It's pre-cooked so your recipes come alive even faster – using only the best white corn for beautiful presentation and amazing flavor. The kitchen should be somewhere that creates adventure and surprises for your family. P.A.N., a company founded and based in Venezuela, offers a great way to explore world flavor without even leaving your home.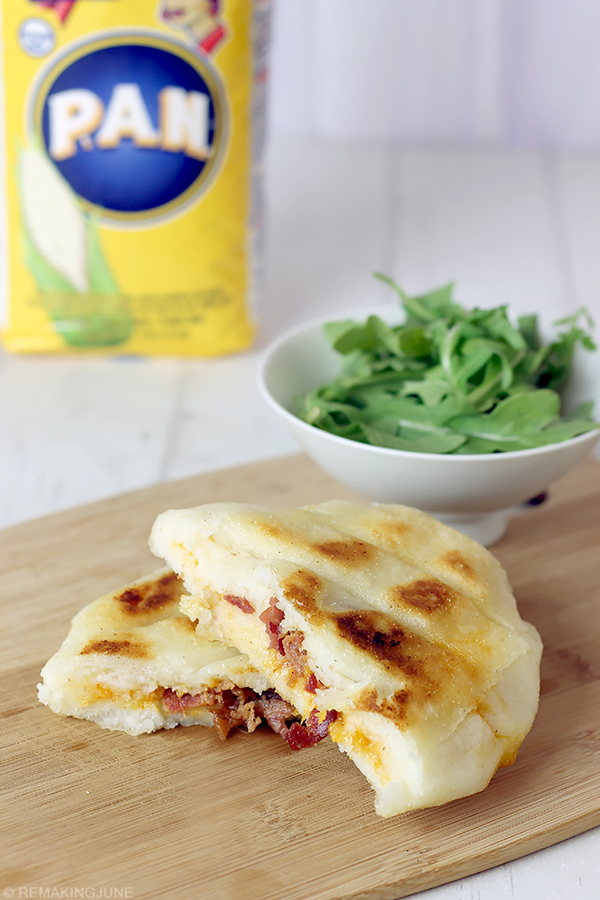 The great thing about Arepas is that you can make them any size you like. Hosting a party? Make them appetizer size that your guests can enjoy in two bites. Or, make a large sandwich size for a hot lunch or satisfying dinner.
Easy Bacon and Cheese Arepas
2 1/2 cups warm water
2 cups P.A.N. Precooked White Corn Meal
1 teaspoon Salt
1 teaspoon Garlic Powder
Vegetable oil (for frying)
10 – 12 slices Bacon (cooked & chopped)
2 cups Shredded Cheese of choice
Pour water into a medium mixing bowl
Add salt, garlic powder and corn meal gradually
Knead by hand until a smooth but firm dough is formed
Let sit for 2 – 3 minutes
Separate dough into balls. Golfball size if you want to make appetizers. Baseball size if you want to make meal size.
Flatten balls
Place cheese and bacon in the center of half of the flattened dough
Place other flattened dough circles on top and press around edges to seal.
Heat vegetable oil in a large pan over medium-high heat
Fry arepas until golden brown and crunchy (approximately 5 min on each side)
Place on rack or paper towels to remove extra oil
Serve hot