Post contains affiliate links. Purchases made through links provide us with a small commission. As an Amazon Associate I earn from qualifying purchases. Please refer to our disclosure policy for more information.
Hashbrown Latkes with Citrus Applesauce is easier to make then you think. The perfect latke is crunchy on the edges and soft, but firm, in the middle.
This post was written by Kenda Smith.
Hanukkah hashbrowns? Yes! Our family knows all about mixing different things for amazing results - even when it comes to food.
Our blended-faith family has the joy of celebrating two holidays this time of year: Christmas and Hanukkah. While most of my readers are quite familiar with the story of Christmas, you may not know exactly what is behind the Festival of Lights and all of the delicious foods prepared each year.

Hanukkah (also known as Chanukkah and Festival of Lights) is a Jewish holiday celebrated for eight days and nights. It is the celebration of when the Jews regained control of Jerusalem and rededicated the Temple. There is a custom of eating foods fried or baked in oil to remember the miracle of a small flask of oil keeping the flame in the Temple alight for eight days (also the origin of the menorah). That's definitely an abridged version, but you can read more about the holiday here.
You'll find that the traditions of Hanukkah vary according to the practices of different Jewish tribes (family history). My husband's family, the Ashkenazi, feature latkes as a main dish during holidays and especially at Hanukkah.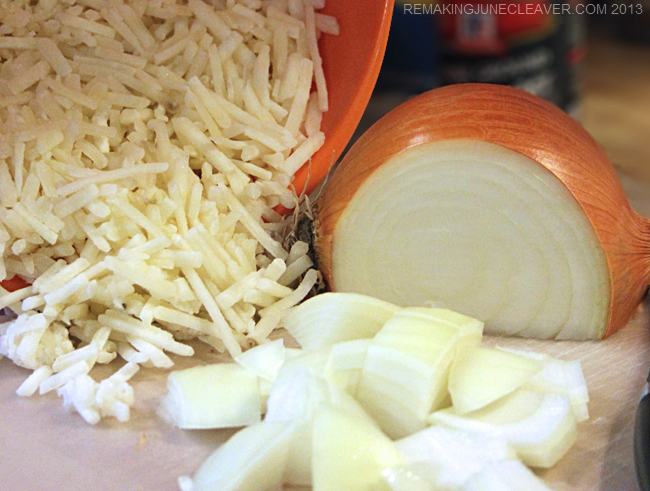 One of the things I've enjoyed most, learning about my husband's history and culture, is the amazing collection of recipes. I've already been told I've 'got the hang' of matzo ball soup and challah - so this year I decided to try my hand at latkes. Now, I do love to cook, but I also love to make things as easy as possible. Peeling and shredding potatoes isn't the easiest thing in the world. So I decided to try something new: hash brown latkes.
I like to grind my onions down to almost a paste so that the flavor is in every bite of the latkes and there are no large chunks of onion for my toddler to find (and pitch a fit about). You do need to dry out the onions a bit by straining them over a paper towel so that the latkes hold together better.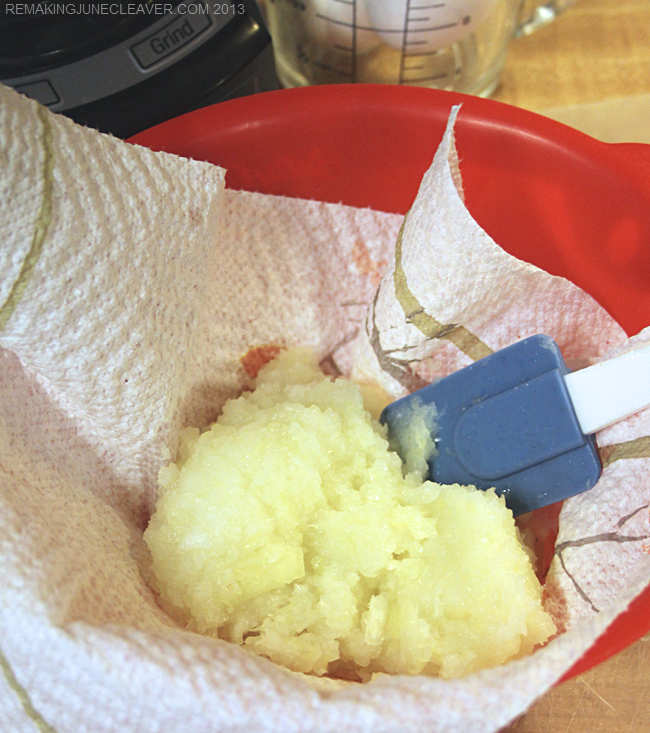 It's traditional to use olive oil to fry your latkes, but you can also use vegetable oil or - my favorite - coconut oil.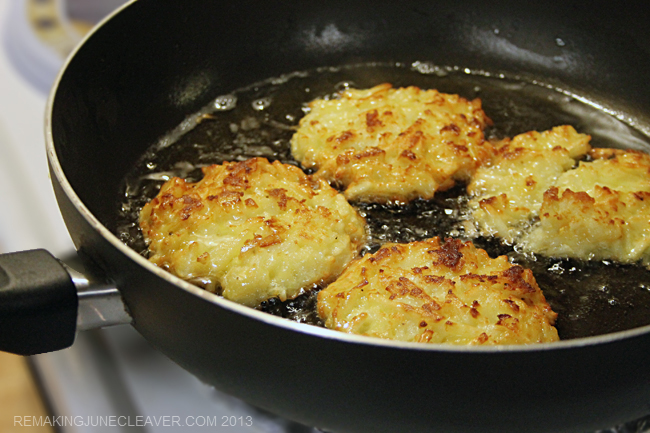 The perfect latke is crunchy on the edges and soft, but firm, in the middle. You want them a golden brown before you lay them out on a rack to cool.
While your latkes are cooling, it's time to make the apple sauce. Moment of honesty: I had no idea apple sauce was so easy to make. Chop, cook, mash. It really is that simple. And the flavor...oh my...nothing in a jar compares. The orange and lemon give it an amazing and natural sweetness that you just can't recreate in the store.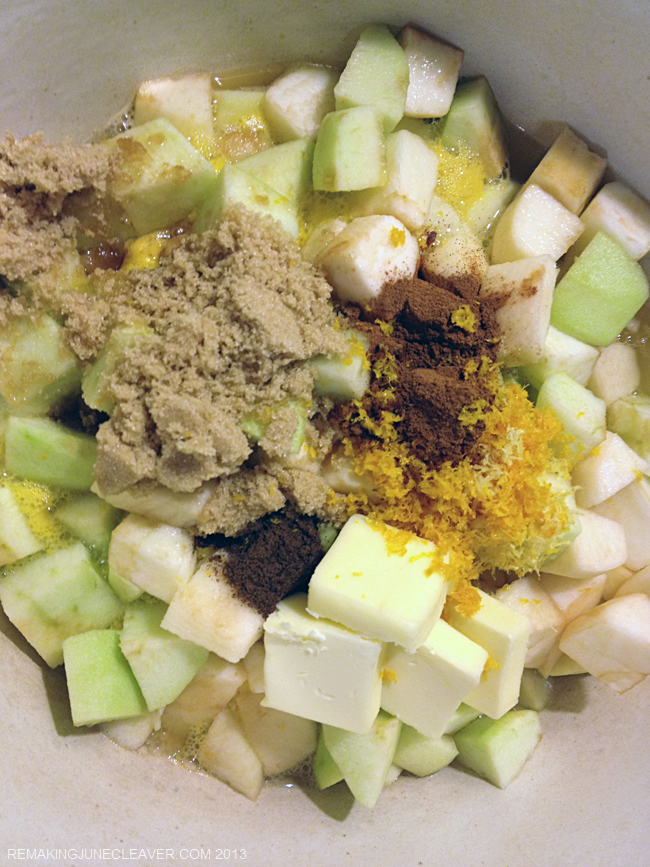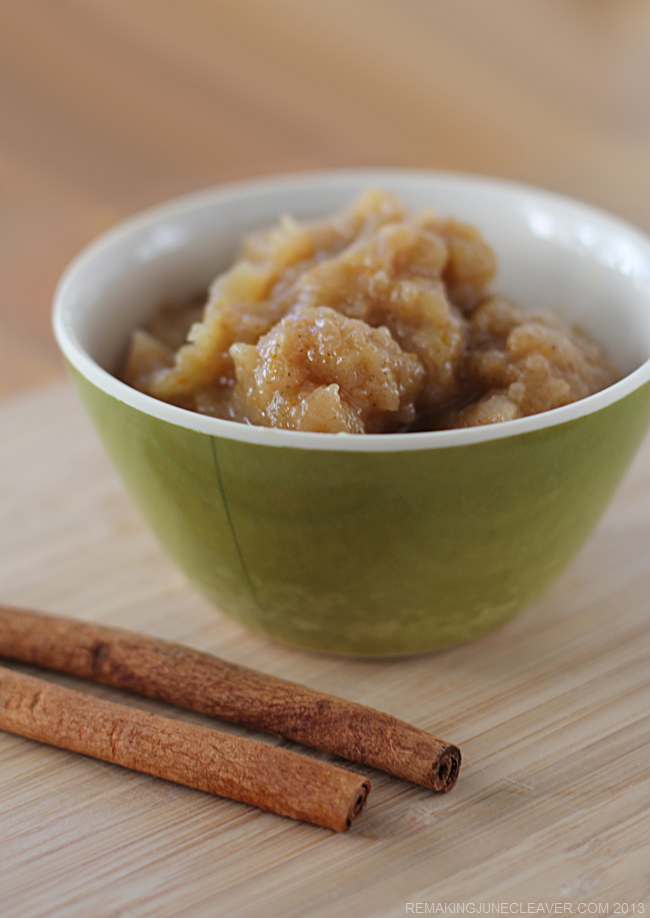 I had to sneak a few bites while it was still warm. It was like apple pie minus the crust. My family is lucky there was any left for the latkes! After we chowed down on our treat, my husband promptly told me he wants another batch for our Thanksgiving/Hanukkah dinner this coming week. Now I'll just have to pass the mother-in-law test!
Here is our recipe for Easy Hashbrown Latkes with Applesauce
Super Easy Latkes with Applesauce
Ingredients
Latkes
1

pound

Ore Ida Frozen Hash Browns

1

Large Sweet Onion

½

cup

Flour

3

Eggs

2

teaspoon

kosher salt

1

teaspoon

baking powder

fresh ground pepper to taste

1

cup

oil (olive

vegetable or coconut)
Apple Sauce
1 ½

pounds

McIntosh Apples

or other sweet red

1 ½

pounds

Granny Smith Apples

1

Navel orange

1

lemon

2

tblsp light brown sugar

2

tblsp unsalted butter

2

teaspoon

ground cinnamon

¼

teaspoon

ground allspice

½

cup

water
Instructions
Latkes
Pour frozen hash browns into bowl. Set aside to slightly thaw and separate.

Peel and chop onion then pulse in food processor until smooth.

Place onion puree on a paper towel (or clean cloth) in strainer and press to remove excess moisture.

In a large bowl - combine onion, hash browns, flour, eggs, salt, baking powder and pepper.

Heat approx. 1 ½ cups oil in a skillet over medium high heat

Use hands to press latke mix into pancake shape and fry in oil until golden brown and crispy on the edges - turning as needed.

Transfer latkes to a wire rack or drying towel.
Apple Sauce
Peel, core and cube apples

Zest orange and lemon - set aside zest

Juice orange and lemon - set aside juice

Place apples in large pan with orange/lemon juice, zest, brown sugar, butter, cinnamon, allspice and water

Cook on medium heat until soft - approximately 20 minutes

Remove from heat and stir vigorously before allowing to cool

If a smoother apple sauce is desired, use a wisk or potato masher once cooled to room temperature
Serving
Serve latkes hot or warm with apple sauce and a dollop of sour cream