Girls weekend trips or weekend getaways are great escapes for relaxation, reconnecting, recharging, and recreation.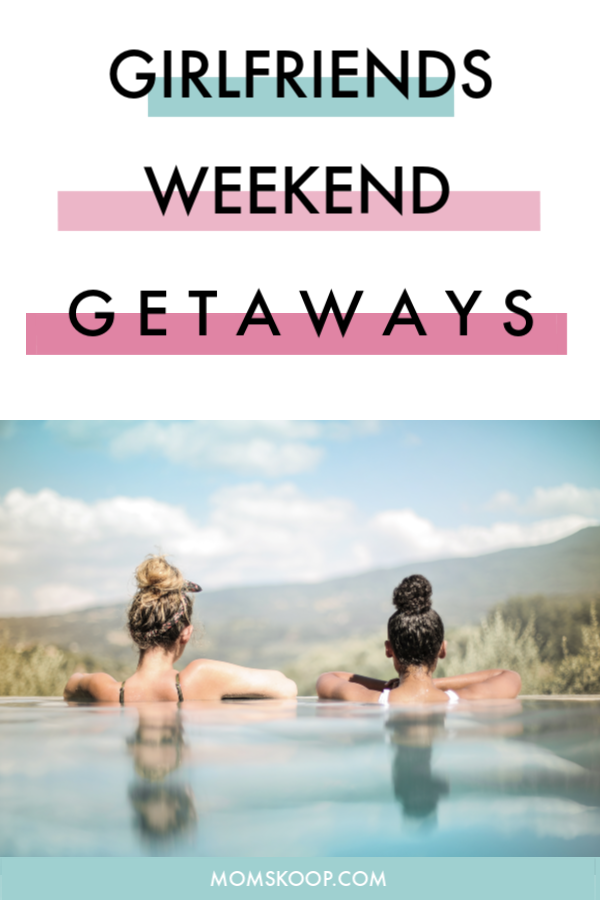 Girls getaways or weekend getaway trips are the perfect trip idea for Mother's Day, an upcoming birthday, or just for no reason at all!
Ladies weekend getaways have become more of a trend over the past decade.  I have talked to several Mothers about different trips they take. Some getaway ideas are as simple as day road trips or small weekend trips.  Others, though, are quite lavish and include destinations such as Greece, Rome, and Spain.
The key thing to remember about ladies trip ideas is that there are no wrong or right ways to do this!  As long as you are getting away, that is all that matters!
You may be wondering how long a girls trip is for.  The truth is it doesn't matter.  A couple of days, a week or even two weeks.  Just make a plan for a fun getaway with your friends!
We've put together a list a fun ideas for the next friends weekend getaway that you plan!
GIRLS WEEKEND GETAWAY IDEAS
Now, before you say you are not a fan of camping, let me say that I can understand. We have had a tent, smaller 5th wheel, then a large 5th wheel.  I am definitely OVER the whole tent camping experience, but these glamping experiences have me reconsidering it.   
Pigeon Forge Tennessee
We go the Smokies every couple of years.  We have been going there since the 1990s.  I love watching how it keeps evolving. This area is also where we went tent camping.  My husband is a seasoned tent camper.  Me? Not so much.  Needless to say, after tent camping for a week, I can honestly say that it is NOT my thing. However, the newest trend of camping, also known as glamping looks like my kind of camping!
If a girls trip to the Great Smoky Mountains is on your agenda, then make sure to check the cozy tent camping available there!
South Haven Michigan
One of the things on my bucket list is a trip along the Lake Michigan coast in Michigan. I think it would be a fantastic trip to just drive each day to see what quaint city or town you'll discover next. If you are planning a girls weekend retreat that is unique, how about a trip to South Haven?
In June 2019, this area will be home to the first glamping experience in the Midwest called, "The Fields." Head over to their site to learn more and get your ultimate girls road trip to Michigan planned!
GIRLS ROAD TRIP IDEAS
I have planned girls road trips a few times in the past and they are a lot of fun. The only drawback is if you are wearing one of those lovely walking boots on your non-driving foot because you managed to break a couple of bones in your left foot right before the trip.  Just a word of caution...those boots are AWFUL in the sand and you will have sand coming out of them for weeks AFTER you return home. 
Catskill Mountains - New York
I can only imagine how beautiful the Catskills are anytime of the year!  This would be a terrific place to take a road trip to!  The Cold Spring Lodge & Cabin is what I would expect a lodge to look like there.
Charleston South Carolina
Actually, Charleston is on my bucket list.  I think it would be an incredible experience to visit that city.
If you are making Charleston your next girls getaway destination, one of the places you should definitely consider checking out is the King Charles Inn.   They have a Sea Charleston Adventure package that looks cool.
Maui Hawaii
I know, before you say a weekend in Hawaii is impossible.  I totally agree!  That's why this would be more of a long girls road trip!  I myself have never been to Maui, however, I hear it's truly majestic and once you go you never want to leave.  So, it's a definite place to consider!
The Hyatt Regency in Maui looks stunning! You really should check out their website.  The views toward the water, I mean who wouldn't want to wake up to that?
San Francisco California
I went to California for a press trip last year. It was the first time I had ever been there.  I am in love!  I've been trying to convince my husband we need to go out there to really explore.
If you're planning a road trip to San Francisco or San Carlos, you must add Izzy's, a legendary barbary coast eatery, to your list.
Girls Vacation Ideas
If you are planning an actual girls vacation getaway, then how about these ideas?
Lake Tahoe Nevada
Zephyr Cove Lodge has it all.  Cabins, a lake, marina and a cruise on the M.S. Dixie II.
Washington D.C.
If you are looking for some of the best places for a girls trip, then definitely consider D.C.
D.C. is a really neat place to visit.  I have had the opportunity to go there a couple of different times and it really is a great historic must-see in our country.  One hotel to consider is the luxurious Melrose Georgetown Hotel.
Best Places for a Girls Trip
Sometimes the best places for fun girls trips are places you normally don't think of for vacation!  The Midwest/Great Lakes regions are two of the best places to consider for your girls trip destinations!
Rockford Illinois
We had the opportunity to visit there a few years ago.  If you are looking for a fun, off-the-beaten-path type of trip, then Rockford is the place to visit! The CVB would love to help you plan the perfect weekend getaways for friends!
Kohler Wisconsin
If you aren't familiar with Kohler, then you really must check out their city!  Especially if you are a chocolate lover!  I could look at the divine chocolates made by KOHLER Original Recipe Chocolates all day!  They don't even look like chocolate!  Of course there are a whole lot more things to explore while you are there on your girls trip!
Lake Erie Shores and Islands in Ohio
Even though I no longer live in Ohio, I will always be a buckeye at heart so one of my favorite places to visit is the islands.  I'm sure a few of you just said, "What? there are islands in Ohio?"  Yes, there are and if you haven't been there yet, you must add it to your bucket list!  The CVB would love to help you plan a terrific friends getaway weekend there!
Ladies Getaway Ideas
Columbia County
If Georgia is on your mind, how about visiting this area?
Columbia County is actually known as one of the top kayaking destinations in Georgia.  If an outdoor getaway is what your group would like to do, then this would definitely be a place to consider!   In this part of Georgia, you will find Clarks Hill Lake, the Savannah River and the historic Augusta Canal!
Have you gone on a friends weekend getaway before?  If so, where are some of the areas you've visited before?  What fun adventures and places have you discovered?
Additional photo credits:
From Canva:
Bruce Mars
thetruthpreneur
Laura6
Disclaimer: We are not responsible if you do not have a good time on one of these getaways or at one of these locations. Transplanted Buckeye Media nor anyone affiliated with our company is not responsible for anything regarding your trip. We are simply providing information and relaying how our trips went to some of the locations listed. We are not responsible for the weather, bad service, bad hotel rooms or overall bad weekend/experience.