Post contains affiliate links. Purchases made through links provide us with a small commission. As an Amazon Associate I earn from qualifying purchases. Please refer to our disclosure policy for more information.
North Pole Christmas Cupcakes are a fun twist on a traditional holiday cupcake!  They are full of flavor, sweetness, and will look great sitting on your holiday sweets table!  These cupcakes will quickly become a family favorite not only due to their amazing goodness, but for their fun and unique look!
North Pole Cupcakes
I love a traditional holiday cupcake with simple decorations, however, there is just something about these unique North Pole Christmas Cupcakes and our super cute Santa Hat Cupcakes! They make your holiday sweets table come alive with cute Christmas Desserts!
If you are welcoming a certain Elf to your home in a few weeks, then this would be a great way to celebrate his arrival! Imagine your little one's face when they see that their favorite Elf has delivered ACTUAL North Pole Cupcakes!
This is such a great Christmas time cupcake recipe! This is one of those cupcake recipes that is both easy, yummy, and something your kids will love! That in my book is a win-win!
Don't be intimidated by this North Pole Christmas Cupcake recipe.  It actually all goes together pretty quickly, and the ingredients are all things you normally have in your pantry and fridge.
Normally I'd suggest having your little ones help create these, however, since they may be from the Elf, it would be best if you make them yourself. I think this Christmas time cupcake recipe will become a favorite of yours!
Ingredient List
White granulated sugar because sweetness in sweets make everything better.
Unsalted sweet cream butter is the butter you will want to use for this recipe. Always use unsalted butter when you are baking if you are adding any additional salt into the recipe. However, if you are making a recipe that doesn't use salt, feel free to use salted butter.
Make sure that your baking soda is fresh and not expired.
Remember that when you are measuring out your all-purpose flour, you must use the scoop with a spoon and level with a knife method to get accurate results.
Ground cinnamon to give an extra kick. However, make sure that you are using basic ground cinnamon. You don't want the spicy cinnamon.
Kosher salt is a key ingredient. Do NOT use regular table salt. That is strictly for seasoning at the table.
Heavy whipping cream can be found in the dairy section at your local store.
You can either use regular sour cream or lite. It doesn't matter.
Make sure to refer to the recipe card for the complete ingredient list.
Expert Tips and Suggestions for Recipe Success
Feel free to use a store-bought cake mix for this recipe if you'd rather not make them from scratch.
Instead of making the chocolate signs, you can just design some on your computer and print them off and stick them to your candy canes.
Supplies Needed:
Muffin tin
Cupcake liners
Mixing bowls
Piping bag and tips
Stand mixer or hand-held mixer
Step by Step Directions
Please refer to printable recipe card below. In process photos are coming soon!
Related Recipes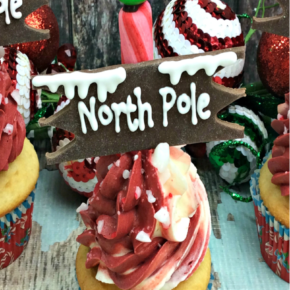 North Pole Cupcakes
*makes 12 cupcakes
Ingredients
Ingredients Needed:
½

C

sugar

¼

C

unsalted sweet cream butter

softened

1

large egg

room temperature

1

teaspoon

baking powder

¼

plus ⅛ teaspoon baking soda

1

cup

all-purpose flour

1

teaspoon

ground cinnamon

¼

plus ⅛ teaspoon salt

¼

C

heavy cream

¼

C

sour cream
Toppings for cupcakes:
½

C

melted butter

1

C

sugar
Instructions
Cupcake Directions:
Preheat oven to 350 degrees and line cupcake pan with liners

In a standing mixer beat sugar and butter until creamed

Add egg and mix until fully incorporated

Beat in vanilla extract, salt, baking soda, and baking powder

Combine the heavy cream into the wet mixture

Add in flour, a little at a time.

Add in the sour cream

Spoon batter about ½ full.

Bake in oven for about 22 minutes or until the center of the cupcake comes out clean with a toothpick.
Frosting Ingredients:
1 C unsalted sweet cream butter

3 C powdered sugar

5 tablespoon heavy whipping cream

1 teaspoon peppermint

3-5 drops red food coloring

1 C crushed candy canes

1 piping bag fitted with a large star tip
Frosting Directions:
Using a standing mixer combine all ingredients except the food coloring and candy canes and mix on medium speed until combined, smooth and stiff

Place the piping bag into a medium cup and fold the bag over the edges

Split into two bowls and add red food coloring into one bowl and mix until combined

Using a rubber spatula scoop some red frosting onto one side of the piping bag

Repeat the step with the white frosting

Pipe frosting onto the cooled cupcakes
Royal Icing Ingredients and Directions:
3 egg whites

2 C powder sugar

1 teaspoon vanilla extract

½ teaspoon cream of tarter

1 disposable piping bag fitted with a number 2 tip

Combine all ingredients into a standing mixer and mix on medium speed until stiff peaks form

Scoop icing into piping bag and set aside

Decorating Directions:

12 sticks of cinnamon candy canes sticks

12 green M&M's

1 container of chocolate fondant

1 C of powdered sugar
Directions:
Using royal icing, pipe a small dollop of icing onto the top of the candy cane sticks and place a green M&M on top

Using a cutting board, sprinkle some powdered sugar onto the cutting board

Using your hands knead the fondant until soft and easy to work with

Roll out the fondant until about ¼ an inch thick

Cut 12 rectangles about 3 inches in width and 1 ½ in length

Using the royal icing, pipe out North Pole onto the middle of the rectangles

On the top of the rectangles pipe on the snow

Let dry for 3 hours

Once the rectangles are dry, carefully flip them over and add a small dot of royal icing

Place the rectangle onto the center of the candy cane stick and hold for 15 seconds

Repeat steps with remaining rectangles

Enjoy!