How to Make Unicorn Bark Plus A Free Printable!
Post contains affiliate links. Purchases made through links provide us with a small commission. As an Amazon Associate I earn from qualifying purchases. Please refer to our disclosure policy for more information.
Unicorn Bark is a magical pastel colored treat full of shimmer, sprinkles, and unicorns that make any event fun and full of magic!
Making Unicorn Bark is so much fun and easy to do! One of the best parts about this recipe is that you can customize it to coordinate with your party's color theme!
UNICORN BARK RECIPE

If you haven't experimented with candy melts before, then you are in for a fun surprise! Working with candy melts is fun, easy to do, and they help you create fun and tasty treats in a matter of minutes!
This fun Unicorn Bark is full of sprinkles, is bright and colorful, and will make any unicorn fan smile when they see the finished product!
Before you get started making this recipe, here are a few
WHAT IS UNICORN BARK?
Unicorn Bark is full of bright and shiny candy, sprinkles and pastel colors.
This whimsical dessert is great not only for birthdays but would also work perfectly for a Spring party or for an Easter celebration!
WHAT IS CANDY BARK?
Candy bark is a semi-hard or hard candy which has yummy goodies like sprinkles, nuts, and candy embedded in it. Kinda like a rough tree "bark".
WHAT IS WHITE CANDY COATING?
White candy coating is a confectionary candy coating. It is very easy to melt and doesn't need tempering. White confectionary candy coatings contain vegetable oil, milk, and sugar.
DO I HAVE TO USE THE SAME COLORS OF CANDY WAFERS AS YOU DID?
No, you definitely don't have to! The great thing about making Unicorn Bark is that you can make it with any color combinations that you would like!
Once you make this fun pastel colored bark, you will definitely want to make more fun recipes using bark! If you are a Disney fan then you will definitely want to make this easy Disney inspired Bark! Did you also know that you can drizzle melted candy discs over freshly popped popcorn? Oh yes you can! If you are planning a fun galaxy themed party, then our Galaxy Popcorn drizzled with candy melts!
MAKE SURE TO CHECK OUT THE FREE PRINTABLE AT THE BOTTOM OF THE PAGE
How to Make Unicorn Bark
Making Unicorn Bark is easy and only takes a few ingredients! The best part is there is no right or wrong way to make it!
You will need the following ingredients to make this white chocolate bark.
White chocolate discs and chocolate discs in the following colors pink, purple, and teal. You will also need Unicorn mix sprinkles, multi-color shimmer nonpareils, and parchment paper.
Below is a brief breakdown of the recipe. To get the full directions and ingredients, you can print off the free recipe card below.
Spread the melted white chocolate evenly.
Sprinkle the nonpareils.
Melt the chocolate discs and drizzle over the melted white candy bark.
Sprinkle on the sprinkles and let dry.
Enjoy!
Additional Unicorn Recipes and Ideas:
Here is a FREE Unicorn I Spy Printable! This printable would be perfect for a Unicorn themed party or just for because!
amzn_assoc_placement = "adunit0";
amzn_assoc_search_bar = "true";
amzn_assoc_tracking_id = "momskoop20e-20";
amzn_assoc_ad_mode = "manual";
amzn_assoc_ad_type = "smart";
amzn_assoc_marketplace = "amazon";
amzn_assoc_region = "US";
amzn_assoc_title = "Shop This Post";
amzn_assoc_linkid = "f3b6eade419ce68b8243d1088d2d4eff";
amzn_assoc_asins = "B07DBD8B31,B001K7Q5PQ,B07KY4NZ5J,B08C6C5ZH9";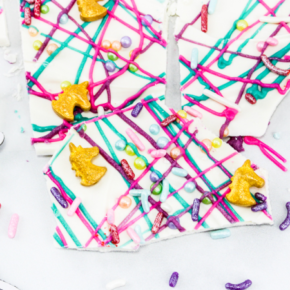 HOW TO MAKE UNICORN BARK PLUS A BONUS PRINTABLE!
Unicorn Bark is a magical pastel colored treat full of shimmer, sprinkles, and unicorns that make any event fun and full of magic!
Ingredients
1 ½

Cups

White Chocolate Discs

¼

Cup

Pink

Purple, Teal, Chocolate Discs

Wilton's Unicorn Mix Sprinkles

Multi-color Shimmer Non-Pareils

Parchment Paper
Instructions
On a parchment lined cookie sheet, spread the white melted chocolate evenly over the parchment paper. Sprinkle on the shimmer nonpareils.

In 4 separate bowls, melt the white, pink, purple, and teal chocolate discs according to package directions. Place the pink, purple, and teal melted chocolate in a sandwich baggie and snip the corners.

Drizzle each color over the white chocolate. Sprinkle on the unicorn mix sprinkles and let dry completely.

Once dry, break apart or you can cut it as well.

Enjoy or store in an airtight container.
Nutrition
Serving:
1
g
Calories:
191
kcal
Carbohydrates:
21
g
Protein:
2
g
Fat:
11
g
Saturated Fat:
7
g
Polyunsaturated Fat:
3
g
Cholesterol:
8
mg
Sodium:
30
mg
Fiber:
1
g
Sugar:
20
g