Post contains affiliate links. Purchases made through links provide us with a small commission. As an Amazon Associate I earn from qualifying purchases. Please refer to our disclosure policy for more information.
Our American Flag Craft, made out of paper plates, is a fun, easy, and budget friendly DIY Patriotic craft that you can do with your kids!
Crafting together with your kids is not only a great way to make memories, but it's also helping them develop different motor skills.
Another reason this craft is perfect to do with the kids is because it doesn't require any use of glue guns or other complicated machines. You can do this one on the kitchen table, outside, or even while camping.
Looking for a tasty snack to make with the kids while working on this patriotic craft? Our American Flag Snack, made out of graham crackers, is so good and it's really easy to make! Plus it is a kid-friendly recipe! Another yummy recipe to make, that will require parent assistance, but is so worth it, is our Warm Chocolate Chip Cookie Sundaes!  These individual bites of warm and gooey goodness are simply perfect! 
If you are looking for more easy crafts, make sure to check out our DIY Lip Balm so everyone's lips are taken care of. This Underwater Shadow Box is also another easy craft to make with the kids. This Hello Summer Popsicle Sign is also a fun craft. You can have the kids help pick out the colors and even paint the sign.
Jump to:
🧾Materials
yarn - red and white
blue and white paper
glue stick
scissors
star hole punch
circle hole punch. 
✂Instructions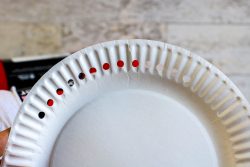 Punch out the circles.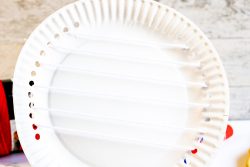 String the white yarn.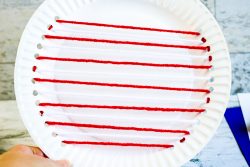 String the red yarn.
Punch out the stars.
Glue the stars.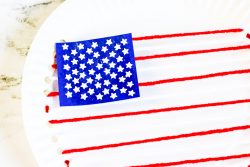 Attach.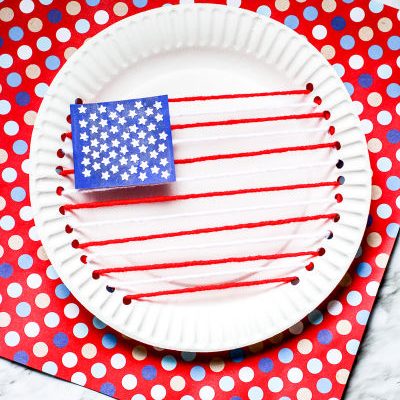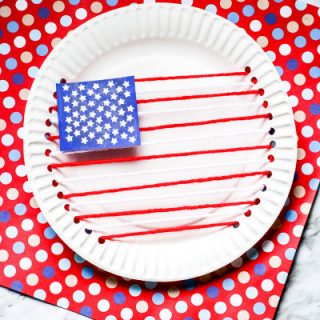 American Flag Craft
Materials
1 paper plate
2 yards 6 feet red yarn
2 yards 6 feet white yarn
Blue paper
White paper
Glue stick
Tools
Scissors
Star hole punch
Circle hole punch
Instructions
Punch thirteen holes on each side of a paper plate. You will have a total of 26 holes on the paper plate.
Take the white yarn and lace it through the top tow of holes. Then rotate and lace through every other row. Then tie off of the ends.
Take the red yarn and lace through the remaining holes. Tie off the ends. When you are finished, the first and last rows should be red.
Punch out 50 stars from the white paper. Then glue the stars onto the blue paper. You want to glue them on in a rectangle shape in rows of 6. Repeat these steps 5 more times.
Cut out the blue rectangle and attach it to the yarn with your glue stick.
Allow to completely dry.