Post contains Amazon Affiliate links. As an Amazon Associate I earn from qualifying purchases. Please refer to our disclosure policy for more information.
SPONSORED - This post was created in partnership with the brand mentioned below.
Brick Chicken and Salsa Verde is a tasty dish that is full of wonderful flavors that can be made on the grill or on the stovetop!
I love discovering recipes that combine a unique variety of flavors that you wouldn't normally think about together.
Clarkson Potter sent me a copy and is partnering with me for a giveaway!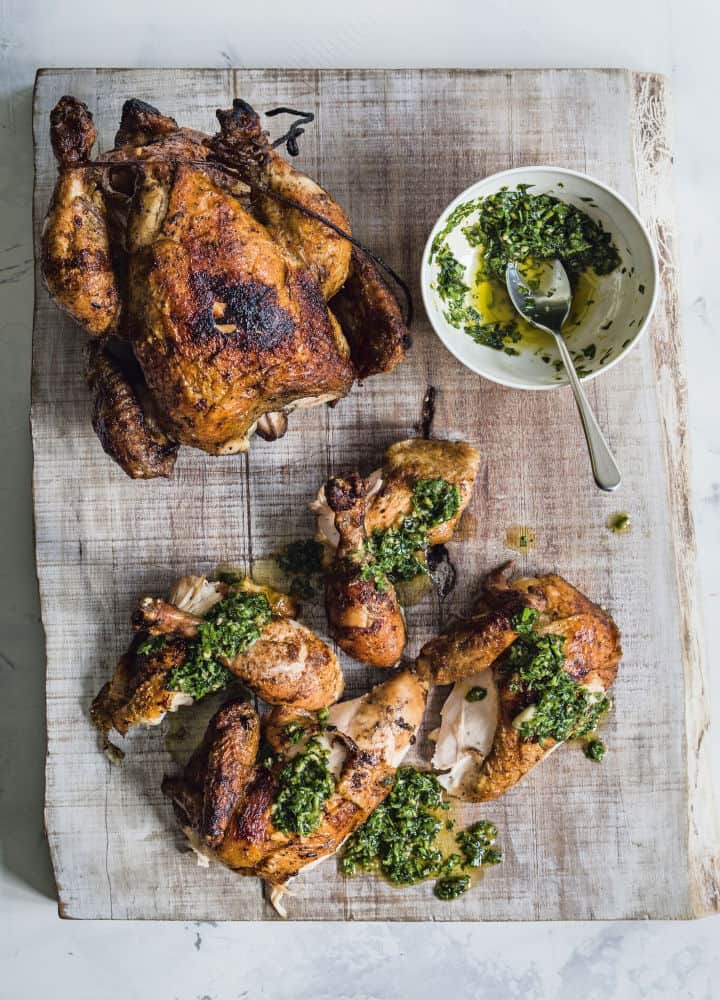 This tasty chicken recipe by Bobby Flay is a unique combination of chicken and spices. The fact that this recipe can be made throughout the year, makes it an even better dinner idea.
You may be asking what in the world is Brick Chicken? Brick Chicken is basically chicken under a brick. Nothing fancy or exotic about it, just chicken that has a brick on top of it. It may also be referred to as Brick Pressed Chicken.
If you haven't had the opportunity to ever try chicken prepared like this, it's really something you must try. If you enjoy chicken recipes then I think this dish will definitely become a favorite!
Have you watched Bobby Flay on t.v. before? If so, then you know he is a wonderful cook. He prepares dishes that are out of the box, yet very easy to prepare in your own home. He recently partner with Clarkson Potter and created the cookbook, "Bobby at Home".
Here is a little bit about the cookbook, "Bobby at Home" and Bobby's inspiration behind the recipes:
With 165+ recipes, Bobby Flay opens up his home and shares his bold, approachable style of cooking for family and friends, along with his no-nonsense, essential advice for home cooks.
Welcome to Bobby's, where powerhouse flavors rule the day. In his most personal cookbook yet, Bobby shares over 165 bold, approachable recipes he cooks at home for family and friends, along with his well-earned secrets for executing them perfectly.
Everyday favorites--from pan-seared meats and hearty pastas to shareable platters of roasted vegetables, bountiful salads, and casual, homey desserts--go bigger and bolder with Bobby's signature pull-no-punches cooking style. Expect crowd-pleasing classics taken to the next level with exciting flavors, such as Spanish-style shrimp and grits, pumpkin pancakes with apple cider syrup, and sticky-savory-sweet Korean BBQ chicken.
Riff on go-to dishes just as Bobby does with his master recipes for essentials, along with creative variations that take the base recipe in a range of directions to suit your mood, such as crispy bacon glazed with pomegranate molasses, deviled eggs topped with fried oysters, and mussels steamed in a heady green curry broth.
With Bobby by your side, cooking at home just got a lot more exciting.
How would you like to win your very own copy of Bobby at Home AND a $50 gift card to Kirklands? I don't know about you but I think this would be a pretty cool gift to keep for yourself! Make sure to enter the giveaway below! And definitely plan on picking up the ingredients to make this delicious Brick Chicken and Salsa Verde!
Brick Chicken with Salsa Verde
Serves 4
Ingredients:
¾ cup extra-virgin olive oil
2 large garlic cloves, finely chopped
2 anchovies packing in oil, drained, patted dry, and finely chopped
Finely grated zest of 1 lemon
Pinch of crushed red pepper flakes
1 cup finely chopped fresh flat-leaf parsley leaves
¼ cup finely chopped fresh flat-leaf parsley leaves
¼ cup finely chopped fresh tarragon leaves
2 tablespoons finely sliced fresh chives
Kosher salt and freshly ground black pepper
1 (4-pound) whole chicken, cut into 8 pieces
Canola oil
Directions:
1. Whisk together the olive oil, garlic, anchovies, lemon zest, and red pepper flakes in a small bowl. Stir in the parsley, tarragon, and chines and season with salt and black pepper. Let the salsa verde sit at room temperature while you cook the chicken to allow the flavors to meld.
2. Remove the chicken from the refrigerator 20 minutes before cooking. Season the chicken well on both sides with salt and black pepper.
3. Heat a 12-inch cast-iron skillet over medium-low heat. Coat the pan with a few teaspoons of canola oil. Wrap a brick in two-layers of heavy-duty aluminum foil. (If you don't have a brick, use a heavy pan or bacon press.) Place the chicken in the pan, skin-side down, and place the foil-wrapped brick or pan on top of the chicken. Slowly cook over low heat until the fat renders and the skin begins to crisp and turn golden brown, about 0 minutes. Turn the chicken over and cook until it is just cooked through and registers 155°F on an instant-read thermometer, about 15 minutes more. Remove the chicken from the pan and let rest for 5 minutes. Serve drizzled with the salsa verde. minutes before cooking.
Brick Chicken and Salsa Verde is reprinted from Bobby At Home. Copyright © 2019 by Boy Meets Grill, Inc. Photographs copyright © 2019 by Ed Anderson. Published by Clarkson Potter, an imprint of Penguin Random House, LLC
Are you ready to enter the giveaway?
At Home with Bobby Flay!
One (1) winner receives:
A copy of Bobby at Home,
Plus a $50 gift card to Kirkland's to get cozy at home this winter.
Giveaway open to U.S. addresses only.
Prizing and samples provided by Clarkson Potter.
Make sure to enter below! Good Luck!
Bobby at Home PLUS $50 Kirklands Gift Card!
📖 Recipe
Brick Chicken with Salsa Verde by Bobby Flay
Reprinted from Bobby At Home. Copyright © 2019 by Boy Meets Grill, Inc. Photographs copyright © 2019 by Ed Anderson. Published by Clarkson Potter, an imprint of Penguin Random House, LLC
Ingredients
¾

cup

extra-virgin olive oil

2

large garlic cloves

finely chopped

2

anchovies packing in oil

drained, patted dry, and finely chopped

Finely grated zest of 1 lemon

Pinch

of crushed red pepper flakes

1

cup

finely chopped fresh flat-leaf parsley leaves

¼

cup

finely chopped fresh flat-leaf parsley leaves

¼

cup

finely chopped fresh tarragon leaves

2

tablespoons

finely sliced fresh chives

Kosher salt and freshly ground black pepper

1

4-pound whole chicken, cut into 8 pieces

Canola oil
Instructions

1. Whisk together the olive oil, garlic, anchovies, lemon zest, and red pepper flakes in a small bowl. Stir in the parsley, tarragon, and chines and season with salt and black pepper. Let the salsa verde sit at room temperature while you cook the chicken to allow the flavors to meld.
2. Remove the chicken from the refrigerator 20 minutes before cooking. Season the chicken well on both sides with salt and black pepper.
3. Heat a 12-inch cast-iron skillet over medium-low heat. Coat the pan with a few teaspoons of canola oil. Wrap a brick in two-layers of heavy-duty aluminum foil. (If you don't have a brick, use a heavy pan or bacon press.) Place the chicken in the pan, skin-side down, and place the foil-wrapped brick or pan on top of the chicken. Slowly cook over low heat until the fat renders and the skin begins to crisp and turn golden brown, about 0 minutes. Turn the chicken over and cook until it is just cooked through and registers 155°F on an instant-read thermometer, about 15 minutes more. Remove the chicken from the pan and let rest for 5 minutes. Serve drizzled with the salsa verde. minutes before cooking.
Reprinted from Bobby At Home. Copyright © 2019 by Boy Meets Grill, Inc. Photographs copyright © 2019 by Ed Anderson. Published by Clarkson Potter, an imprint of Penguin Random House, LLC
Nutrition
Serving:
1
g
Calories:
857
kcal
Carbohydrates:
11
g
Protein:
46
g
Fat:
71
g
Saturated Fat:
13
g
Polyunsaturated Fat:
55
g
Cholesterol:
162
mg
Sodium:
294
mg
Fiber:
3
g
Sugar:
1
g