Post contains Amazon affiliate links.As an Amazon Associate I earn from qualifying purchases. Please refer to our disclosure policy for more information.
Chicken Ratatouille is a tangy classic French dish that is full of vegetables that is fantastic served either hot or cold.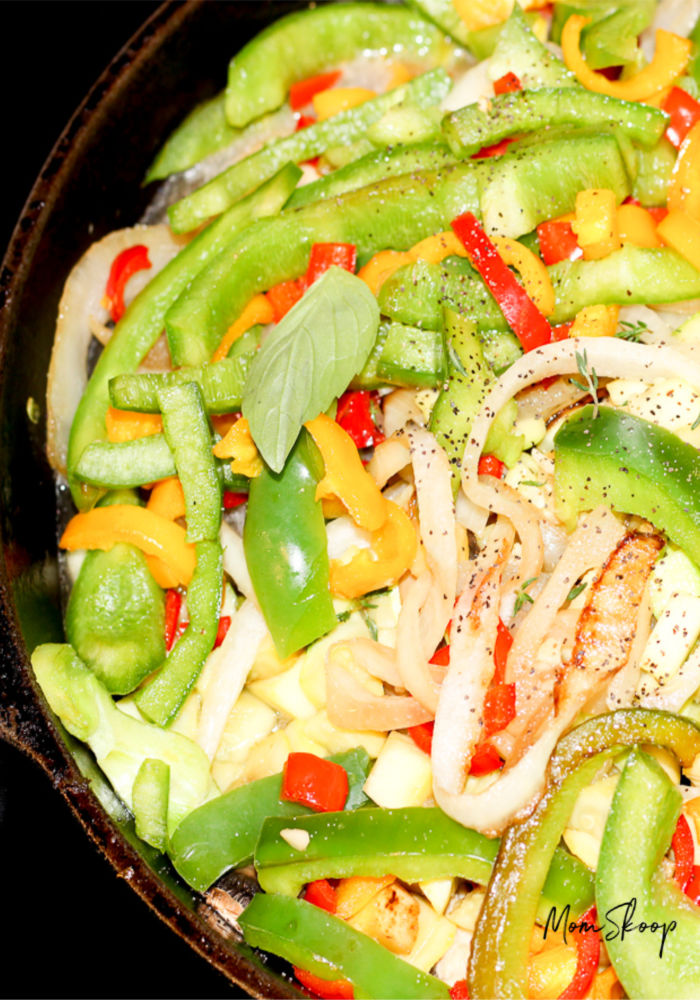 A Classic Ratatouille is a vegetable stew that is typically served as a side dish to a larger meal.
This post was originally posted on January 21, 2013. I recently updated it on March 10, 2020.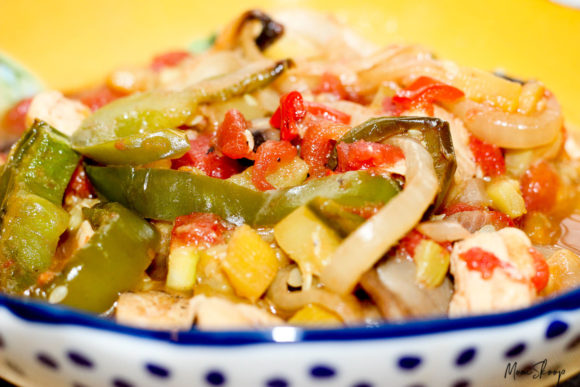 WHAT VEGETABLES ARE IN RATATOUILLE?
Normally you will find eggplant, zucchini, garlic, tomatoes, onions, and green peppers. For my Ratatouille I selected zucchini, yellow squash, mushrooms, chicken breast, three kinds of peppers, sweet onion and herbs. I also added Whole Tomatoes.
IS RATATOUILLE SERVED HOT OR COLD?
You can enjoy it either way.
WHAT TO SERVE WITH RATATOUILLE CHICKEN?
White rice, quinoa, risotto, ciabatta bread, or pasta noodles.
IS THERE MEAT IN RATATOUILLE?
Originally no, however, you can definitely add your own protein in as we did for this recipe.
RATATOUILLE AND CANNED TOMATOES?
Can you canned tomatoes in Ratatouille? Yes, you can. Sometimes it's easier to use canned and that's totally fine. You will need though to make sure you watch the sugar content in the tomatoes that you choose.
HOW DO YOU PREPARE YOUR VEGETABLES FOR CLASSIC RATATOUILLE?
When preparing Ratatouille you want to make sure your vegetables are cut into large cubes. This is a hearty dish and you want your vegetables to retain their size and texture after cooking. I also used extra virgin coconut oil instead of olive oil.
As you can see per the updated pictures, I diced my vegetables smaller. My kids aren't big fans are larger diced vegetables so I adjusted the recipe for them.
WHAT IS THE KEY TO PREPARING RATATOUILLE?
Everything has to be done in it's own time and in order. This is a recipe that unfortunately can not be made in 20 minutes.
One of the most important parts of preparing Ratatouille is cooking each vegetable separately. They do share the same dish once you place them in the oven, but giving each one separate time in the skillet first ensures that all of the individual flavors are robust.
It also allows you to flip them in the pan instead of over-stirring which can result in mushy vegetables. Who likes mushy veggies? Not me.
How to Make Classic Ratatouille with Chicken
Author: MomSkoop
Prep time: 45 mins
Cook time: 30 mins
Total time: 1 hour 15 mins
Serves: 2 – 4
Ingredients
3 garlic cloves, cut and crushed
1 lb yellow sweet onions, chopped or sliced
2 large zucchini, cubed
1 cup fresh mushrooms, sliced
2 large yellow squash, cubed
1 green bell pepper, chopped
1 yellow bell pepper, chopped
1 red bell pepper, chopped
1 can Whole Pear Tomatoes with Basil
1 – 2 sprigs Fresh Thyme
1 – 2 Fresh Basil Leaf
Coconut Oil (as needed)
Salt (to taste)
1 cup Chicken Stock
2 Skinless Chicken Breast or Tenders
Ground Pepper (to taste)
Instructions
Preheat oven to 400 °F

Sauté onions in 1 tablespoon of coconut oil in a skillet or oven safe pan on medium high heat until onions are soft, approx. 5 minutes
Add garlic and reduce heat to Low
Put 2 tablespoons of coconut oil in a second skillet/pan and put on High heat.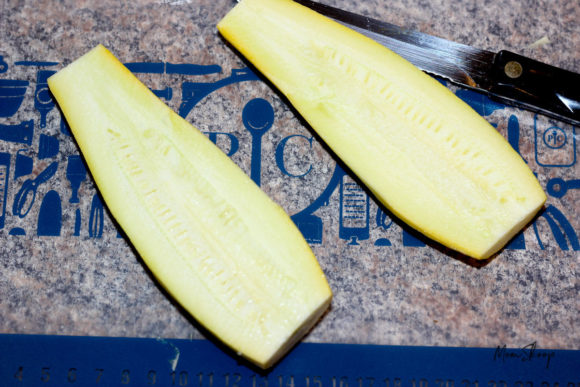 When the oil begins to smoke, toss in cubed zucchini.
Flip the zucchini (with the pan or a spatula) until browned on all sides.
Put zucchini in the pan with the onions and garlic.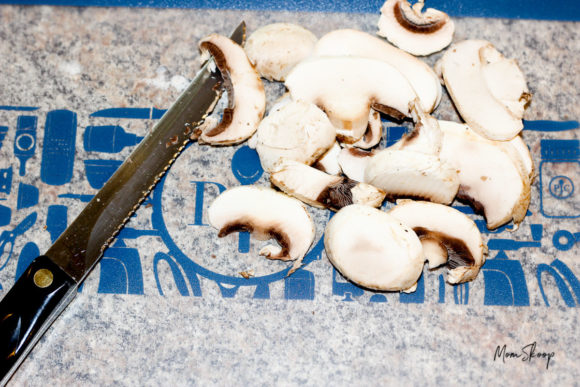 Repeat the steps with each vegetable (except tomatoes) – SEPARATELY
Wipe out your cooking pan and use fresh coconut oil in between each vegetable.
Slice chicken and season to taste with pepper.

Cook chicken in skillet until each side is browned and then add to onion pan.
After you have browned all vegetables (except tomatoes) and chicken, increase the onion pan to high heat and stir.
Add salt and pepper to taste, thyme and basil leaves.
Add chicken stock and stir well.

Transfer to oven safe dish (if you used an oven safe dish on the stove top, keep the veggies and chicken in that pan) and place in oven – uncovered.
Cook at 400 °F for 30 minutes.
Remove pan from oven and drain contents in a strainer over a bowl.
Place the liquid back in a stove-top safe pan and cook on medium-high heat until it is reduced to a gravy-like consistency.
Place vegetable mix back in the pan and stir gently to mix with the sauce.
Add tomatoes and cover for 10 minutes on low heat.
Optional: Remove herb stems before serving.