This Cranberry Moscow Mule Is Sure to Delight New Year Guests
Have you noticed this special mug cocktail making a strong comeback? The Moscow Mule has a long history, but recently it's become a dining darling all over again. So, where did this clever cocktail originate?
"The mule was born in Manhattan but "stalled" on the West Coast for the duration. The birthplace of "Little Moscow" was in New York's Chatham Hotel. Three friends were in the Chatham bar, one John A. Morgan, known as Jack, president of Cock 'n' Bull Products and owner of the Hollywood Cock 'n' Bull Restaurant; one was John G. Martin, president of G.F. Heublein Brothers Inc. of Hartford, Conn., and the third was Rudolph Kunett, president of the Pierre Smirnoff, Heublein's vodka division.
As Jack Morgan tells it, "We three were quaffing a slug, nibbling an hors d'oeuvre and shoving toward inventive genius". Martin and Kunett had their minds on their vodka and wondered what would happen if a two-ounce shot joined with Morgan's ginger beer and the squeeze of a lemon. Ice was ordered, lemons procured, mugs ushered in and the concoction put together. Cups were raised, the men counted five and down went the first taste. It was good. It lifted the spirit to adventure. Four or five days later the mixture was christened the Moscow mule…" – George Sinclair, New York Herald Tribune 1948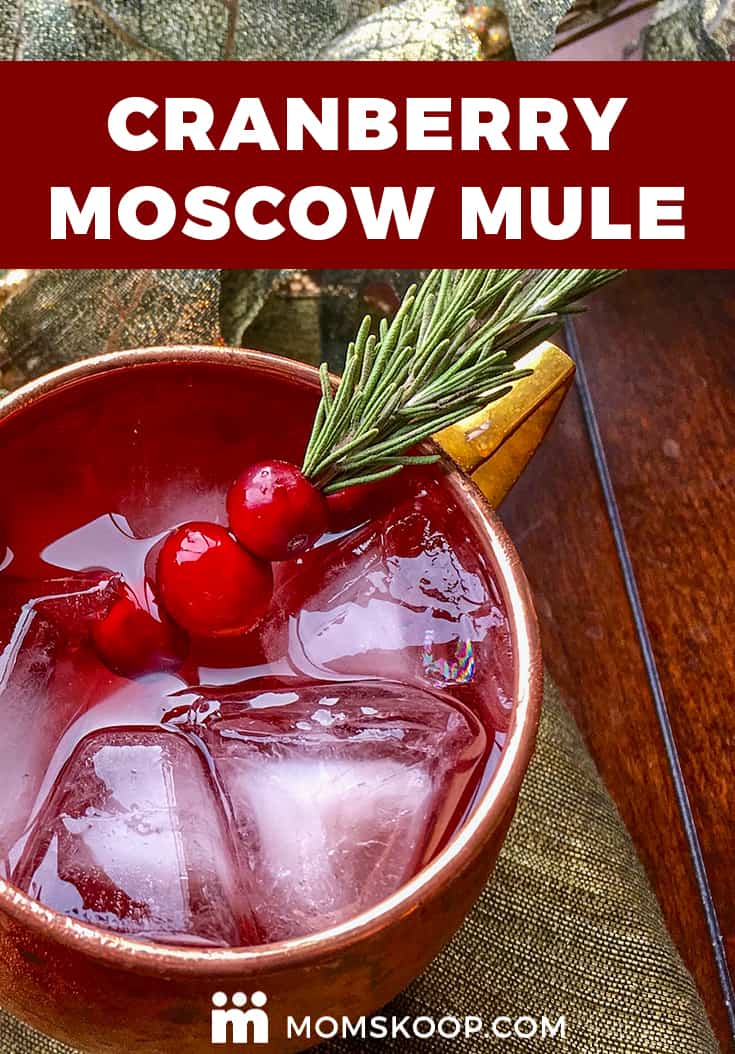 HOW TO MAKE A CRANBERRY MOSCOW MULE
A bright splash of seasonal color transforms this classic cocktail into a new holiday favorite. If you enjoy the warm gingery flavor of a traditional Moscow Mule, you will definitely want to give this one a try!
Yield: 1 cocktail
Total Prep Time: 5 minutes
Ingredients:
3 oz. premium vodka
1 oz. 100% cranberry juice
1 T. fresh lime juice
8 oz. ginger beer
Garnish: (optional)
fresh rosemary sprigs, bottom leaves removed, approximately 2-3" long
fresh cranberries
fresh lime wedges
Directions:
To make cranberry sprig garnish, carefully thread 3 fresh cranberries onto the bottom of each rosemary stem.
Fill a cocktail shaker with ice and add vodka, cranberry juice, and lime juice. Shake well and pour into ice-filled copper mugs. Top off mug with ginger beer and stir to combine.
Garnish with rosemary sprigs and lime wedges, if desired. Serve immediately.
Tags :
cocktail
food
holiday drinks
moscow mule
recipe