Post contains affiliate links. Purchases made through links provide us with a small commission. As an Amazon Associate I earn from qualifying purchases. Please refer to our disclosure policy for more information.
SPONSORED - This post was created in partnership with the brand mentioned below.
Hawaiian Shaved Ice is a frozen dessert that has shaved ice served up in a cup or a bowl and is flavored with your favorite fruit juice. If you are a fan of this frozen concoction but you hate trying to find a place to get it, then this post is for you!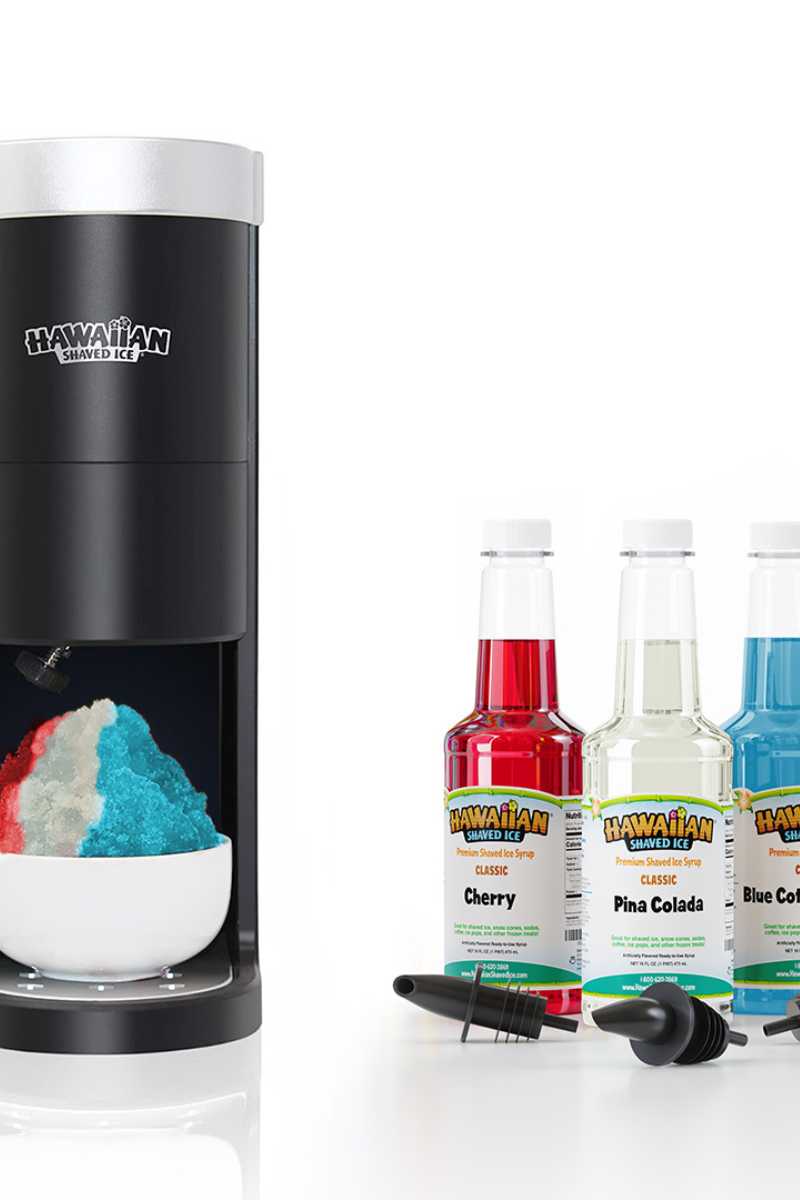 Hawaiian Shaved Ice
When is the last time that you had shaved ice? Did you have to drive to find a location? Were they open? Closed? Did you ask yourself can't I just buy a machine and make it at home?
I totally get how you feel! I feel the same way. There are a few locations in a city near us where you can buy shaved ice, however, they are either always super busy or closed. There is never an in between.

That's why when I heard about a Hawaiian Shaved Ice machine, I knew I needed to learn more!
What is Shaved Ice?
It's ice shavings from blocks of ice and then topped with a sweet type of syrup.
Where Did it Come From?
Shaving ice has been popular for thousands of years. It started out in Japan during the Heian Period (A.D.) when they were serving it with sweet syrups. They referred to it as "shavings" and served it with sweet syrupy drinks. This dessert was first introduced in Hawaii over 100 ​years ago. It is now known as "Shaved Ice."
A Little Bit of History
Other countries and cultures have developed their own versions of shaved ice.
In the Philippines, it's called "Halo-Hallo". In China, it's called, "Bao Bing".
How Did it Come to the US?
In the mid-1800s, when Japanese immigrants arrived in Hawaii, they would shave flakes off of the ice and then use sugar or a sweet juice, such as pineapple. They first called it, "Kakigori".
How Can I Make it at Home?
First of all, by ordering your very own Hawaiian Shaved Ice Machine! Of course, you will need to pick out all of the flavors of syrup that your family will love.
Next, while you are waiting for the goodies to arrive, decide on how you will serve it and all of the delicious ways you can enjoy it!
You can make shaved ice and frozen drinks like this Pina Colada Snow Cone (adult version).
Why Should I BUY The Hawaiian Shaved Ice Home Pro Shaver?
You should totally pick up one of this shaved ice machines! You can use them for any holiday, occasion, birthday parties, or for any reason at all such as Family Game Night.
The benefit of getting your own machine means you don't have to leave the house to get this delicious frozen treat! It's ready in no time.
Another great thing about this machine is that you can make your own ice blocks in the containers provided, or you can just use ice cubes and you get the same result.
If you have one of these already in your home, share your favorite concoction below!