Post contains affiliate links. Purchases made through links provide us with a small commission. As an Amazon Associate I earn from qualifying purchases. Please refer to our disclosure policy for more information.
SPONSORED - This post was created in partnership with the brand mentioned below.
Our Holiday Gift Guide for Pets is full of great ideas for the fur babies in your life! Whether you are a dog fan, cat fan, or other animal friend, don't forget your little friends during the holidays. They want goodies in their stockings too!
Holiday Gift Guide for Dogs
If you have a little piranha at home, you know how important it is to make sure that you find toys that will hold up! It's amazing how quick little puppies can shred a stuffed toy! That's why on our list this year, we researched around and found some toys that are made for power chewers! If you have one, then you totally understand what I mean!
1. The Christmas Tree by SodaPup
This tree shaped rubber chew toy is also a treat dispenser! It's actually two gifts in one! You can also freeze this toy! Just add in some wet ingredients and let it freeze.
Make sure to use our code "MomSkoop10%" when you order this super tough rubber Christmas Tree to get 10% off your order at SodaPup.
2. Snowflake Nylon Chew Toy by SodaPup
If you have a baby alligator at home, then you know you that you need a toy that is sturdy but not too hard. That's where a nylon chew toy comes in. And another plus with this toy is that you can smear soft food, like peanut butter, on the mat and they can lick it off. This is such a cute toy and a must in their stocking this year.
Head over to their site to pick up the Snowflake Christmas toy for your pet! Make sure to use our code "MomSkoop10%" to get 10% off.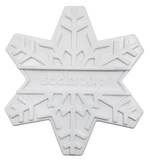 3. Peace on Earth Lick Mat by SodaPup
Until I started learning more about the products that SodaPup offers, I hadn't heard of a licking mat before. All I can say is where has this been! Now, keep in mind, you do not want them chewing on this. This is great to smear soft stuff like peanut butter or pumpkin puree on and let them go to town.
If you are looking for a different themed lick mat or to pick up several, head over to their site to browse around. And enter "MomSkoop10%" to get 10% off.
SodaPup is an all American made, FDA-compliant dog toy company. They have all kinds of goodies for your dogs. Just a heads up, you may spend more than you initially plan on because of all of the great stuff they have on there.
4. Bonne et Filou Dog Macarons
If your fur baby loves the finer things in life, then these Macaron dog treats are a must! These delicious treats have been rated as one of the best gifts for dogs by not only Cosmopolitan but Marie Claire!
If you are particular about the ingredients in your pets treats, these treats are made with three human grade, all-natural ingredients that you can pronounce! Oat flour, honey, coconut oil, and a yogurt filling.
Head over to pick up your own Bonne et Filou Dog Macarons. There are a variety of flavors to choose from!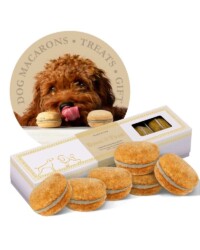 5. Vitakraft Cat Treats
Of course, we can't do a whole guide on dogs. There are just as many families owned by cats as are dogs.
Vitakraft, is a business that has been in business for over 180 years, so they know a thing or two about making scrumptious, yet healthy treats for our pets. This year they have created the Lick 'n' Lap Snack Line. Featured in this line is:
Lick 'n' Lap™ Smooth Jelly
Lick 'n' Lap™ Meaty Gravy
These tasty treats can be served from the tube, put into a bowl, or even as a food topper.
Certified Feline Training and Behavior Specialist, Molly DeVoss, uses these treats to turn shelter cats from shut down and scared to adoptable.
"I have found Vitakraft's Lick 'n' Lap treats to be the perfect training tool to form a closer bond with

your feline friends," explains DeVoss. "I use it to train the cats and teach shelter volunteers to do the

same, so they can help the adoptive parents keep up the good behavior once the cats are at home."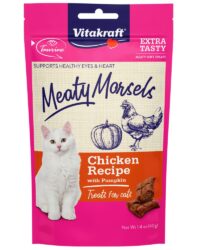 a Rafflecopter giveaway
6. The Dooloop from TheDooloop.com
If you have ever taken your dog for a walk, then you already know what it's like to deal with "the bag". I don't know about you, but I don't like having to hold on to that bag at all. That is why after discovering this company, I am a big fan of The Dooloop!
Imagine not having to hold on to that bag! Just hook it onto this handy little device and you are good to finish your walk all the while, still having the bag with you, but just not touching it the rest of the way.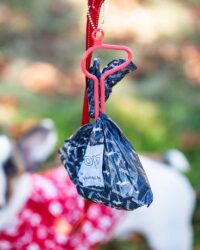 Did I mention there is a giveaway going on right now for two of our lucky readers to EACH receive ONE Dooloop so they can try it out themselves.
a Rafflecopter giveaway
7. Wild Earth Pets
Do you happen to have a fur baby that has digestive issues or itchy skin? Are you looking for food that is plant protein based? Full of fruit? And is bottom line delicious? If so, then you should check out Wild Earth!
Another reason you should check them out is because they just don't have dog food. They have treats and supplements too! Our oldest lab is 11 and is starting to show her age. We have been looking around at the different supplements that are available for older dogs, and I really like the selection that Wild Earth has!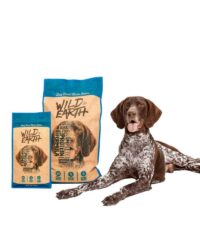 8. Matching Knitted Sweaters by Andrea Caceres
You have all heard about Mommy and Me clothing, right? That way Mom and her little girl can dress alike? Have you ever wondered if there are matching pieces for you and your furry little one? Well, guess what? You are in luck!
Andrea has created matching knitted sweaters for you and your furbaby!
Head over to her site to check out all of the cute pieces, like these checkerboard vests and sweaters she offers.
9. Swedencare ProDen PlaqueOff™ Dental Care Bones
Worried about your dog's teeth? I know I am. I "know" that we can brush their teeth but mine have never been about that life. So that's why we are always on the lookout for treats that also work on keeping the plaque off of their teeth.
That's why when I learned about Swedencare ProDen PlaqueOff Dental Care Bones, I was intrigued.
These tasty chews are 100% natural, contain omega 3 and 6 fatty acids and antioxidants.
So, if you are looking for a new treat to put in your dog's stocking this year, check out this company and these treats.
10. SpotOn - The World's FIRST GPS Dog Fence
Do you dream of letting your pup run free in your yard without a leash? And without the fear of having to chase your dog barefoot because he took off into the neighbor's yard chasing something? (And yes, I have done this before, and I don't recommend it.
This GPS system allows you to create any size or shape of fence using a collar and app. It's easy to set up and you can use it on the go, such as for vacations and visiting relatives for the holidays.
Make sure to stop by SpotOn's website to learn more and to get your own system.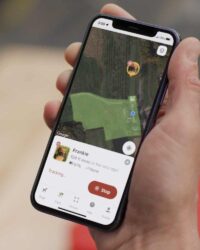 11. Nylabones
As a dog owner, you have probably seen nylabones in the various stores you visit. We have bought several for our pups over the years and we know that when we get them for them, they not only last, but the dogs enjoy them.
If you aren't familiar with these, they are non-edible. They are great for any size and age of dog. They do have other options, such as the wishbone or the ring for chewers. These are also vegan dog chews. Another great thing about nylabones is that the company has been around since 1955!
You can find these at a variety of stores or on Amazon.
12. Spleash - All in One Dog Leash Handle with Water Cup and Spray
This my friends is an all-in-one must have! Let me introduce Spleash!
It attaches to most leashes, holds 12 oz of water for a quick drink for your pet, AND you can use the spray to cool off your pup or spray unleashed animals that are coming your way.
13. HandsOn Shedding and Bathing Gloves
These gloves are versatile, massages your animals, stimulates their circulation, and works great at collecting their shedding hair.
Not only are these gloves GREAT for your dogs, but you can also use them on your cats, horses, and other small animals.
Imagine how happy they will be when instead of you using a brush on them, you are using gloves that make it feel like they are getting a massage!
14. The SK Waxed Cotton Dog Jacket by Stormy Kromer
If you have been thinking about getting a jacket for your favorite pup or pups, there is no better time than the holidays!
This cozy jacket has hook and loop straps for easy adjustment, a leash access, and this fashionable jacket is also water resistant. Plus, the cotton fleece lining will help and retain heat.
And another great thing about Stormy Kromer is that they also have goodies for everyone (not just pets) on your list!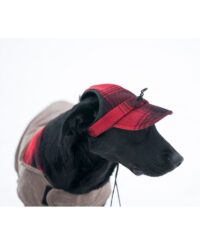 15. I and love and you's Pet Treats
Not only does this brand offer pet treats, but they also offer dog food and cat food.
If you are looking for some yummy and delicious treats to add to your fur babies' stockings this year, this company is worth checking out, especially their "I and love and you" Nice Jerky! Beef + Lamb dog treats.
Can you image your pet's excitement when they smell this smoky maple dog treat? These treats do not have corn, wheat, rice, soy or white potatoes. Meat is always a key ingredient!
Enter the Giveaway
This giveaway is for the Feed Meow Variety Pack. YOU MUST BE 18+ YRS OR OLDER TO ENTER AND BE A RESIDENT OF THE US.
a Rafflecopter giveaway
16. Alex Ross World Aprons and Towels
Are you looking for a unique gift for the pet lover on your list?
While it's easy to think of a gift for your fur baby, it's not always easy to think about gifts for the pet lover in YOUR life. Sure, you could always get them a gift for their sweet pet, however, if you are wanting to get something special for them, that isn't always an easy task.
That is why I love discovering brands such as Alex Ross World! They have fun items FOR pet owners! They carry aprons, tea towels, greeting cards, and wine totes with adorable pet prints and sayings.
If you are looking for hostess gifts who love their pets, check out this company! I'm sure you will definitely find the perfect gift on their site.
17. The City Loo
If you live in the city and have a dog, then you definitely need to check out The City Loo. This is exactly what it sounds like, a discreet place for your dogs to take care of business, yet still be inside.
This modern, yet practical solution for your cat or dog (under 15 lbs).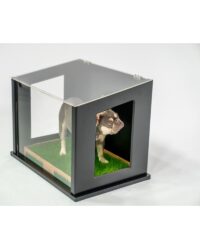 18. Doggy Diner™ wall-mounted food & water bowl system featuring Dappy Doggy™
May I introduce the 2022 Pet Innovation Award winner? These elevated bowls are really neat. Not only are they available for your favorite dog, but cat as well.
When your pet's bowls are elevated, it helps their digestion, you won't accidently kick their bowls (especially the water) over, if you have an electronic vacuum, it will go right under these.
You can also find a nice variety of products over on their site for your favorite pets.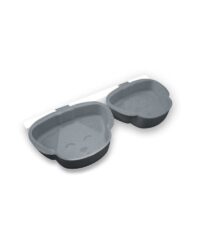 19. Walkee Paws
Are these not the cutest leggings for your pups? They are all-in-one dog leggings! These easily slip on AND stay due to a patented over-the-back design. Did I mention they even have waterproof rubber soles?
Head over and check them out and get a couple of pairs for your pups before Winter sets in. That way their legs and little paws stay nice and warm.