SPONSORED - This post was created in partnership with the brand mentioned below.
Noah's Ark Waterpark is a must visit family vacation destination located in the Wisconsin Dells! They have something for the whole family!
This is a sponsored blog; while the views expressed here were genuinely mine, consideration was paid to me by Noah's Ark Waterpark.
One of the best things about Summer is planning the annual family vacation!
When I am looking at planning our family get away, I look at a variety of things. Since my girls are 9 years apart, I look for places that will have attractions for the both of them as well as things that we can all enjoy.
That is why when I heard about Noah's Ark Waterpark in the Wisconsin Dells, I knew I had found a Summer destination for the whole family!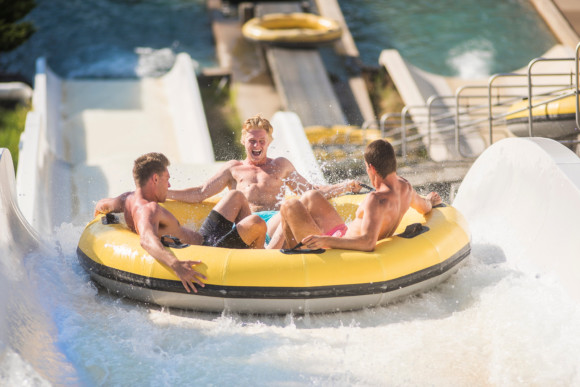 Noah's Ark is America's largest waterpark! Having opened in 1979, they are celebrating their 40th anniversary this year!
Located on over 85 acres with over 80 family activities, two lazy rivers, two massive wave pools, four kids' areas, world-class thrills, this waterpark is definitely a must visit!
Waiting for you during your visit are:
Rides for Thrill seekers
Surfing Safari
Black Anaconda
Scorpion's Tail
Time Warp
Black Thunder
Sting Ray
Point of No return
Bermuda Triangle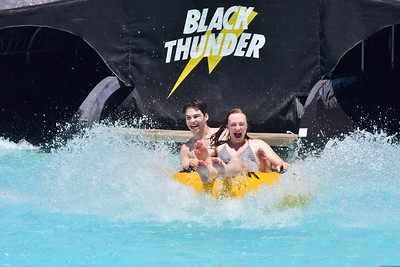 Rides for your group
Quadzilla
Kowabunga
Flash Flood
Flying Gecko
Congo Bongo
Kiddie and Gentle Rides for the Whole family
Jumping Waters
Endless River
OctoExplorer
Toucan Twisters
Big Kahuna Kiddie Area
Paradise Lagoon
Big Kahuna
Adventure River
Tadpole Bay
Monkey Rapids
The Wave
Endless River
If rides really aren't your thing, there are still plenty of things to do!
New this year at Noah's Ark is the 18-hole Safari Adventure miniature golf course! And if action movies are you favorite thing to do, make sure to check out Noah's 4D Theatre! This Summer, the feature is Journey 2: The Mysterious Island. Your theater admission is included with your park admission!
At Noah's Ark Waterpark, you will also find the world's largest King Cobra, Raja!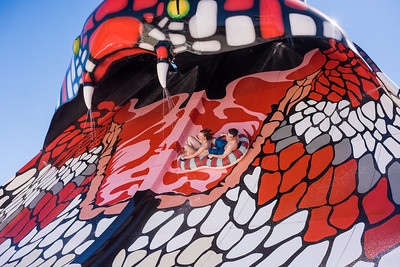 If you've never visited the waterpark before, here are some answers to questions you may have:
DOES NOAH'S ARK HAVE AN INDOOR WATERPARK?
No, they do not.
HOW MUCH IS PARKING AT NOAH'S ARK?
General parking is $20 and preferred is $25 and must be paid in CASH only. A discount for general parking is available if you purchase online.
CAN YOU WEAR WATER SHOES IN THE PARK?
Yes, you can. However, on the rides, no. They have convenient cubbies located throughout the park at the ride entrances and exits for your shoes.
DOES NOAH'S ARK HAVE LOCKERS AVAILABLE TO RENT?
Yes, they do. They are all day rentals. $15 for a standard locker, $20 for a large, and $25 for a jumbo. You can rent a locker at the kiosks in the park. No deposit or key is needed.
WHAT TIME DOES NOAH'S ARK OPEN?
They open at 10 am.
DOES NOAH'S ARK PROVIDE TOWELS?
No, they do not. You can bring them from home, buy them there or you can rent a wetsuit. There is a $30 deposit which will be refunded when the wetsuit is returned.
ARE THERE ANY SPECIAL EVENTS PLANNED AT NOAH'S ARK FOR 2019?
Absolutely! Here are a few of the special activities!
Father's Day Flop Belly Flop Contest – Sunday, June 16th
Noah's Art Chalk Art Festival – Saturday, July 6 – Sunday, July 7th.
Arktobrfest – Friday, August 30th – Saturday, August 31st.
CAN YOU RENT CABANAS AT NOAH'S ARK?
Yes, they have 33 cabanas poolside!
DOES NOAH'S ARK PROVIDE LIFE JACKETS?
Yes, they do provide them free of charge. Life jackets must be worn by guests under 48" tall in the wave pool.
ARE THERE HOTELS NEARBY?
There are several in the vicinity of the waterpark.
IS THERE A DRESSCODE AT NOAH'S ARK WATERPARK?
Yes, there is. Head over to the site for more detailed information.
Are you ready to make plans to visit America's largest waterpark?
Make sure to follow along on their social media channels!