Post contains Amazon affiliate links.As an Amazon Associate I earn from qualifying purchases. Please refer to our disclosure policy for more information.
Pumpkin bread is a Fall favorite that is full of real pumpkin, cinnamon, nutmeg and brown sugar. It's not Fall without homemade pumpkin bread!
Before you say that you aren't a fan of pumpkin bread, let me ask you this, did they use pumpkin pie filling OR pumpkin puree?
That my friends is THE KEY! I kid you not. Once you use actual pumpkin puree, you will have that ah moment of now I understand! Trust me! It's a true game changer!
Of course if you want to take your homemade bread to a new level, change up your baking pan! Granted there is nothing wrong at all with a normal baking loaf pan; I mean we all have them. But, when you start using a decorative loaf pan, you will want to say goodbye to your regular pan!
I mean, look at the top of this bread! I am in love! I think baking up a batch of this Fall staple in an unique loaf pan will leave your family speechless when they see the final product!
Doesn't this bread just say perfection?!
Before you start making this delectable and warm Fall bread recipe, here are a few helpful tips and resources for you.
WHAT INGREDIENTS ARE NEEDED TO MAKE THIS HOMEMADE PUMPKIN BREAD RECIPE?
All-purpose flour, baking soda, salt, cinnamon, nutmeg, salted butter, brown sugar, white sugar, pumpkin puree, and eggs.
HOW DO YOU EAT PUMPKIN BREAD?
I personally think that homemade bread should always be eaten right out of the oven. There is nothing in this world like warm bread straight from the oven, however, if you prefer yours served at room temp, you can add Apple butter, Nutella, or cream cheese.
HOW DO YOU KEEP PUMPKIN BREAD MOIST?
I think the key to not having the bread dry out is to wrap it in foil as soon as possible after it's taken out of the oven. That way the moisture is kept inside the loaf.
HOW DO I GREASE A BREAD LOAF PAN?
Use a pastry brush to very carefully brush baking spray or butter into every single little crevice of the pan (takes way less time than you might think) and then dust flour over the entire pan, tap out extra flour.
Does thinking about this bread make you crave more pumpkin? Don't worry, I have you covered! Make sure to bookmark our recipe for Cheesecake Bites that contain not only salted caramel BUT pumpkin! Another pumpkin recipe that is a keeper is our Pumpkin Spice Pudding that can be made in your slow cooker!
Ready to make this moist and mouthwatering homemade bread that doesn't require yeast?
The Best Ever Pumpkin Bread Recipe
Additional Time:
10 minutes
Total Time:
1 hour
15 minutes
Pumpkin bread is a Fall favorite that is full of real pumpkin, cinnamon, nutmeg and brown sugar. It's not Fall without homemade pumpkin bread! 
Ingredients
3 cups all-purpose flour
2 teaspoons baking soda
1.5 teaspoons quality salt
2 teaspoons cinnamon
Dash of nutmeg
1 cup room temperature salted butter
¾ cup packed brown sugar
¾ cup white sugar
2.5 cups pumpkin puree, not pumpkin pie mix
2 eggs (or 6 tablespoons of aquafaba, which is what we used here).
For the glaze
½ cup powdered sugar
1-2 tablespoons of milk or even vanilla coffee creamer (I used
Instructions
To make the batter:
Preheat the oven to 350 degrees.
Dump all of the ingredients into your mixing bowl at the same time and stir just until everything is combined, being sure to scrape the bottom and sides of the bowl to incorporate everything.
Grease and flour the loaf pan.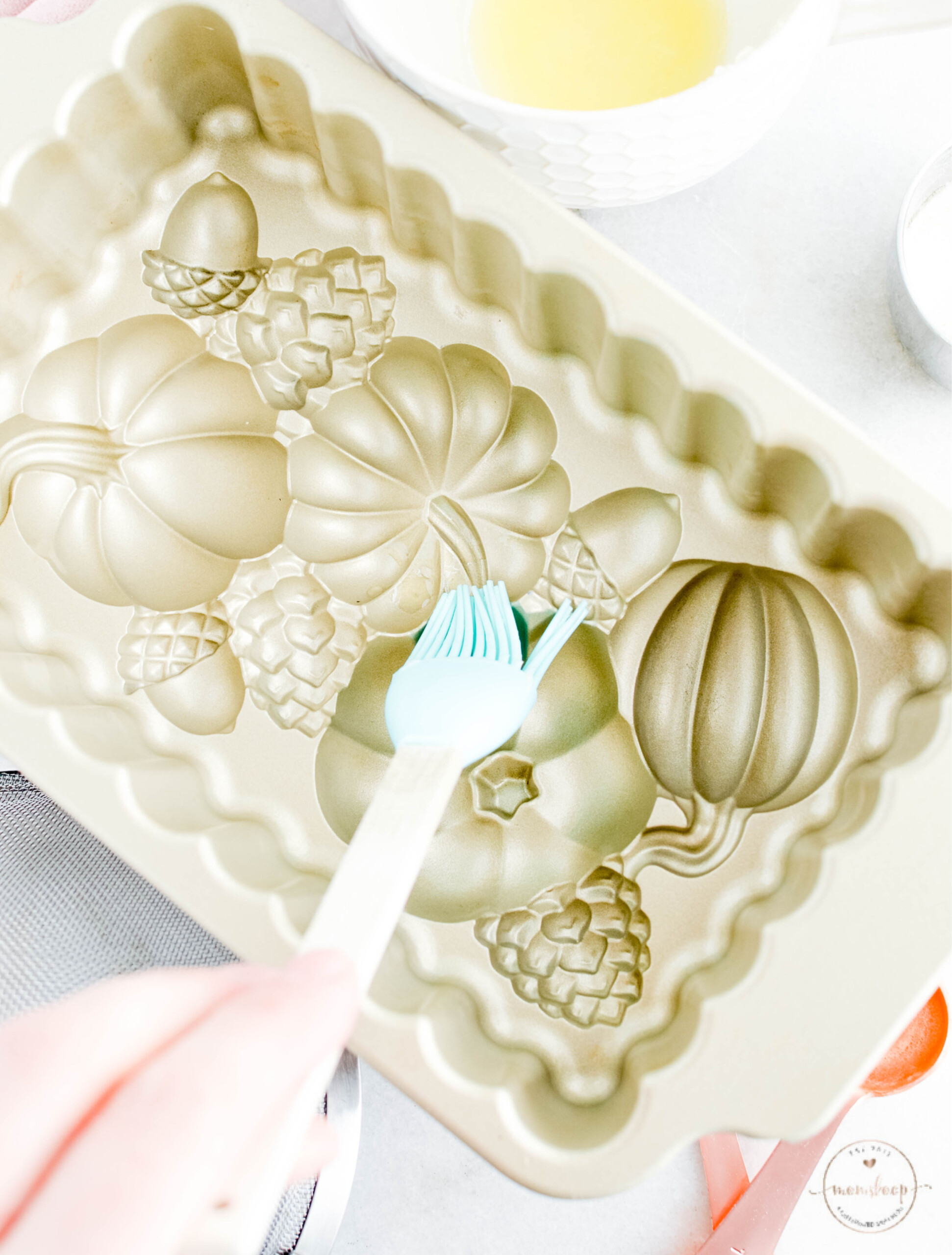 Bake the bread for about 55 minutes or until a toothpick comes out clean the top of perfectly golden with a light crust.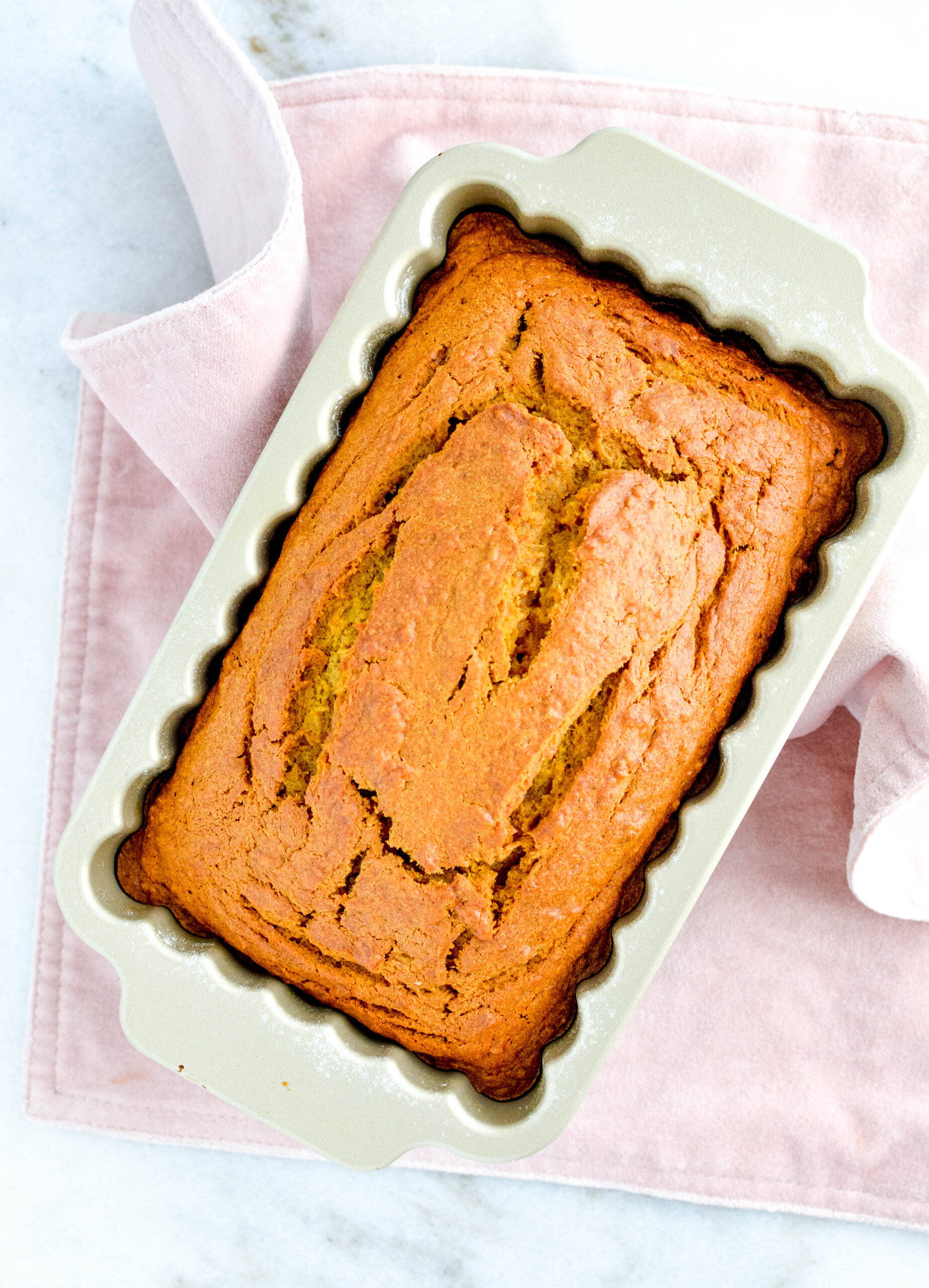 Allow bread to cool for 10 minutes in their pans before turning out onto a cooling rack.


To make the glaze for the bread:
Mix ½ cup powdered sugar with 1-2 tablespoons of milk or even vanilla coffee creamer (I used an almond milk vanilla coffee creamer here).

Pour over the top of the still slightly warm bread and allow the glaze to run down the sides, it should set within a few minutes and be ready to cut within 10 to 15 minutes.
Notes
You can either double this recipe for four loaves or cut it in half for one loaf.
Nutrition Information:
Yield:

14
Serving Size:

1
Amount Per Serving:
Calories:

358
Total Fat:

14g
Saturated Fat:

9g
Trans Fat:

1g
Unsaturated Fat:

5g
Cholesterol:

62mg
Sodium:

568mg
Carbohydrates:

54g
Fiber:

4g
Sugar:

26g
Protein:

5g
This is just an estimated calculation. Actual nutrition information will be based on the ingredients you use.