Easy Lemon Blueberry Bread
Post contains Amazon Affiliate links. As an Amazon Associate I earn from qualifying purchases. Please refer to our disclosure policy for more information.
Lemon Blueberry Bread has a delicious flavor that is full of sweet berries and tart lemons. It's easy to make and tastes amazing! I love this bread because it's so versatile. I can eat it with my morning coffee, or as an afternoon snack, or even for dessert. It's also perfect for breakfast on the go.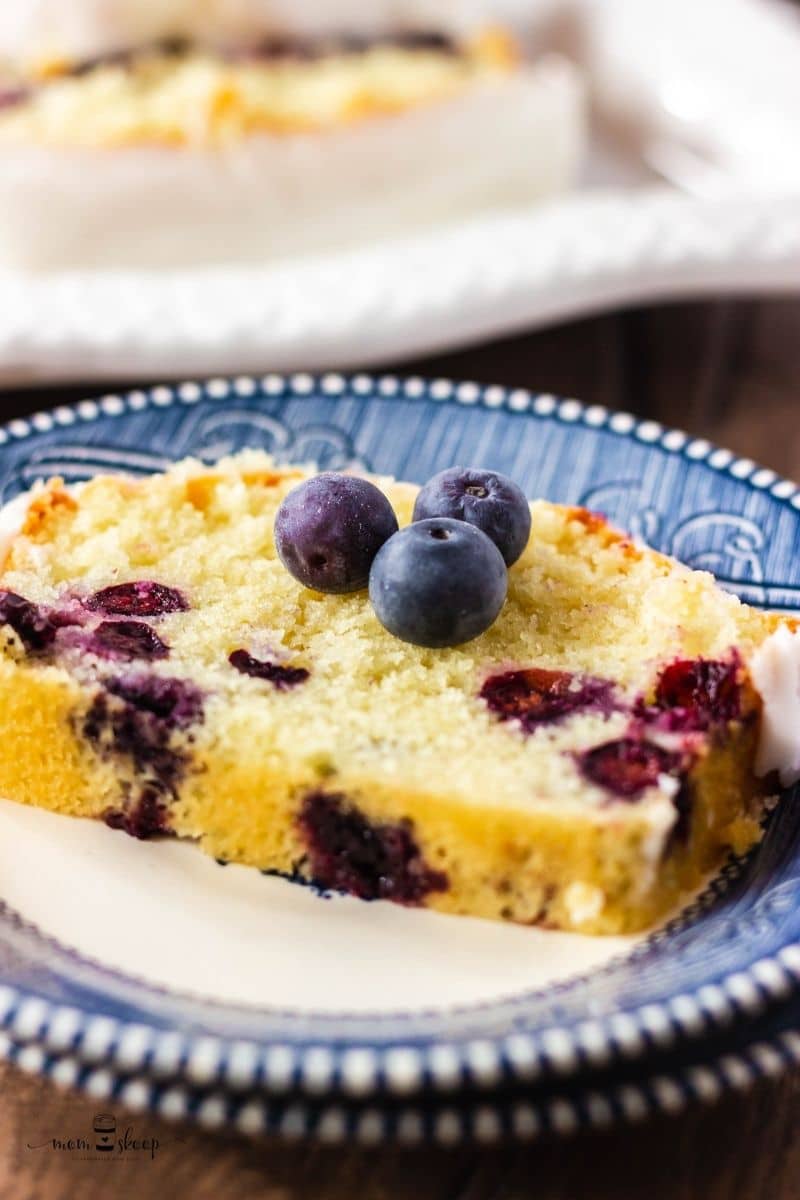 How To Make This No Yeast Lemon Blueberry Bread Recipe
If you grow blueberries every year, then bookmark this delicious blueberry bread recipe full of lemon and blueberry flavor so that you have it on hand for when they are ripe and are ready to be harvested!
Blueberries are one of my favorite foods. They're delicious when eaten as snacks or desserts, but the best thing is their ability to add so much color to everything they touch! If you want something colorful and beautiful, just add a few fresh blueberries to your meals!
Why This Quick Bread Recipe Works
This recipe is a family favorite because it's:
Easy
Delicious
Great for breakfast, lunch, or a snack!
Expert Tips, Ingredient List and Suggestions for Recipe Success
Unsalted butter – if you use salted butter – omit the salt from the recipe.
Blueberries – fresh or frozen; either is fine.
Fresh lemon juice – you can either use juice from a fresh lemon or bottled lemon juice is fine too.
Kosher or sea salt – this is different than the normal table salt you use to season your food.
All-purpose flour – make sure to scoop with a spoon and level with a knife. Do not scoop it out with a measuring cup or you will not get a correct measurement.
Baking powder – make sure this isn't expired.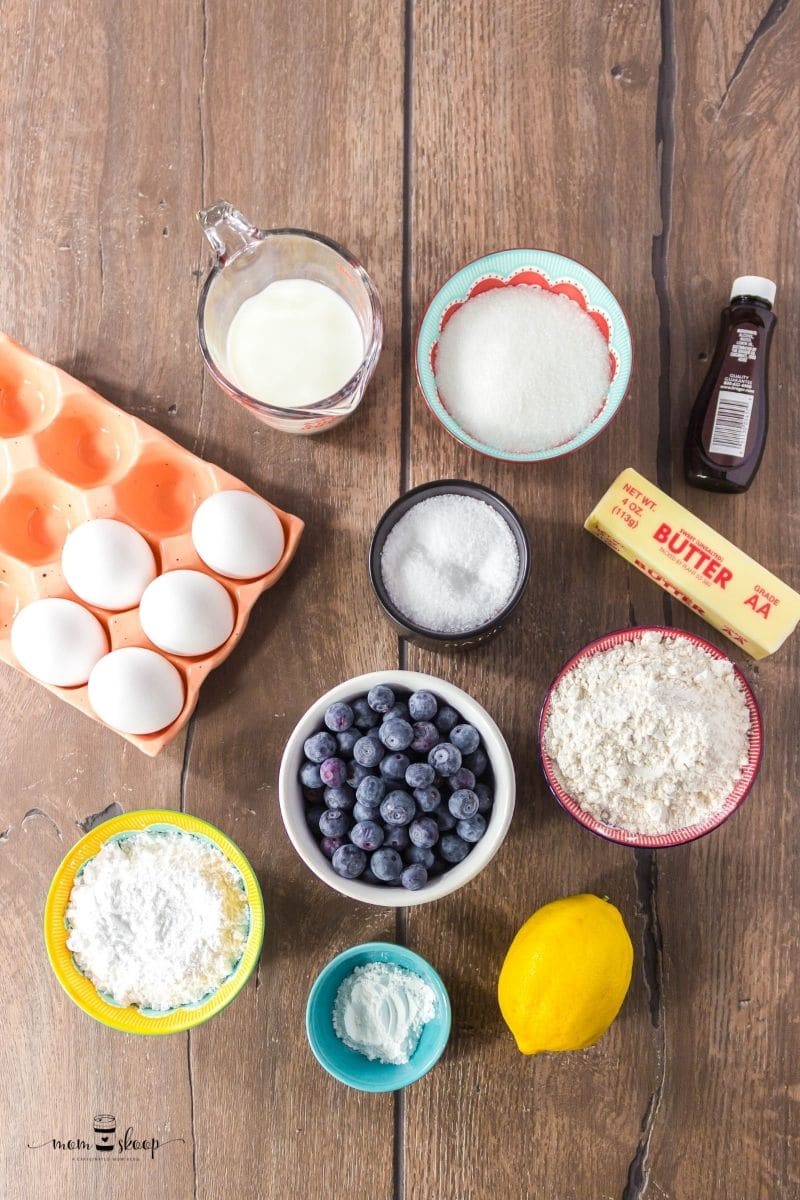 Can You Use Frozen or Fresh Berries?
Absolutely! You can use either. You won't even need to thaw them!
How Can I Prevent the Berries from Sinking to the Bottom?
Put a couple of teaspoons of flour into a bowl and lightly toss the blueberries around before adding them to the batter.
How Can I Serve Bread for Breakfast?
Simple breads are a great addition when it comes to Brunch.
Brunch should have a variety of sweet foods like muffins and pastries. Something savory like our breakfast casserole that is full of meat and eggs as well as a few bowls that contain a variety of fruit.
How Do I Store This Bread?
You can store this in an airtight container, in the fridge, for up to four days. You need to keep it refrigerated if you use milk in the glaze instead of water.
If you aren't using milk in the glaze, you can keep it stored on the counter for up to four days.
Can You Freeze It?
Yes! You definitely can! This bread can be frozen up to three months in a freezer safe container.
Step by Step Directions
Step 1: Preheat the oven to 350 degrees.
Step 2: Prepare your loaf pan by spraying it with your favorite baking spray and set it aside.
Step 3: In a medium-sized bowl, sift together the dry ingredients and then set the bowl aside.
Step 4: In your large mixing bowl, cream together the softened butter and sugar. Then add in the eggs, milk, and lemon juice. Mix together for approximately two minutes on medium speed.
Step 5: In a small bowl, add in the blueberries and a couple of teaspoons of flour and gently toss the blueberries together with the flour.
Step 6: Next, zest the lemon into the batter and then fold in the blueberries being careful to not overmix.
Step 7: Carefully pour the batter into the loaf pan.
Step 8: Bake for 50 minutes. Start checking the bread. Test for doneness.
Step 9: If it isn't done, put it back into the oven and check at 10-minute intervals.
Step 10: Once the bread is done and cooling, prepare the glaze.
Step 11: In a medium bowl, add in the powdered sugar and the lemon juice. Then either add milk or water slowly into the glaze until you reach the consistency you are looking for.
Step 12: Once the bread has cooled, top the bread with the glaze.
Step 13: Slice and enjoy.
Related Recipes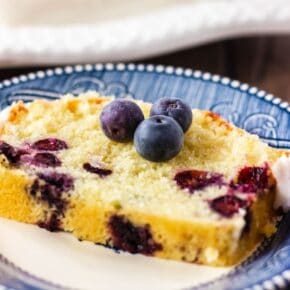 Lemon Blueberry Bread Recipe
Lemon Blueberry Bread is a scrumptious quick bread that is full of sweet blueberries and tangy lemon flavors and is oh so easy to make! One of my favorite things about making bread is that you can eat it for breakfast or for a snack!
Equipment
Small mixing bowl

Medium mixing bowl

large mixing bowl

8 x 4 loaf pan
Ingredients
½

teaspoon

kosher salt

1 ½

cups

all-purpose flour

scooped with a spoon and leveled with a knife

1

teaspoon

baking powder

⅓

cup

unsalted butter

softened

1

cup

white granulated sugar

2

large eggs

3

tablespoons

juice from a lemon

½

cup

milk

1

cup

blueberries

3

tablespoons

zest from a lemon
Glaze
3

tablespoons

lemon juice

2

cups

powdered sugar

milk or water

drizzle in slowly as needed
Instructions
Preheat your oven to 350 degrees.

Butter or spray a 8 x 4" load pan with cooking spray and set aside.

In a medium sized bowl, sift together the kosher salt, all-purpose flour, and baking powder and set aside.

Then in a large mixing bowl, beat together the softened unsalted butter and white granulated sugar. Then add in the eggs, fresh lemon juice and milk and mix together for about 2 minutes on medium speed.

Then slowly incorporate the flour mixture into the wet ingredients.

In a small bowl, add in a couple of teaspoons of flour and the blueberries. Gently coat the blueberries with the flour.

Then fold in the lemon zest and the blueberries into the bread batter.

Pour the mixture into the prepared pan.

Bake for at least 50 minutes. Check the bread with a toothpick inserted into the middle of the loaf when the timer goes off. If the toothpick comes out clean, then the lemon blueberry bread is done.

If the bread isn't done or golden brown, put the bread back into the oven and set the timer for 10 minute intervals.

When the bread is finished baking, prepare the glaze by mixing together the lemon juice and the powdered sugar. Then if the glaze needs more liquid to thin it, slowly add water or milk into the glaze. Add enough liquid to get it to the consistency that you want.

Once the bread is done, let it cool for 10 minutes. Then transfer to a wire rack that has a plate or baking sheet underneath it. Slowly pour the lemon glaze over the bread once it's totally cool.
Notes
This recipe is adapted from a recipe found in the Taste of Home 25th Anniversary edition.
Nutrition
Serving:
1
g
Calories:
151
kcal
Carbohydrates:
26
g
Protein:
2
g
Fat:
5
g
Saturated Fat:
3
g
Polyunsaturated Fat:
2
g
Cholesterol:
34
mg
Sodium:
148
mg
Fiber:
1
g
Sugar:
15
g
This post was originally posted on April 27, 2020, and adapted from a recipe I found in the Taste of Home 25th Anniversary Edition.