Post contains affiliate links. Purchases made through links provide us with a small commission. As an Amazon Associate I earn from qualifying purchases. Please refer to our disclosure policy for more information.
We've tested a lot of anti aging products here at Momskoop. Some are hits and others are misses. When we were asked to try SkinPro BIO-Placenta Revitalizing Serum we were eager to see how it would work. The results ...well...they were a little bit amazing.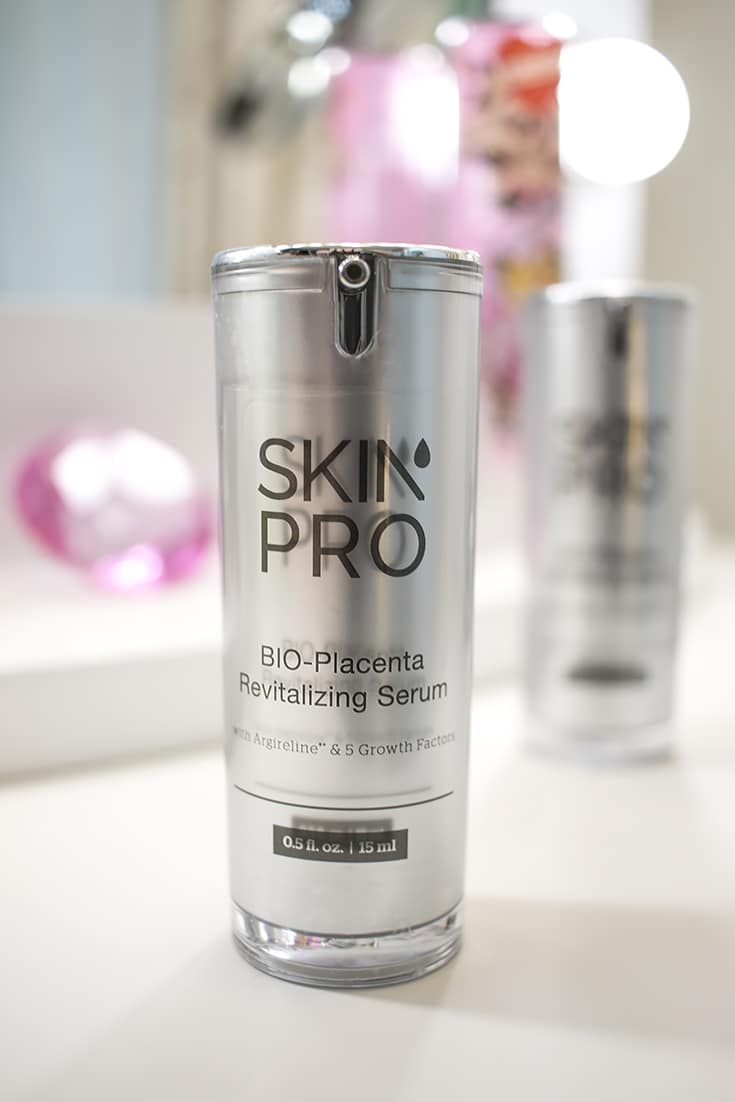 About SkinPro BIO-Placenta Revitalizing Serum
First off - don't let "placenta" scare you off. It's not real placenta. The serum includes 5 unique peptides, also known as Human Growth Factors, that are molecularly identical to the life-giving growth factors found in the human placenta.
Epidermal Growth Factor (EGF) - promotes regeneration
Insulin-like Growth Factor (IGF-1) - supports anti-wrinkle
Acidic Fibroblast Growth Factor (AFGF) - helps firm skin
Basic Fibroblast Growth Factor (BFGF) - increase elasticity
Vaso-Endothelial Growth Factor (VEGF) - provides nutrition
It's an innovative combination in just one product that has been "Clinically Tested to reduce Under Eye Wrinkles by 38% in 2 weeks and 46% in 4 weeks"**
SkinPro BIO-Placenta Revitalizing Serum is applied to the face and neck twice per day - once in the morning and once at night. The formula is very light and absorbs quickly, allowing you to go about your day or snuggle into bed. It continuously works to improve wrinkles, skin elasticity, and regeneration with skin collagen production.
I tested SkinPro BIO-Placenta serum for just over 2 weeks, putting away my arsenal of other skin moisturizing products. I simply washed morning and night with my favorite cleanser and then applied the serum to all areas of my face and neck. I paid special attention to the lines on my forehead, eyes, and the area around the corners of my mouth.
The results were surprising:
SKINPRO BIO-PLACENTA : BEFORE AND AFTER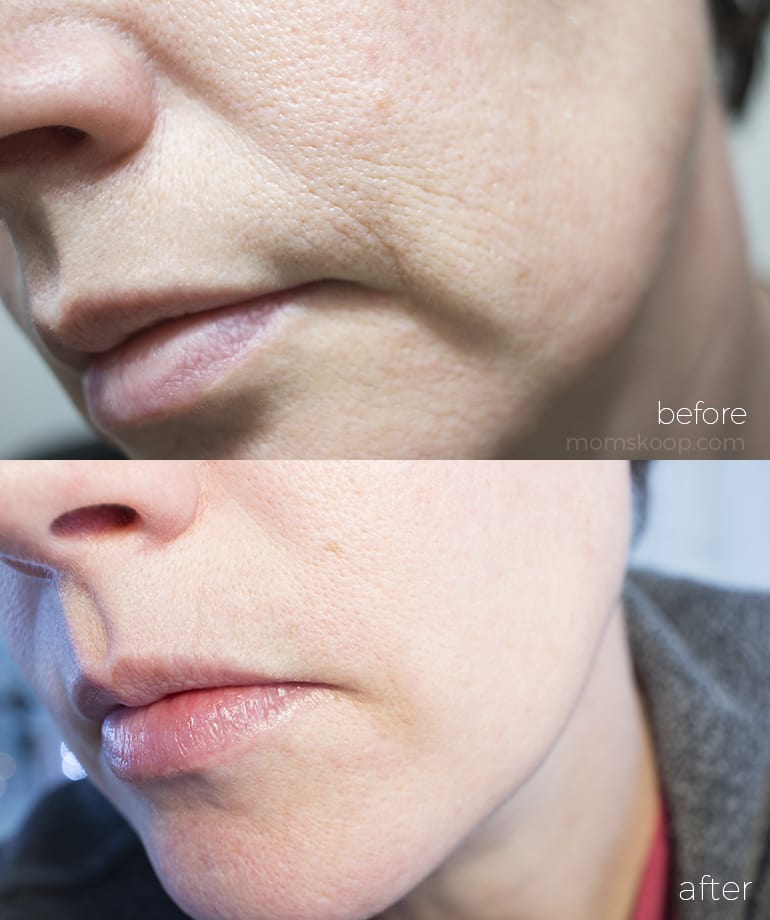 The improvement in the skin around my mouth was definitely the most exciting. Not only did it soften the web of wrinkles, but it also seems to have tightened the skin - getting rid of the "droop" at the corners.  However, the changes around my eyes and on my forehead were not disappointing.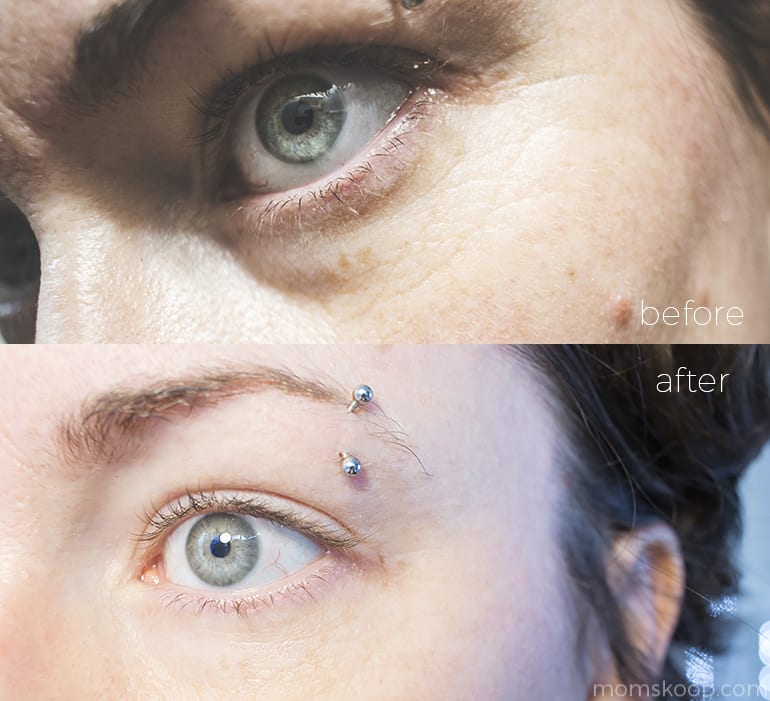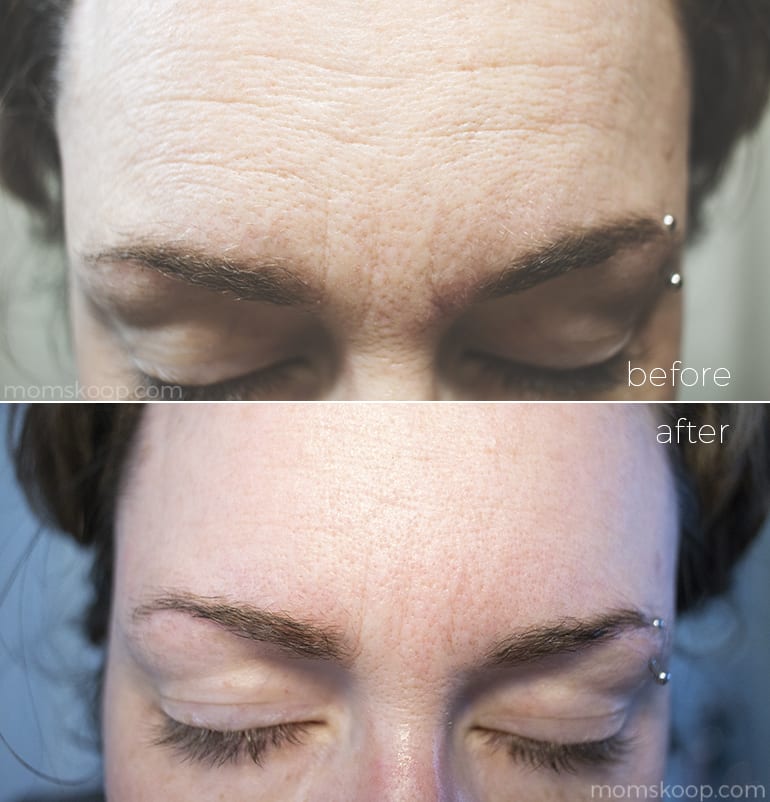 The product recommends use for at least 28 days to get the full results, so I'm looking forward to continuing my test to see just how much improvement will result.
Final Thoughts -
SkinPro BIO-Placenta is like a little bottle of magic. I was completely satisfied with the results I personally achieved. While I have other products that will eventually soften my wrinkles over time and with work - SkinPro did it in half the time. I love that it's not greasy, absorbs quickly, and doesn't create any kind of residue on my skin. The price is affordable too!
WHERE TO BUY
You can find SkinPro BIO-Placenta Revitalizing Serum (Medical Grade with Epidermal Growth Factor & Argireline for Anti Aging) on Amazon. 
**Claims are that of SkinPro only and do not represent research conducted by momskoop.