Post contains Amazon Affiliate links. As an Amazon Associate I earn from qualifying purchases. Please refer to our disclosure policy for more information.
This recipe for Old-Fashioned Tomato Soup Meatloaf takes the normal meatloaf recipe to the next level by combining both traditional and modern ingredients. The tomato soup adds an extra layer of flavor and moisture to the loaf, making it even more delicious than traditional recipes.
There is a secret ingredient that was once used in many recipes that really helps enhance the flavor. This meal can be prepared quickly and will be ready in less than an hour. Your family will love this delicious recipe and they won't complain about the meatloaf being dry anymore.
If you are looking for additional vintage dinner recipes, check out this classic Ham and Scalloped Potatoes meal idea or if you are looking for a quick sandwich, our Spoon Burgers is another delicious recipe to consider.
Jump to:
🥘Ingredients
This is just a brief breakdown of the ingredients needed. To get the measurements, go down to the bottom of the post and you will find them in the recipe card.
Ground beef
Kosher salt
Black pepper
Dry powdered milk
Egg
Tomato soup
Panko
Onion
🔪Instructions
There are no step-by-step photos as when you are making meatloaf, you are literally mixing everything together in a bowl and putting it into a loaf pan.
🧾Substitutions
Breadcrumbs - if you prefer using saltines or breadcrumbs instead of panko, that is fine.
Onion powder - if you don't have any onions, you can use onion powder instead. Refer to the bottle to see what the correct ratio would be as each brand is different.
Ground beef - I used 80/20, however, you can use 70/30. You may have more grease though when it's baking so keep that in mind.
📖Variations
Ketchup on top - As a topping for my meatloaf, I typically include a blend of brown sugar and ketchup. This is simply our family's preference. If you have a different topping preference, you can add that as well.
Sides
One of the great things about serving meatloaf for dinner is all of the sides that work so well together with the meatloaf.
Mashed potatoes and gravy
Baked macaroni and cheese
Scalloped potatoes
Roasted vegetables such as a mix of peas and carrots.
Green beans
Cornbread
Sourdough bread
Side salad
Fruit gelatin
🍽Equipment
One of the best things about making meatloaf is that it requires very few pieces of equipment. And the best thing to use to mix everything together is your hands.
cutting board
knife
loaf pan
🥫Storage
You can store the leftovers in an airtight container in the fridge for up to four days.
And freezing it will depend on how you defrosted the meat beforehand. As long as you defrosted it in the fridge and then made it into the meatloaf, you can freeze in a freezer safe bag or container for up to two months. If you defrosted the meat on the counter then made the meatloaf, it's best not to freeze it.
💭Top tips
To prevent a big mess in the oven when you are making meatloaf, always put a baking sheet on the rack below the loaf pan so it can catch any of the grease that overflows.
If you use higher content beef, which has a lower fat content, you may get a drier or grainy meatloaf. Don't use any higher than 80/20.
To prevent the meatloaf from being too dense, do not overmix the mixture together. Just mix everything until it's moistened.
👩🏻‍🍳FAQ
Do I need to put foil over the meatloaf?
No, it's normally not needed. However, if you feel it's getting too burnt, feel free to loosely tent the foil over it.
What to serve with meatloaf
There is nothing better than a side of mashed potatoes, gravy, and corn. Nice and simple. You could also serve up fresh green beans.
📚History Behind the Recipe
One of our readers was looking for an old meatloaf recipe that her Mom used to make. She couldn't find the recipe card but remembered that it had tomato soup and dry powdered milk. I went through all of the cookbooks I had and found a couple of recipes that used tomato soup and some that used dry milk. But none that used both. Maybe it was a delicious recipe her Mother put together herself. Regardless of how she came up with it, according to my crew, it's the best meatloaf ever.
According to Bon Appétit, the first recipe on record for meatloaf is from 1870. And it may have also been around since as early as the 5th century in Rome.
This post was originally on Modern Vintage Recipes.
📖 Recipe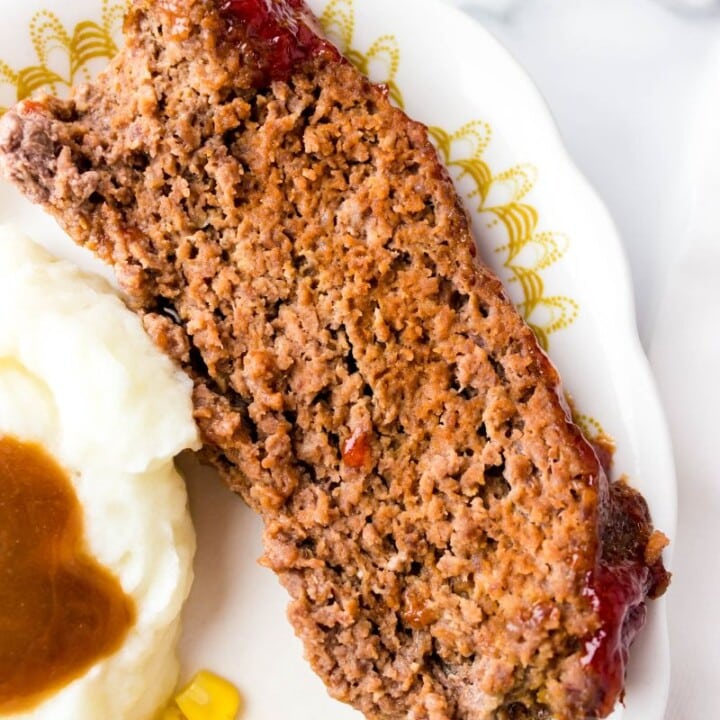 Tomato Soup Meatloaf
This recipe for Old-Fashioned Tomato Soup Meatloaf takes the normal meatloaf recipe to the next level by combining both traditional and modern ingredients. The tomato soup adds an extra layer of flavor and moisture to the loaf, making it even more delicious than traditional recipes.
Equipment
cutting board

Knife

Large bowl

loaf pan
Ingredients
2 ½

pounds

80/20 ground beef

2

teaspoons

kosher salt

½

teaspoon

ground black pepper

1

cup

dry powdered milk

1

large egg

10.75

ounces

tomato soup one can

1

small onion diced

½

cup

panko or other dry breadcrumbs
Optional
1

cup

ketchup

1

tablespoon

brown sugar
Instructions
Preheat the oven to 400° degrees.

Mix together all of the ingredients into a large bowl.

Mix all of the ingredients together until everything is combined. You may want to use your hands to do this.

Place the meat mixture into a loaf pan and place into the oven.

Bake for 45 minutes.

Remove the meatloaf from the oven. Mix the ketchup and brown sugar together in a small bowl and top the meatloaf with the ketchup mixture. Place back into the oven and bake for another 5 to 10 minutes. Or until the meatloaf is cooked to 160° degrees.

Remove from the oven when it's done and let it sit for 5 to 10 minutes before slicing it so the meat has time to rest and for the juices to further be absorbed into the meatloaf.
Notes
Please use your favorite nutrition calculator when determining your nutrition facts. We all use different ingredients so it's best to use your own.