Post contains Amazon Affiliate links. As an Amazon Associate I earn from qualifying purchases. Please refer to our disclosure policy for more information.
A Virgin Shirley Temple is a fantastic mocktail that is easy to make. Full of bubbles, this pink drink is enjoyed by all ages. This also works great for parties too!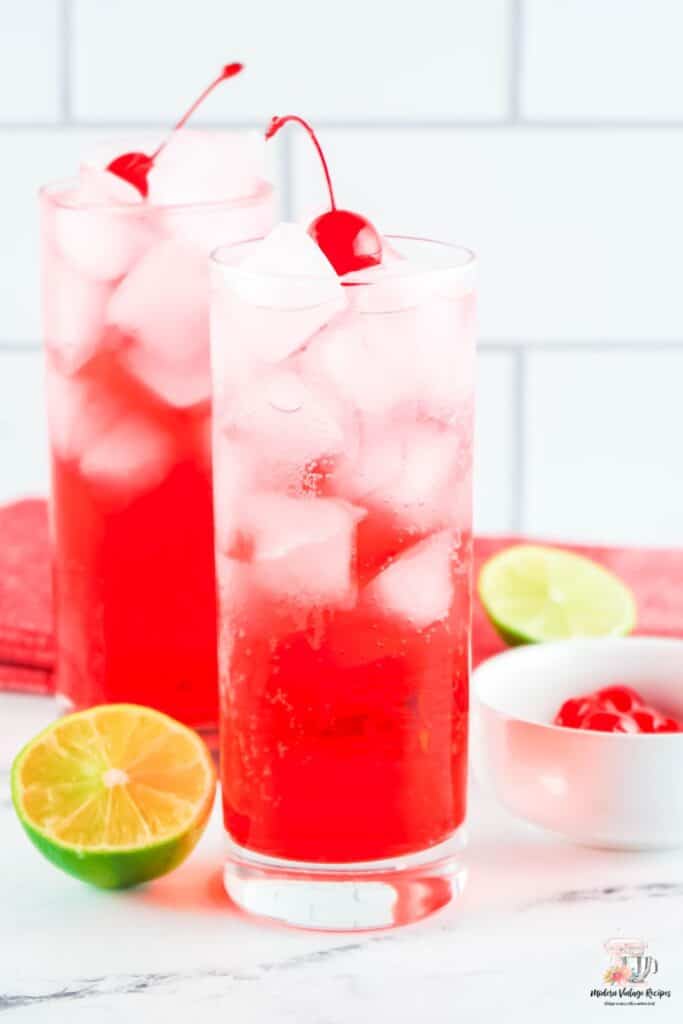 Despite the enduring popularity of this mocktail in restaurants and bars, Shirley, surprisingly, did not enjoy it. In fact, during an interview with Scott Simon of NPR, she characterized the drink as a "saccharine, icky" beverage.
In addition to this mocktail, we offer a variety of other drinks that feature grenadine, including our Tequila Sunrise cocktail and Roy Rogers mocktail.
Jump to:
Ingredients
You will find a complete list of quantities in the recipe card below.
Mix Lemon-lime soda with grenadine.
Add maraschino cherries.
🔪 Instructions
This is an extremely easy mocktail beverage to make.
Add your favorite ice cubes to a tall glass.
Slowly pour in the soda.
Next, slowly add in the grenadine.
Stir and add a cherry on top.
Hint: make sure to chill the soda so the drink is extra refreshing and cool.
🧾Substitutions
Grenadine - if you don't have grenadine, you can use pomegranate juice.
Lemon-lime soda - you can use sparkling water and add in a few squeezes of fresh lime juice, or you can use ginger ale.
📖 Variations
Boozy - to make this into a cocktail, add in 1.5 - 2 ounces of light rum or vodka.
Male version - The male version of the Shirley Temple drink is the Roy Rogers drink.
Non-alcoholic bitters - you can add a few of these to really give some depth to this drink.
Equipment
The only equipment you need for this recipe are a couple of glasses and a spoon to stir it with.
My favorite spoons though when I make party drinks or drinks in tall glasses are these cocktail spoons. They are long and work great getting to the bottom of a glass when you are enjoying a milkshake and want to get every drop that's left.
🥗What Sides work well with this?
To balance out the sweetness of this mocktail, it's recommended to pair it with foods that are not overly sweet. This will create a nice combination of flavors that includes both salty and sweet.
Consider serving it with options like mini sandwiches, mozzarella sticks, salads, pretzels, and popcorn. These snacks can really help to balance out the sweetness of the drink.
🍸 Storage
The great thing about this drink recipe is that you won't have any leftovers since you make it per glass.
💭Top tips
This mocktail is a vintage recipe that offers versatility for any occasion. It can be made with or without alcohol, and you can even substitute ingredients such as ginger ale for the lemon-lime soda or pomegranate juice for grenadine. It's the perfect addition to any party menu or just as a refreshing drink.
If you have leftover maraschino cherries, try using them as a delicious topping for a homemade milkshake, fruit salad, or ice cream sundae.
For an extra touch of fun, consider serving this mocktail in any special glasses that have been collecting dust in your cabinet. This is an easy way to jazz up this simple yet classic drink.
FAQ
What is Grenadine?
It's basically pomegranate syrup. These small bottles are hard to locate in most grocery stores as they are in the liquor aisle. Or you may find them near the club soda. Don't worry, grenadine is non-alcoholic. These bottles, once opened, will last in the fridge up to four months.
Can I Make a Shirley Temple cocktail ahead of time?
Due to losing the carbonation from the soda, I would advise against it.
Can I serve this as a punch?
Absolutely! All you need to do is multiply the ingredients by the amount of people you are going to have at your party and serve it up in a punch bowl.
What are other cocktails that use maraschino cherries?
Old-Fashioneds, Manhattans, Club Cocktails, and Aviations.
This post was originally on Modern Vintage Recipes. However, we moved everything onto one site.
📖 Recipe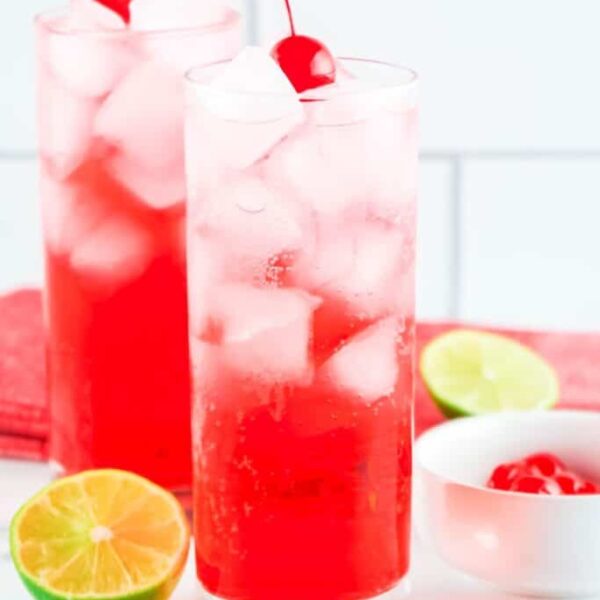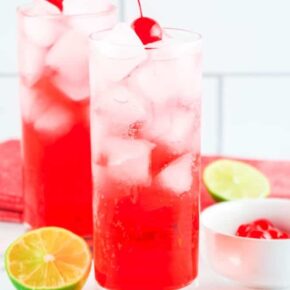 Virgin Shirley Temple
A Virgin Shirley Temple is a fantastic mocktail that is easy to make. Full of bubbles, this pink drink is enjoyed by all ages. This also works great for parties too!
Ingredients
8

ounces

lemon-lime soda

1

ounce

grenadine

1

maraschino cherry

ice optional
Instructions
If you are adding ice to your tall glass, do that step first.

Slowly pour in the lemon-lime soda and let it settle.

Next, add the grenadine. Pour this slowly as well. It's actually kind of cool to watch it blend in.

Carefully stir the flavors together and then top the mocktail with a cherry.
Notes
To really add an extra kick to this mocktail, add in a lemon slice. 
You can also substitute ginger ale for lemon-lime soda. 
You can swap out half of the lemon-lime soda for ginger ale, for another variation.
To have the grenadine sit more in its own layer, when you are adding it, tilt the glass slightly and slowly pour the grenadine in.  BUT make sure to mix it all together before indulging. 
The nutritional calculator is based on using Happy Forks. com. To get the most accurate results, use your favorite calculator. 
Nutrition
Calories:
260
kcal
Carbohydrates:
44.73
g
Protein:
0.22
g
Fat:
0.01
g
Saturated Fat:
0.002
g
Polyunsaturated Fat:
0.003
g
Monounsaturated Fat:
0.002
g
Cholesterol:
1
mg
Fiber:
0.02
g
Sugar:
38.7
g
Vitamin A:
2
IU
Calcium:
9
mg
Iron:
0.08
mg