Post contains Amazon Affiliate links. As an Amazon Associate I earn from qualifying purchases. Please refer to our disclosure policy for more information.
Looking for something unique and different to add to your next dinner party or potluck? Well, look no further than Congealed Salad! This one-of-a-kind dish is made with a variety of colorful fruits and vegetables, all held together with deliciously sweetened gelatin. It's sure to be a hit with everyone who tries it!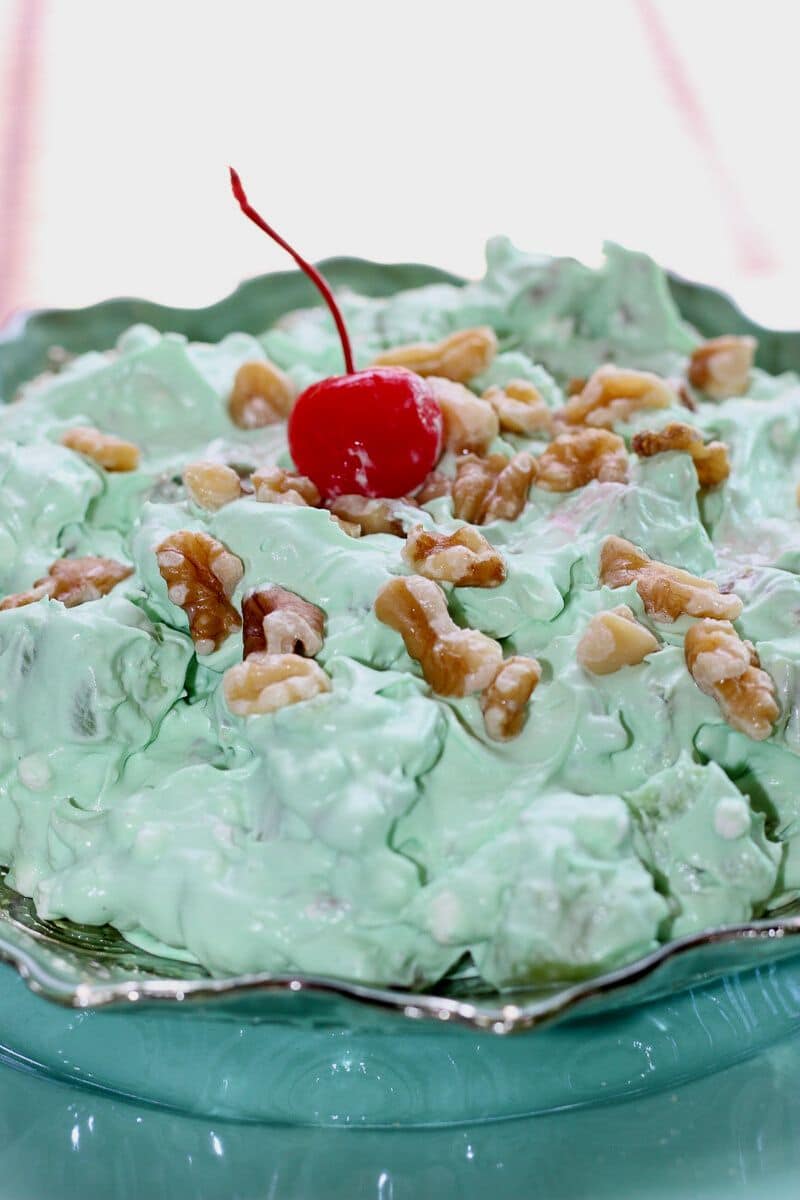 What Is A Congealed Salad?
A congealed Salad is an American salad recipe that has been popular since the 50s. The word salad might throw you off when you see this dish because it isn't made from lettuce or green. It normally includes ingredients like gelatin, fruit, vegetables, or maybe other ingredients like cottage cheese, cream cheese, marshmallows, nuts, or pretzels.
Is This A Salad Or Dessert?
This recipe is considered more of a dessert than a salad. However, it is common for some to serve this dish alongside a meal as a side dish/salad.
Is This The Same As A Gelatin Salad Or Jello Salad?
Gelatin salad, Jello salad and congealed salad are all the same thing. Since it is made using gelatin or the brand name Jello, this dish is called all of these.
What Flavors Can I Make This Congealed Salad?
Jello salad recipes can be made into all sorts of different flavors. There are a variety of different jello box flavors available as well as fruits that you can add to it. You can make this recipe raspberry flavored with frozen raspberries, Blue Raz flavored with frozen blueberries, Berry with mixed berries, etc. You can even mix colors as well as add two or more fruits.
Should I Make It In A Mold?
Making a congealed salad in a mold can be decorative, but not needed. You can use a variety of different containers for molding. Things like cookie cutters could even be used to display the delicious dessert. To do this, you would have to make sure that the final shape of the Jell-o salad isn't too thick. Using a shallow cookie sheet would work well for this.
How To Make A Jello Salad in a Mold with Layers?
Making a gelatin salad with layers in a mold is easier than it looks. Here is what you will need to do:
1) Start by preparing the first layer of jello according to the package directions. Pour it into the bottom of the mold and place in the refrigerator for about two hours until it sets.
2) Once the first layer of jello is set, you can start preparing the next layer. For this step, you will need to create a new batch of jello according to the package directions and add in any layers like fruit or cream cheese that you would like before pouring it on top of the first layer. Place the mold back in the refrigerator for two hours until the second layer is set.
3) When both layers are set, you can start adding the final touches like a topping of whipped cream and sliced fruit or nuts. Place back in the refrigerator for an hour to make sure everything sets before serving.
What To Serve With Jello Salad?
You can serve this salad by itself as a dessert or place it alongside the main dish for dinner. You can serve this recipe with any dish you want. It is a sweet treat that can pair with the most savory dishes.
Can You Make Congealed Salad Ahead Of Time?
Yes! You can prepare your ingredients and store the recipe in the fridge until you are ready to serve.
How Long Does This Last And How To Store?
Place the leftovers into an airtight container for the best storage method. You can store leftovers in the fridge for up to 5 days. The recipe should not be left out at room temperature for more than 2 hours.
Tips For Success:
Here are a few great tips and tricks for making the best-congealed salad:
I like to use a normal large 6-ounce box of jello which can also be great for those that need a variety of sugar-free options.
I prefer using a long casserole dish because it helps the recipe set quicker. Using a large or deep bowl will extend the setting time.
It is best to use frozen plain fruit for this recipe and avoid using fruit that is in syrup or sugar. You can use fresh fruit, but I recommend cutting them into slices and placing them in the fridge, so they aren't too warm by the time you need them. You can also freeze them ahead of time instead.
You can whip the jello up before adding in things like whipped cream using an electric mixer.
Make sure to thaw Cool Whip before placing it into the jello. You can do this by setting it in the fridge beforehand.
To keep the layers from seeping into each other, it is important to chill the cream cheese layer before adding the jello.
What is a Classic Recipe for Jell-O Congealed Salad?
Watergate Salad
This classic congealed salad has been a staple at family gatherings for decades.
Check out this recipe