Post contains Amazon Affiliate links. As an Amazon Associate I earn from qualifying purchases. Please refer to our disclosure policy for more information.
Raise your hand if you love breakfast muffins! I'm raising mine, for sure. Know what I don't love? Carb-heavy bread - especially first thing in the morning. If you're trying to control your carb cravings, these Cauliflower and Sweet Potato Breakfast Muffins are a perfect carb swap for maintaining your healthy lifestyle.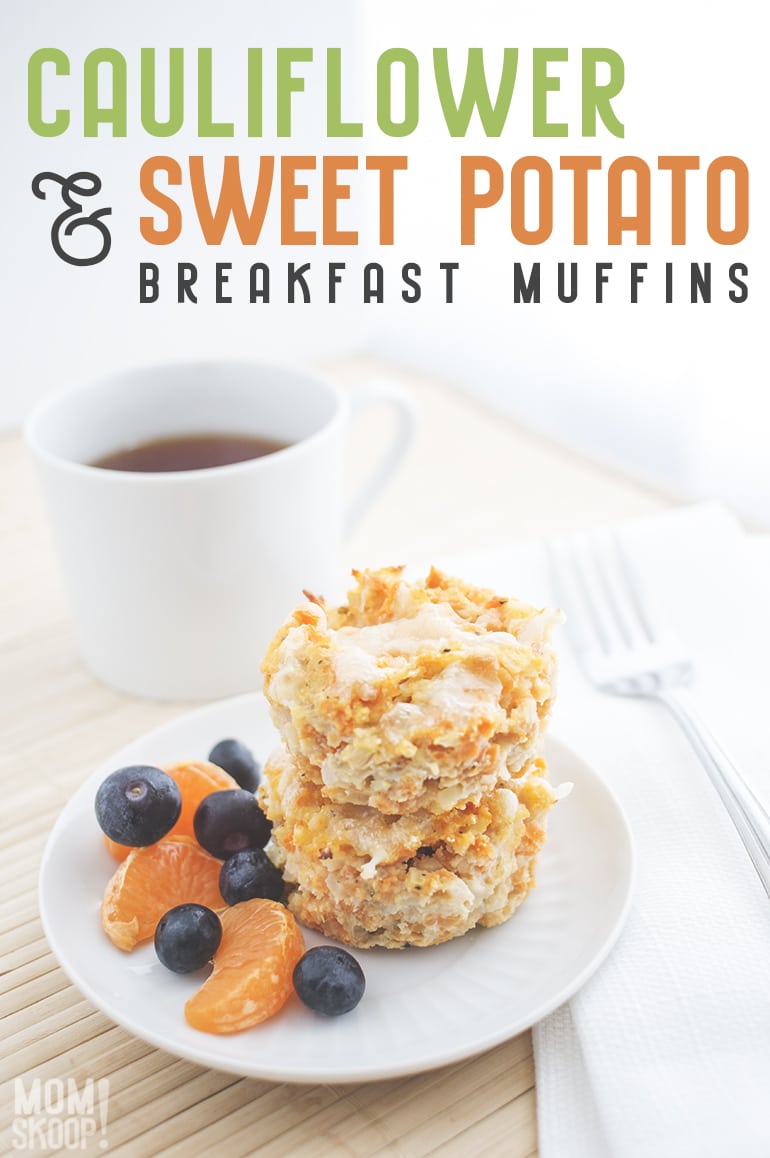 Feeding your family can be time consuming on the best of days, and absolutely hectic on the worst of days. If you're trying to make healthier meals your task gets even more complicated...right? Wrong. Thanks to 100% all vegetable frozen varieties from Green Giant, the steps to a health-friendly meal just got easier.
These new veggie varieties are perfect for: low-carb options, meals in under 30 minutes, and getting picky eaters to accept more healthy vegetables into their diet.
Green Giant's cauliflower medleys are so easy because they're pre-riced (no more fussing with the food processor) and you can steam them right in the bag. Less mess for mom and dad! Not only does cauliflower help cut out extra carbs, it's also rich in essential nutrients like Potassium and Vitamin C.
The special touch to these Cauliflower and Sweet Potato Breakfast Muffins is the delicious smoked cheddar. It carries the delicious flavor of bacon in every bite. No smoked cheddar at home? Don't worry - you can substitute any of your favorite hard cheeses.
I love having one of these Cauliflower and Sweet Potato breakfast muffins with my morning tea or coffee. Just one curbs hunger and gets me ready for the day - without an afternoon carb crash.
CAULIFLOWER and SWEET POTATO BREAKFAST MUFFINS
📖 Recipe
Cauliflower and Sweet Potato Breakfast Muffins
A healthier, tasty alternative for breakfast.
Ingredients
1

bag

Green Giant Riced Cauliflower and Sweet Potato

2

large eggs

1

cup

smoked cheddar cheese

grated

¼

cup

coconut flour

½

teaspoon

baking powder

½

teaspoon

Italian seasoning blend

1

teaspoon

dried onion flakes

¼

teaspoon

garlic powder

¼

teaspoon

salt or salt substitute
Instructions
Place cupcake liners in muffin pan

Steam Green Giant cauliflower & sweet potato bag in microwave according to bag instructions. Let sit until room temperature.

Combine: Cauliflower mix with eggs, ½ of cheese, and all dry ingredients.

Hand beat with a wooden spoon or spatula until blended (mixture should resemble a rough, chunky dough)

Using an ice cream scoop or large spoon - divide into 8 muffin cups

Sprinkle remaining ½ cup of cheese on top of muffins

Bake at 375° F for 20 - 25 minutes - until cheese is light brown and muffin is firm to the touch

Can be eaten warm or allowed to cool
Notes
Per Muffin:
17g carbs / 15g net carbs
145 calories
6g fat
8g protein
You can substitute regular cheddar (or any other favorite hard cheese) in place of smoked cheddar.