Post contains Amazon Affiliate links. As an Amazon Associate I earn from qualifying purchases. Please refer to our disclosure policy for more information.
Our Chocolate Covered Strawberry Cupcakes are moist, decadent, full of strawberry and chocolate flavor and topped with a chocolate dipped strawberry!
Jump to:
I don't know about you but there is just something decadent when you combine strawberries and chocolate together. Then you combine chocolate cupcakes with strawberry frosting and top that with Chocolate Dipped Strawberries, well then, it's just to die for!
Whether you are looking for a dessert for Valentines or just for any reason at all, I think once you make these cupcakes, you will definitely want to make them again. Oh and be forewarned. You may just want to dip all of the strawberries you buy into the leftover chocolate. They are THAT good!
If you are looking for other dessert or candy ideas that use melted chocolate, here are a couple I think you will really enjoy. If you have ever wanted to make an edible chocolate box for Valentine's Day, then my tutorial on how to make one is something you definitely need to check out! It's actually easier than you think to make them. Plus instead of having a box that will go into the trash, they can also enjoy the edible heart!
🥘Ingredients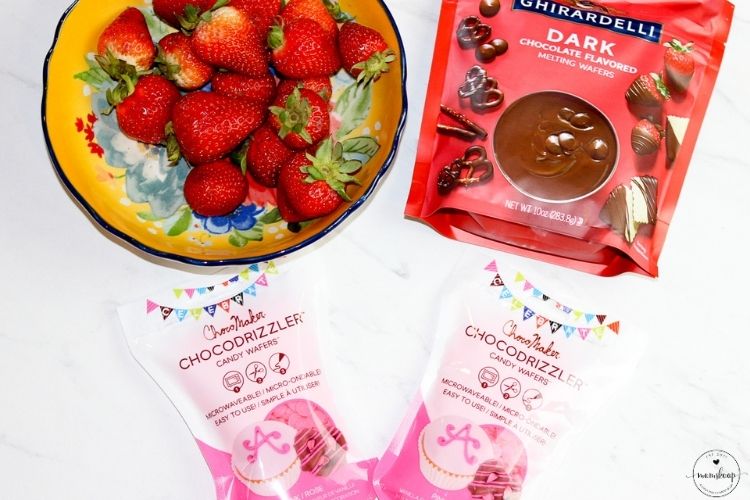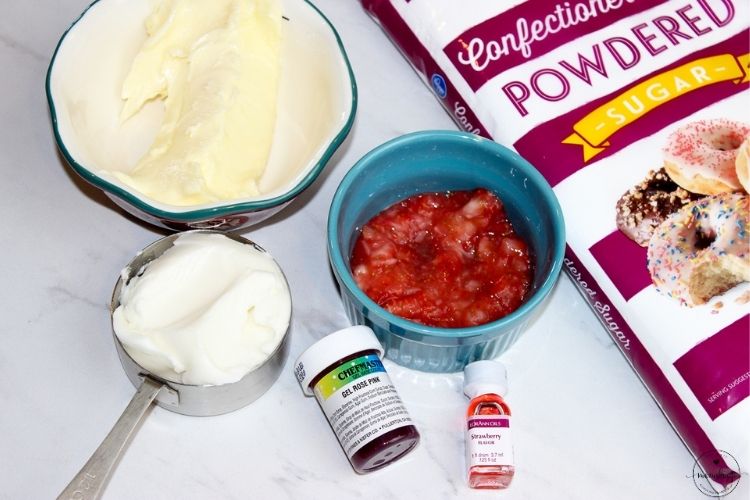 Homemade Chocolate Cupcake recipe OR Store-bought cupcakes OR Chocolate Fudge Cake Mix in a box
strawberries
Strawberry Frosting
unsalted butter
powdered sugar
shortening
Pink Rose Colored Food Gel
Strawberry Super-Strength Flavoring
Pink CHOCODRIZZLER Candy Wafer Pouch
Ghirardelli Dark Chocolate wafers
🔪Instructions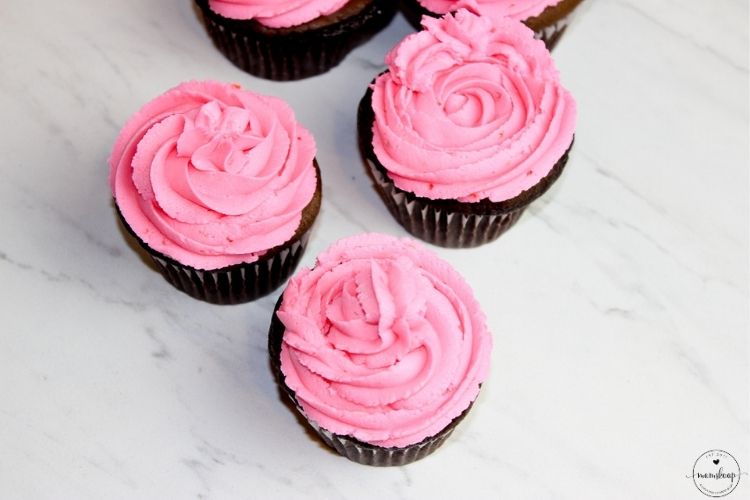 🔎Top Tips
You can get the full printable instructions and ingredient list below. However, I wanted to talk a bit about supplies. In addition to the paper liners, you will also need a large muffin tin, disposable pastry bag, as well as a Ateco Tip #844. I have included photos below of the steps to make this recipe for your reference.
Also, you may want to make the Chocolate Covered Strawberries first so they have plenty of time to set and harden.
⭐FAQ
Can you make these a day before?
Absolutely!  That way they will have plenty of time to cool and if there is a problem with them, you can always remake them.
What is the best chocolate to melt?
In my personal opinion, Ghirardelli Melting Wafers! I think they deliver the best taste, smoothness, and require nothing but a double boiler or microwave.  Granted they do cost a bit more than chocolate bark, but I think you will be much happier with the result.
What is the best way to melt cooking chocolate?
You can either do the double broiler using a pan of simmering water with a glass bowl placed on top of it or you can use a microwave-safe bowl and put the wafers in the microwave.
I have to admit I rarely have good luck using the microwave to melt chocolate. I prefer melting the chocolate on the stove top. And I think since you can control the temperature and actually watch the chocolate melt, it turns out better.
What is Flavoring Oil?
Flavoring oil is simply the oils from the fruit or nut squeezed out. Like in this recipe since I was making strawberry frosting, I used Strawberry Super-Strength Flavoring. It really accentuates the strawberry favor. If you've never tried using Flavoring Oil before, you really should. The key when using the oil though is to add a little bit at a time to make sure that it's not overpowering.
📖 Recipe
How to Make Decadent Chocolate Covered Strawberry Cupcakes
Our Chocolate Covered Strawberry Cupcakes are moist, decadent, full of strawberry and chocolate flavor and topped with a chocolate dipped strawberry!
Ingredients
Homemade Chocolate Cupcake recipe OR Store-bought cupcakes OR Chocolate Fudge Cake Mix

in a box

2

lbs

strawberries

Strawberry Frosting

16 - 24

strawberries

1

cup

unsalted butter - softened to room temperature

3

cups

powdered sugar

1

cup

shortening

Pink Rose Colored Food Gel

Strawberry Super-Strength Flavoring

Pink CHOCODRIZZLER Candy Wafer Pouch

Ghirardelli Dark Chocolate wafers - 8 oz
Instructions
Make the Chocolate Dipped Strawberries
Before you begin, wash and pat dry your strawberries.

While the fruit is drying, prep the chocolate wafers.

To melt the wafers, you can either melt them using the microwave or the stove top method listed on the back of the bag.  I prefer doing the double boiler method as I think that is easier to control the temperature and the chocolate melts slower.

The key thing to remember is that if you are melting the chocolate using the double boiler method is that you do not want the water to start boiling. 

Holding the stem, slowly dip each strawberry into the melted chocolate. Carefully shake off the excess and lay them on wax paper or a silicone baking mat. 

Repeat the process for each strawberry. You will need a strawberry for each cupcake.

Depending on the size of the strawberry, you may have extra chocolate left. If so, just grab some pretzels, popcorn, chips or rice krispies and dip them into the remainder.

Let the chocolate dipped strawberries dry for approximately 10 minutes. Then once they are fully dried, drizzle on the pink candy melts. Then set them aside and let them dry.

Next, prepare the cake mix for the cupcakes. For our recipe, I used a store-bought box, however, you can also use your favorite chocolate fudge homemade cake recipe.

Following the instructions on the box, bake the cupcakes as directed.

While the cupcakes are baking, make the frosting.
Make the Frosting
To make the Strawberry frosting, using a food processor, puree the strawberries until the mixture is smooth.

Next, in a large mixing bowl, cream together the shortening and the butter until smooth. Slowly incorporate the powdered sugar ½ cup at a time. 

After the ingredients are mixed together thoroughly, stir in the strawberry puree and the Strawberry flavoring.

*If you haven't ever tried bakery flavorings into your desserts, you don't know what you are missing!  The flavorings really add that extra punch of flavor.

Then when the frosting is at the desired consistency, fit the tip into the pastry bag and measure how much of the tip of the pastry bag you need to cut off so that the tip will come through the end. Spoon in the frosting and twist the bag at the top so you can get out the excess air.

Once the cupcakes are cool, pipe on your frosting and add the dipped strawberries.

You will definitely have extra cupcake batter left. You can use it make additional cupcakes or little Bundt cakes or you can dispose of it.
Nutrition
Serving:
1
g
Calories:
1094
kcal
Carbohydrates:
98
g
Protein:
3
g
Fat:
77
g
Saturated Fat:
37
g
Polyunsaturated Fat:
36
g
Trans Fat:
1
g
Cholesterol:
110
mg
Sodium:
218
mg
Fiber:
3
g
Sugar:
85
g