Post contains Amazon Affiliate links. As an Amazon Associate I earn from qualifying purchases. Please refer to our disclosure policy for more information.
A Chocolate Heart Candy Box is such a fun way to add a little extra touch to the gift for your special someone! And they can enjoy the gift twice! Not only will they enjoy the decadent treat inside the box, they also get to eat the chocolate box.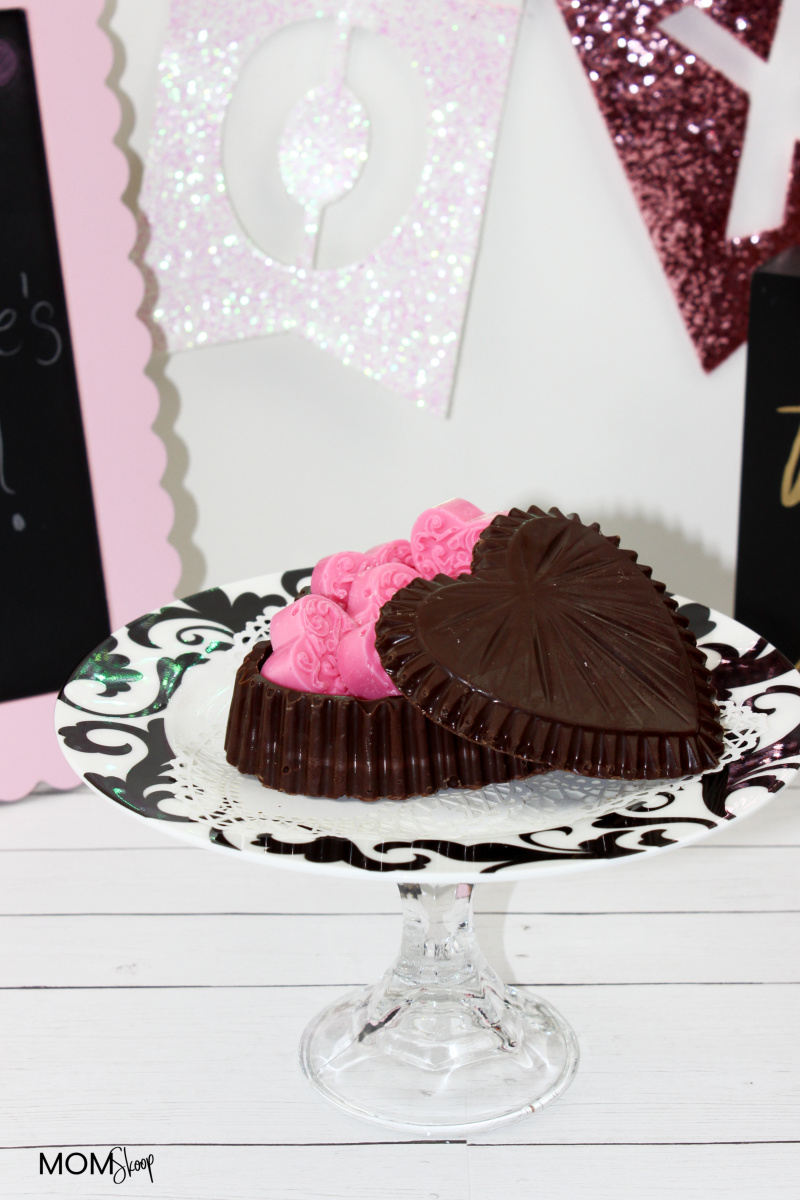 Chocolate Heart Candy Box
Chocolate is truly one of those perfect things in life! Well, at least for me it is! LOL!
I adore chocolate! It's smooth, creamy, luscious, very versatile, yummy and good for the soul! It's a win-win don't ya think?
If you are looking for some other Valentines inspiration, I have a few recipes that I think you'll enjoy like my Heart Shaped Pizza, my Love Bug Cupcakes, and my Heart Rice Krispie Treats.
Before you get started on this easy recipe, here are a few suggestions and tips.
Why Should I Make This Recipe?
For one, because it's so easy to do. Believe me, once you start making your own creations out of chocolate, you will want to keep doing it because it's:
Easy - creating delicious edible creations out of chocolate is a lot of fun.
Kid-friendly - the kids can even get in on this fun recipe.
Homemade - giving someone a homemade edible gift is always a great gift idea.
What You'll Need
You'll find a complete and detailed ingredients list and directions below.
Ingredients List and Instructions
Candy wafers - you can also use baking chocolate or chocolate wafers.
Melting chocolate - you can also either use a microwave or a double boiler to melt chocolate.
How to Make a Chocolate Heart Box
Step 1: Melt the chocolate.
Step 2: Pour it into the mold and place in the refrigerator.
Step 3: Remove from the mold.
Step 4: Fill with chocolate goodies and treats.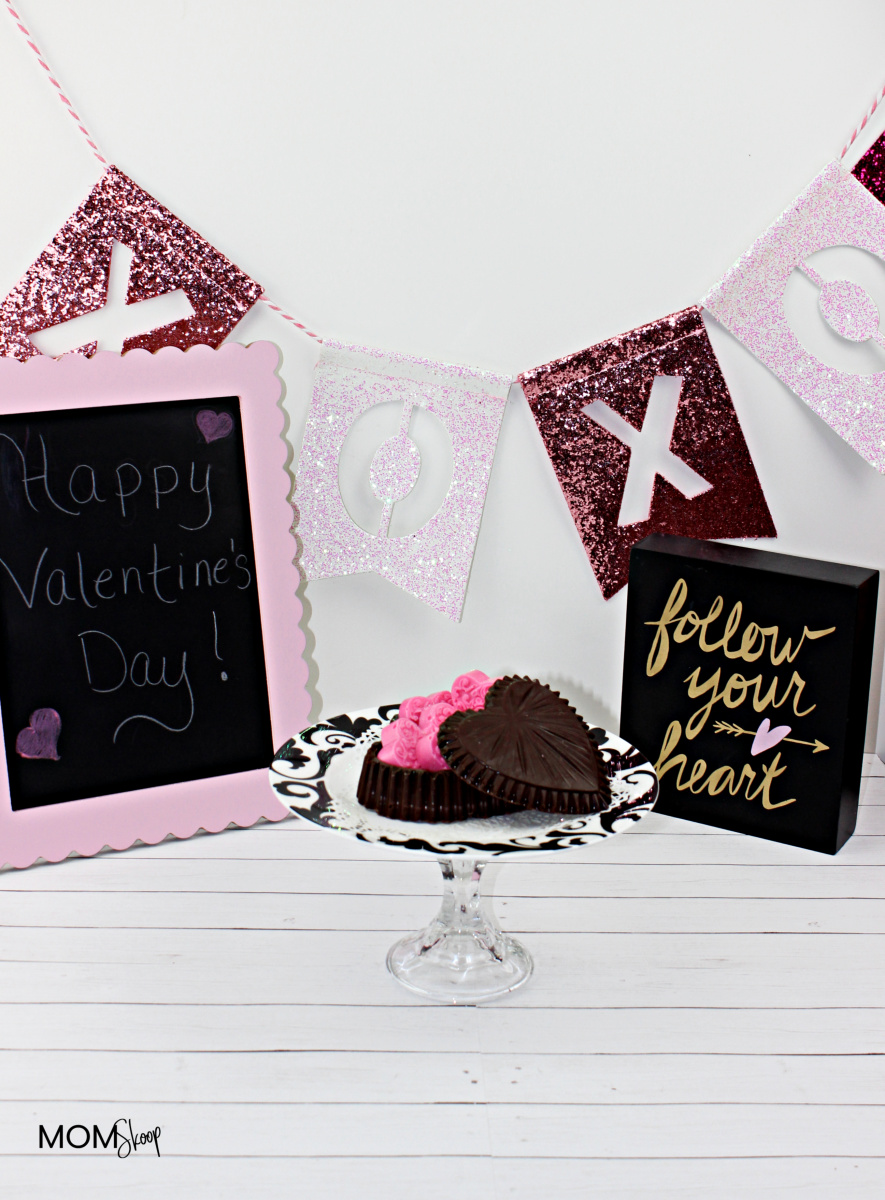 FAQ About This Recipe
How do you make a heart shaped chocolate box?
By melting chocolate and pouring it into a plastic mold like this one.
How to remove chocolate from plastic molds?
Once your chocolate has firmly set, remove it from the refrigerator and turn it upside down onto a plate or flat surface. The chocolate should come out on it's own. You may need to gently push it out with your hands.
Can I add water to my chocolate to help it melt faster?
No, whatever you do, do not add water to melting chocolate. It will clump up and be unusable.
RELATED RECIPES
Chocolate Covered Strawberry Cupcakes
Have you tried this recipe? Did your family like it? Dislike it? We'd love to hear your thoughts in the comment section or you can leave a star ⭐️⭐️⭐️⭐️⭐️. If you found a different flavor profile or a tip that you'd love to share, we'd also love to know that! You can also follow me on
Instagram,
Facebook
,
Pinterest
, and
Twitter
!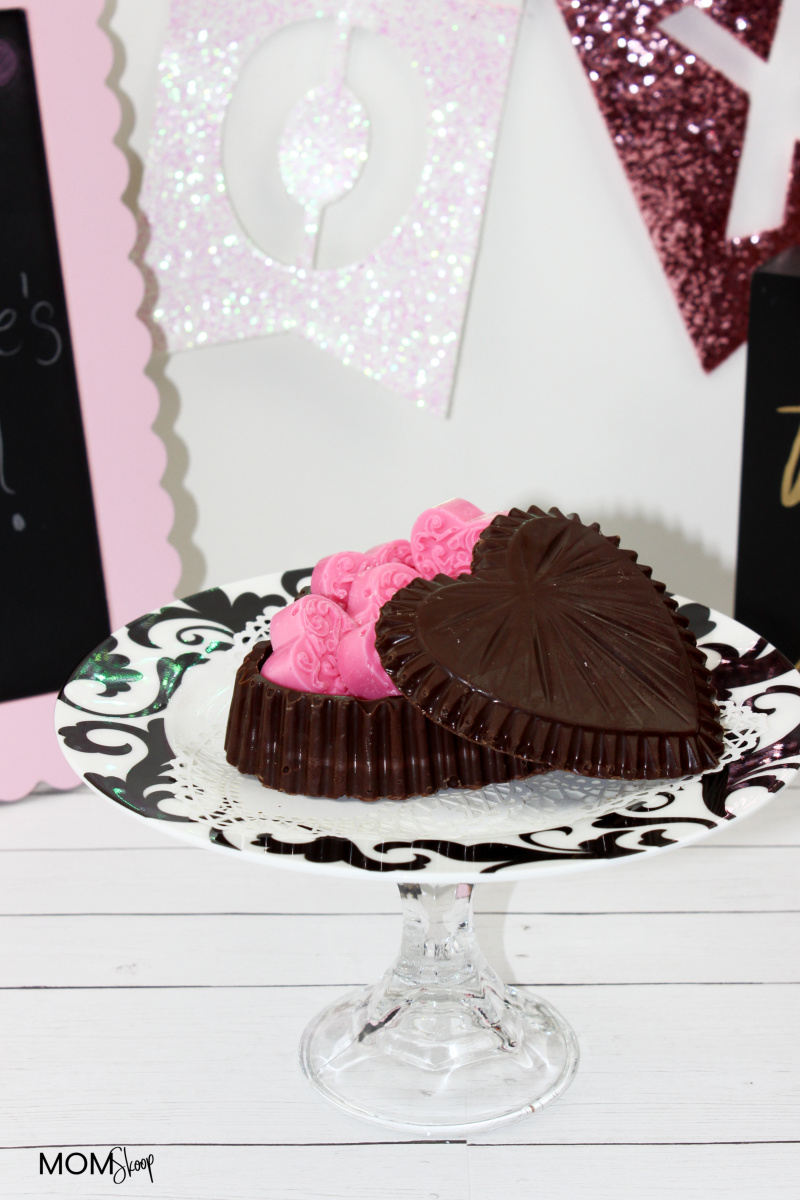 📖 Recipe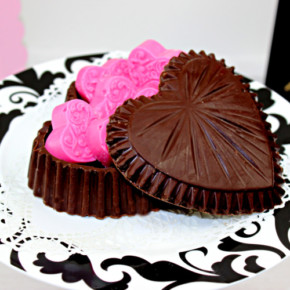 Chocolate Heart Candy Box DIY - Perfect for Valentines Day!
A Chocolate Heart Candy Box is such a fun way to add a little extra touch to the gift for your special someone! And they can enjoy the gift twice!
Equipment
Microwave safe bowl

Squeeze bottle

Small funnel
Ingredients
Pink candy wafers

6 oz

Chocolate candy wafers

10 oz

Chocolate Heart Box mold

Various chocolate molds
Instructions
To make the heart box:
Melt the candy wafers according to manufacturers directions in a microwave safe bowl. While those are melting, place a small funnel on top of an empty squeeze bottle. When the wafers have reached a smooth consistency, carefully pour the melted candy into the funnel and let the melted candy into the squeeze bottle. Do this very carefully so you don't end up wearing any of the hot candy.

Once the squeeze bottle is full, place the lid onto the bottle. **Before you put the melted wafers into this mold, you will need to support the top of the mold as I did in the picture so the chocolate is even once you add it to the mold.

Squeeze the melted chocolate candy into the hearts on the mold.

Once you have the mold filled, carefully tap the mold on the counter so that you can get all of the air bubbles out.

Place the mold then into the fridge and let it set for 30 minutes or so. I let ours stay in there for an hour as I was working on other projects at the same time.

When you are ready to assemble the box, carefully remove the chocolate heart box onto a plate. To do this, take a plate and place it on top of the mold. Then turn the plate over while holding onto the mold.  Then fill repeat the process with the additional candies you made.

Assemble the candies inside the box however you would like.
Nutrition
Serving:
1
g
Calories:
419
kcal
Carbohydrates:
64
g
Protein:
4
g
Fat:
17
g
Saturated Fat:
7
g
Polyunsaturated Fat:
8
g
Cholesterol:
5
mg
Sodium:
260
mg
Fiber:
2
g
Sugar:
35
g