Post contains Amazon Affiliate links. As an Amazon Associate I earn from qualifying purchases. Please refer to our disclosure policy for more information.
Old-fashioned Creamed Chipped Beef on toast, also known as S.O.S, is a hearty budget-friendly meal idea that uses a lot of items you already have in the pantry. If you are looking for an easy dinner idea that the whole family will love, and that works as breakfast, lunch, or dinner, this is one to bookmark.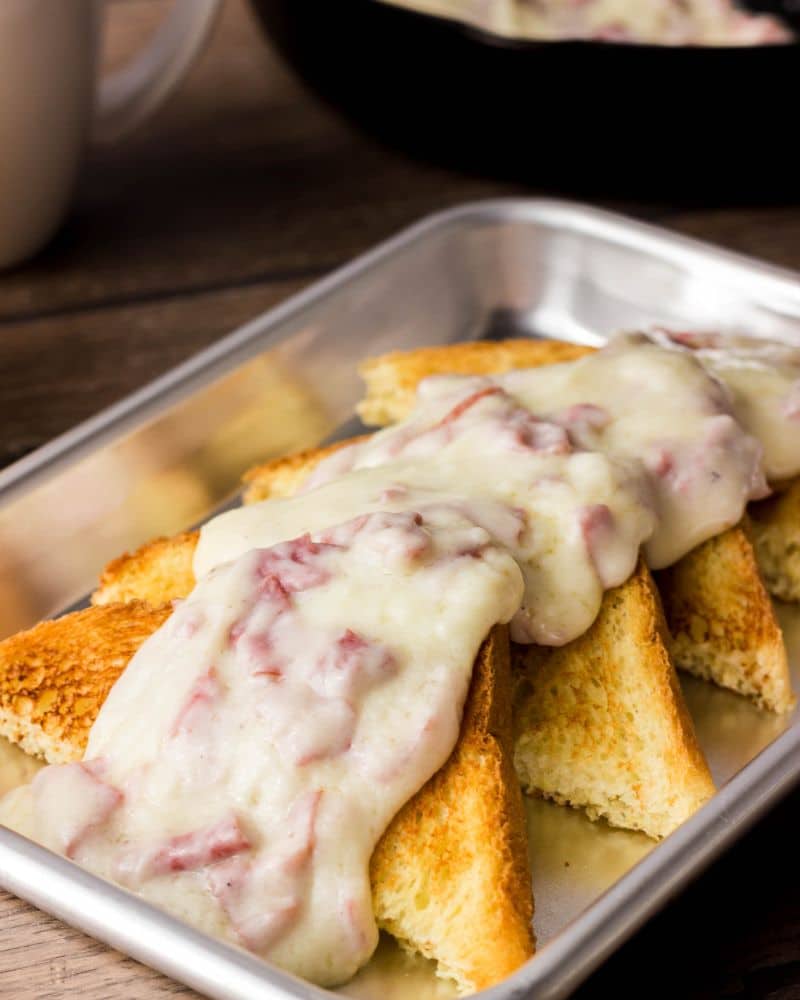 Creamed Chipped Beef
Creamed Chipped Beef is a time-tested old-fashioned recipe whose base starts with a thick and hearty Bechamel type of sauce and is completed with salty pieces of dried beef.
How Do You Serve Creamed Chipped Beef?
Normally, it's served over toast, however, I suggest using thick toast such as Texas Toast. You can also serve it over biscuits.
What Is Another Name for Chipped Beef?
The funny thing about this recipe is how people refer to it. Over the years you may have heard it also referred to as S.O.S or Shit on a Shingle. Sorry about that, but that's what it has been called.
Does the Army still Serve SOS?
Yes, it's believed that they still do. Make sure to check out this post about Military Comfort Food for more information.
What Other Meat Can I Use?
Instead of the dried beef, you can also use hamburger or leftover ham.
How Can I Make Dried Beef Less Salty?
You can make the beef less salty by rinsing it with water. I've also discovered that by using deli meat, like Budding's Beef, it's less salty to being with.
When Did Creamed Chipped Beef Originate?
This nostalgic recipe with a creamy, gravy type of sauce, became a staple in the early 20th century. It was originally featured in the 1910 Manual for Army Cooks. It became a hit in the military because "it could feed an army".
Key Tips When Making this Vintage Recipe
You must have equal parts flour and fat (unsalted butter).
Either cut or tear the dried beef into pieces.
Rinse the dried beef if you get it out of a can or jar.
Can You Freeze Creamed Chipped Beef on Toast?
No, it's better just made fresh. And since it really doesn't take that long, it's actually really easy and quick to make.
How Long Does Creamed Chipped Beef Last?
You can store it in an airtight container for up to four days in the fridge. But honestly, there probably won't be leftovers.
Here's Why This Recipe Works
This recipe works because:
It's easy to make
Budget-friendly
And it's delicious
Expert Tips, Ingredient List and Suggestions for Recipe Success

Unsalted butter – this is an extremely salty dish due to the beef. Make sure the butter is unsalted.
Dried beef – either in the jar or from the deli.
Heavy whipping cream – use this in lieu of regular milk. It really makes the sauce thick and creamy.
Instead of heavy whipping cream or regular milk, feel free to sub half and half.
Step by Step Directions
Prepare the sauce – you will be basically making a roux.
Add in the dried beef or leftover meat.
Ladle over toast or biscuits.
Enjoy!
Related Posts
Tuna Noodle Casserole with Potato Chips
Creamed Chipped Beef
Old-fashioned Creamed Chipped Beef on toast, also known as S.O.S, is a hearty budget-friendly meal idea that uses a lot of items you already have in the pantry. This classic stick to your ribs dish is perfect for breakfast, lunch, or dinner!
Equipment
Knife

cutting board

Skillet
Ingredients
1/2

cup

unsalted butter

1/2

cup

all-purpose flour

scooped and leveled with a knife

2 1/2

cup

heavy whipping cream

half and half or regular milk

1 1/3

cup

water

(Only if you are soaking the dried beef)

2.25

oz

jar of dried beef or good deli meat such as Budding's Beef Lunch Meat

1/2

teaspoon

black pepper

8

slices

toast, Texas toast, or biscuits
Instructions
If you are using dried beef out of a jar/can, make sure to rinse the beef. That helps with its saltiness of it. To soak, use a small bowl and add in the water and the dried beef. Let it soak in the water for 10 – 15 minutes. Then drain and set aside.

In a large skillet or Dutch oven, melt the unsalted butter. Once the butter has melted, add in the all-purpose flour and let the mixture cook for one minute.

Next, slowly pour in the milk (or half and half or heavy whipping cream. Whisk the ingredients together thoroughly. Whisk continuously until the mixture thickens. It will take about five minutes for the sauce to thicken. Remember, you are basically making a roux.

Cut or chop all of the dried beef and then add it to the bechamel sauce. Stir the dried beef into the sauce and let the mixture cook for 3 to 5 minutes.

While the creamy beef mixture is heating, make the toast.

When the sauce has been heated thoroughly, ladle it over the toast and serve.