Easy Christmas Desserts such as cookies that are quick to make, delicious, kid-friendly, and easy on the budget are always must-haves! Regardless if you are cooking for a crowd or just for the immediate members of your family, our dessert roundup has something everyone will love!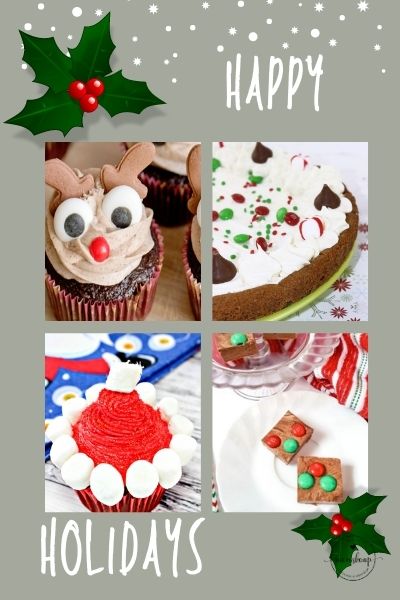 EASY CHRISTMAS DESSERTS
One of my favorite things to do is have a day dedicated totally to baking in December. I have family favorites that I have to make, but we always incorporate a new recipe or two each year! A new tradition that we have started, well, at least for my daughters and I, is that we wear matching Christmas aprons. It just seems like it brings a special touch to the day. If you haven't picked up any holiday aprons yet, there are so many available to choose from! Whether you are feeling whimsical or silly, you will definitely find one that you want!
I've put together all of our Christmas recipes from our site in this roundup. I think you will find a fun variety of delicious Christmas desserts and cookie recipes. Of course, there are other dessert recipes that I think would also work well with this roundup, like my Mickey Mouse Inspired Sugar Cookies. Or another yummy option that totally incorporates the combination of chocolate and mint are my Mint Chocolate Chip Cookies!
I hope this roundup inspires you to create some easy to make desserts for Christmas.
Before you get started though on making these recipes, here are a few key tips to keep in mind.
When measuring out your flour, do not just stick the measuring cup into the container, you must scoop it out by spoonful's and then level it with a knife.
Always use brown parchment paper or silicone baking mats when baking to ensure your cookies release easily.
Use unsalted butter so you can control the amount of salt you are adding to your recipe.
MORE CHRISTMAS RECIPES
Christmas Chocolate Covered Pretzel Rods
Roasted Turkey