Post contains affiliate links. Purchases made through links provide us with a small commission. As an Amazon Associate I earn from qualifying purchases. Please refer to our disclosure policy for more information.
Salmon patties are one of those unique menu ideas that is versatile in not only that they are frugal, they can also be made using fresh salmon.

When my husband and I were first married, his Mom shared her Salmon Patty recipe with me. I was surprised at how inexpensive they were to make and how easy they were to make. Over the years I got away from making them. I really do not know why I ever stopped as we still eat Salmon a lot, but for some reason, I just stopped.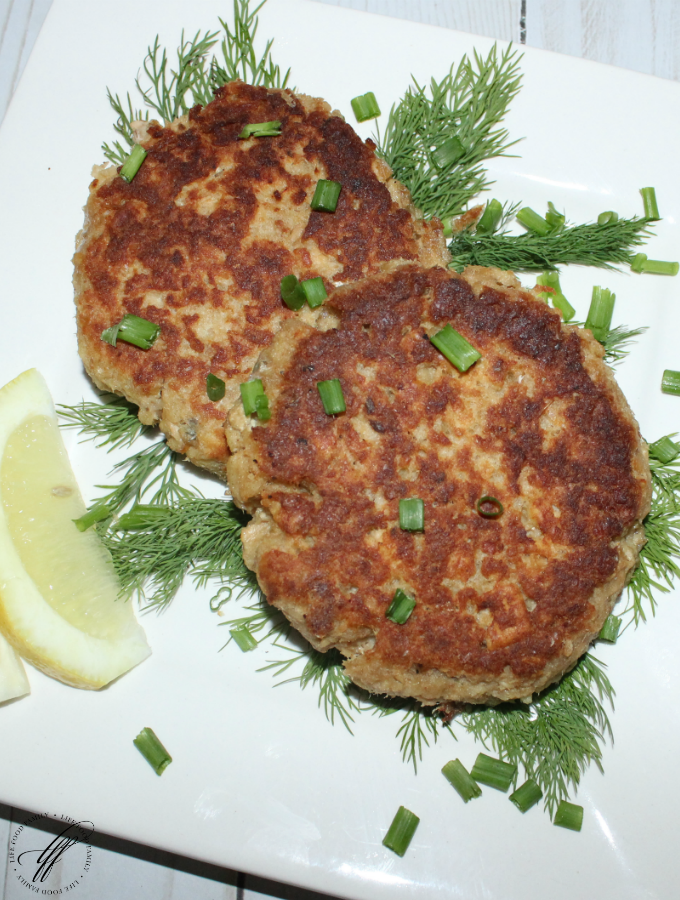 While going through my old recipe cards, I came across her recipe for them, so I decided now was the time to make them again.
Of course, when I was putting the recipe together, I got the "that looks gross" from my kids. You know that look right?! Let us just say that afterwards, they loved them and asked if I could start making them each week. No, I will not do that because I like to make different things, however, I am game to make them at least once a month.
One of the wonderful things about Salmon patties are that they are versatile in the fact that you can use either fresh salmon or canned. For our recipe though, I used canned salmon.
This Salmon patty recipe comes together quickly. All you will need is two cans of salmon, eggs, mayo, panko bread crumbs. That is all you need to make this easy Salmon patty recipe. Of course, you can also pick up dill, chives, and lemons to serve along with the salmon. My kids had their patty with a bun and added cheese…. yes, I know, but they are kids and for one of mine, who says, "cheese is life", eats cheese with everything!
Easy Salmon Patties Recipe
Ingredients:
*Using two cans, I was able to make 8 patties. One can equals 4 patties.
2 cans of canned salmon (double check the bones and remove them if you would like)
2 eggs (beaten)
3 tbsp mayo
1 cup panko bread crumbs
Olive oil (in bottom of skillet to brown the patties, I used bacon grease to change up the flavor)
Dill (optional)
Chives (optional)
Lemon (optional)
Supplies:
Large bowl for mixing ingredients
Skillet
Directions:
Drain the salmon and add it to the large mixing bowl. You can elect to debone the salmon if you wish. I do just because I don't like textures like that, however, they are edible
Add in the other ingredients and mix them together.
Heat the oil in the skillet and while the oil is heating, shape the patties into circles (like a hamburger).
Cook the patties for 3 to 4 minutes on each side or until they are golden brown.
Serve with dill, chives, or lemon or with a side of rice.
*this mixture will be very moist*