Post contains Amazon affiliate links.As an Amazon Associate I earn from qualifying purchases. Please refer to our disclosure policy for more information.
Firehouse Chili is the type of Chili that is absolutely perfect for these cool Fall days! It's comfort food at it's best! Warm, spicy, filling, and leaves you happy!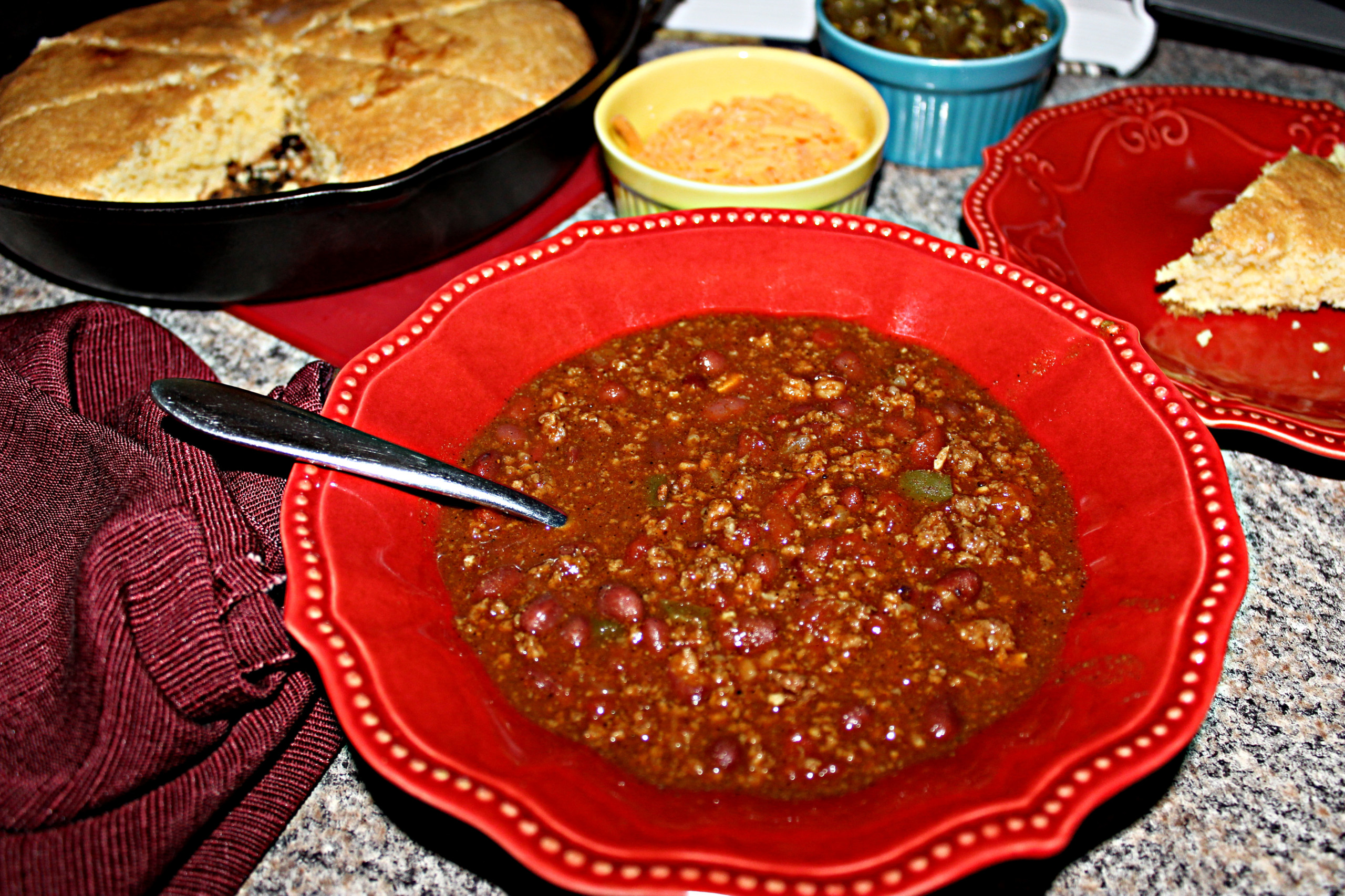 There is nothing better on a cold and blustery day than a big bowl of chili!
FIREHOUSE CHILI RECIPE
This hearty chili recipe is adapted by a recipe from Taste of Home. I had the opportunity to work with them on a sponsored post and I used their recipe to make this post.
If you are looking for a chili recipe that is thick, filling, and above all tastes great, then this is THE recipe for you!
WHAT INGREDIENTS ARE NEEDED TO MAKE THIS AWARD WINNING FIREHOUSE CHILI RECIPE?
Ground beef, onions, kidney beans, stewed tomatoes, beef broth, chili powder, ground coriander, cumin, garlic cloves, oregano, and a green pepper.
WHAT SIDE DISHES GO GREAT WITH CHILI?
Cornbread, Peanut Butter Sandwiches (trust me on this, it works perfectly!) or a salad. Of course of dessert, there is nothing like a savory apple dessert as it pairs wonderfully with the soup!
HOW TO SERVE LEFTOVER CHILI?
You can make Chili dogs, Chili Mac, Nachos (I do this a lot), Cincinnati Style over spaghetti noodles, and you can serve it on top of a baked potato!
WHAT TOPPINGS GO GOOD WITH CHILI?
Shredded cheese, tomatoes, sour cream, jalapenos, crushed saltines, or crushed cornbread.
If you are looking for more yummy chili recipes, then I have a couple that you might enjoy! If you are looking for a filling chili recipe that has the three "B's"; beer, bacon, and beef, then this hearty recipe is exactly what you are looking for! If White Chicken chili is more of your thing, then we have a version of this white chili that is quite good.
Here is the recipe for BEST Firehouse Chili RECIPE that is include in the 25th Anniversary Taste of Home Favorites Cookbook
The recipe author is Richard Clements, San Dimas, CA.
This is a quick breakdown of the recipe. To get the full instructions as well as a printable recipe and ingredients list, please scroll down to the bottom of the post.
Cook hamburger until no longer pink and add in the onions and green pepper.
Stir in the remaining ingredients and bring to boil.
Simmer for about 1 1/2 hours.
Enjoy!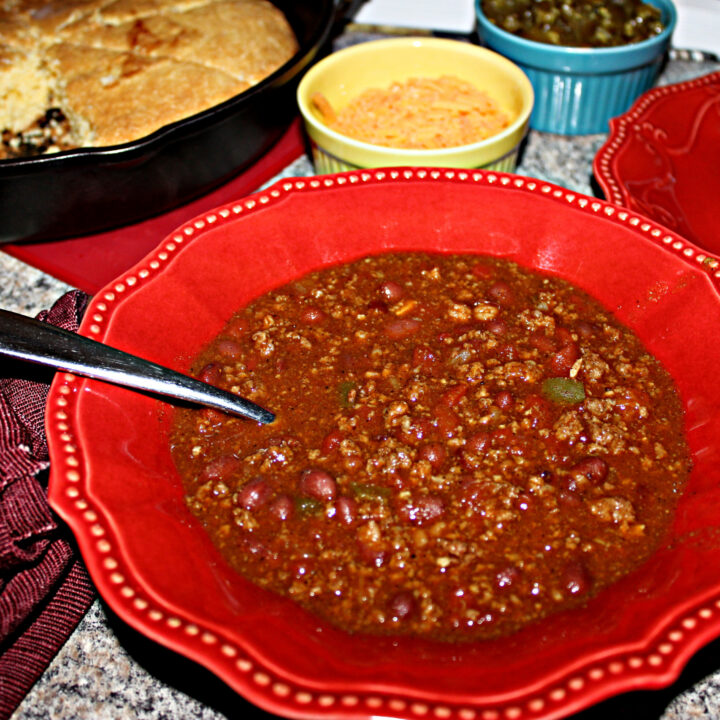 How to Make The Best Award Winning Firehouse Chili Recipe
Cook Time:
1 hour
30 minutes
Total Time:
1 hour
50 minutes
Firehouse Chili is the type of Chili that is absolutely perfect for these cool Fall days!  It's comfort food at it's best!  Warm, spicy, filling, and leaves you happy!
Ingredients
2 tbsp. canola oil
4 lbs lean ground beef
2 medium onions (chopped)
4 cans (16 oz each kidney bans, rinsed and drained)
3 cans (14 1/2 oz each stewed tomatoes, cut up)
1 can (14 1/2 oz beef broth)
3 tbsp. chili powder
2 tbsp. ground coriander
2 tbsp. ground cumin
4 garlic cloves (minced)
1 tsp dried oregano
1 green pepper, diced
Instructions
In a large Dutch oven, heat canola oil over medium heat.
Due to how many lbs of hamburger you will be using, brown the beef in batches so it all cooks evenly.
Crumble the meat throughout cooking and cook until no longer pink and then drain.
Add the ground beef back into the Dutch oven and add in the onions and green pepper and cook until they are tender.
Stir in the remaining ingredients and bring to a boil.
Reduce heat; simmer covered, until the flavors are blended for about 1 1/2 hours.
Top with your favorite toppings and enjoy!
Notes
This makes equivalent to four quarts of chili. You can make more or less depending on how many people you will be feeding.
Nutrition Information:
Yield:

16
Serving Size:

1
Amount Per Serving:
Calories:

294
Total Fat:

16g
Saturated Fat:

6g
Trans Fat:

0g
Unsaturated Fat:

8g
Cholesterol:

101mg
Sodium:

144mg
Carbohydrates:

3g
Fiber:

1g
Sugar:

1g
Protein:

33g
This post was sponsored by BabbleBoxx.com on behalf of Taste of Home on 9/24/2018
We recently had the opportunity to check out "Special Delivery" which is a subscription box from Taste of Home. As a newlywed, I started depending on Taste of Home back in the 90s to help me discover new recipes and make dinner a little more exciting instead of serving up all of the same old same olds.
For me, Taste of Home cookbooks have always been a go to for me. The recipes are from home cooks like me and contains ingredients that are found easily at any grocery store and they are ingredients that fit the budget. That is why when I heard about their "Special Delivery" subscription box, I knew I had to learn more!
The Special Delivery subscription box by Taste of Home contains: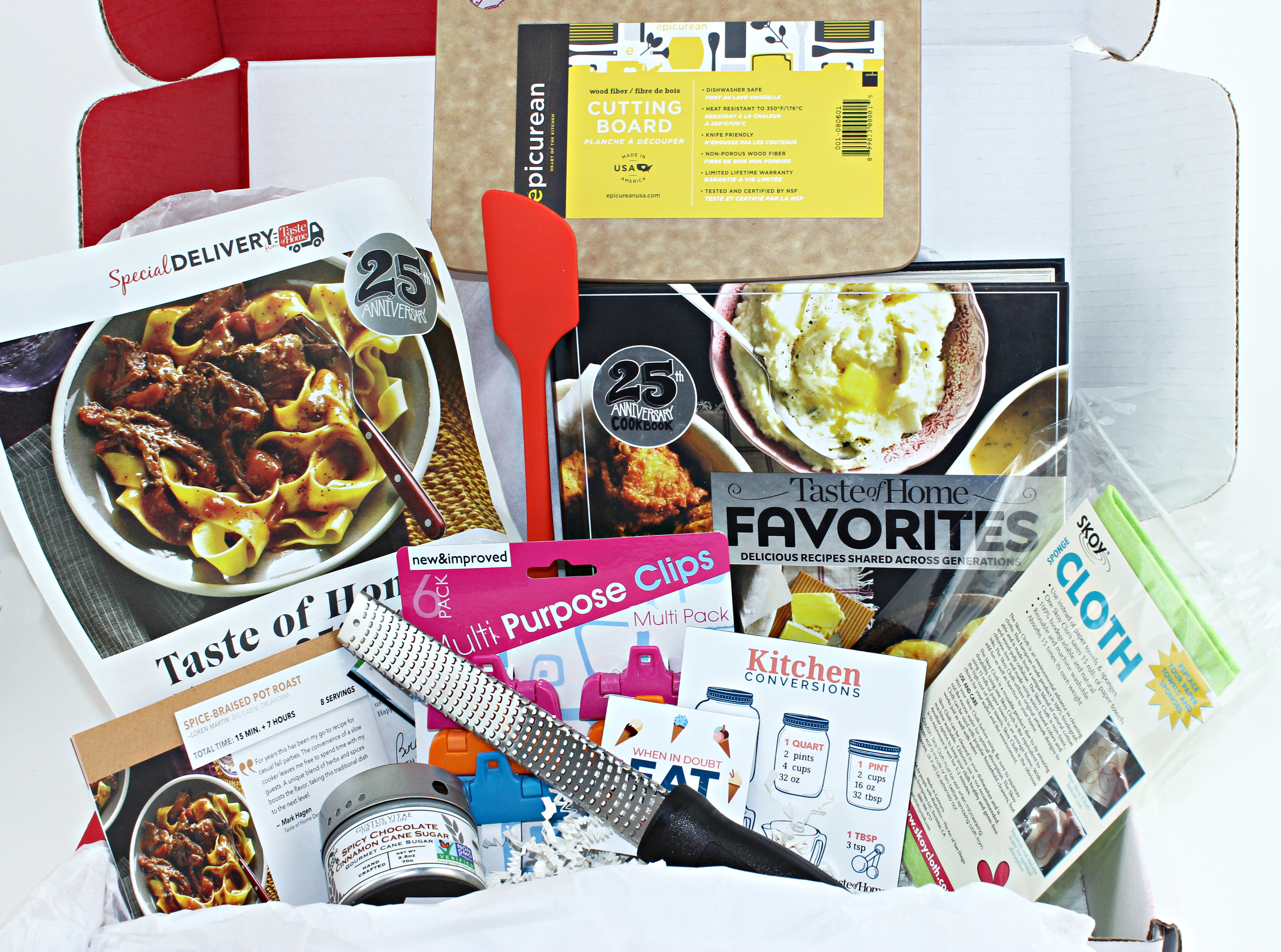 WHAT TYPE OF RECIPES ARE FOUND IN TASTE OF HOME COOKBOOKS?
Can you remember the meals that your Grandma made? You know the type that were so delish and were simple with ingredients everyone could pronounce? The type of recipes that at get togethers people were asking for the recipe? The type of recipe that your Grandma would go home and write down on a 3 x 5 index card? These are those type of recipes! Like this amazingly delish recipe for Firehouse Chili!