Post contains affiliate links. Purchases made through links provide us with a small commission. As an Amazon Associate I earn from qualifying purchases. Please refer to our disclosure policy for more information.
Our Bacon Beef and Beer Chili has everything that a chili fan wants in a bowl of chili. It's thick, savory, hearty, and full of goodness!
My husband is a chili connoisseur so I am constantly trying to create new chili recipes for him to try.
Don't get me wrong, I have a staple that was a recipe given to me from my Mother-in-Law, however, when I am looking to get more creative with the soup, I try different variations of ingredients to see what works the best.
Have we ever had a bad bowl of chili? Yes, unfortunately so. Just because someone "says" their recipe is the best, doesn't always been that's the case.
Before you start making this tasty bowl of chili, here are a few helpful hints.
If your family loves chili, then I have a couple of other recipe suggestions you might enjoy. Like our Chili made with chicken and white beans. Or if you are looking for a another hearty chili, then this chili recipe is the one for you.
WHAT INGREDIENTS ARE NEEDED TO MAKE THIS BACON BEEF AND BEER CHILI?
Hamburger, Brooks Chili Beans, Diced tomatoes, Tomato sauce, Worcestershire sauce, Chili powder, Flour, Paprika, Cumin, Celery, Yellow onion, Stout or Ambar beer, and of course, bacon.
Why do you add beer to Chili?
Adding beer to your chili really takes your recipe to a whole other level. There is just something about the combination that really creates a lovely taste profile.
WHAT TYPE OF BEER SHOULD I ADD TO CHILI?
I recommend either an ambar or a stout beer. Something that has a lot of body to it.
WHAT TOPPINGS DO YOU PUT ON CHILI?
I normally serve up onions, jalapenos, shredded cheese, and sour cream. Some people like adding crushed crackers or tortilla chips to their chili.
HOW DO YOU USE UP LEFTOVER CHILI?
We normally make either spaghetti noodles or macaroni noodles and turn it into Chili Mac or Three-way Spaghetti. You can also make coney dogs and serve the chili over those and add on your favorite toppings.
Another one of our favorite ways to use up the leftovers is to make nachos! Just add chips, top with the leftover soup, add chili and put it in the oven at 350 degrees for 30 minutes or so.
Ready to make our Bacon Beef and Beer Chili? This will make a great recipe for tailgating, Fall, Winter, Summer, or Spring! It's really a great go to recipe anytime you are craving chili!
The BEST Bacon Beef and Beer Chili!!
Cook Time:
1 hour
30 minutes
Total Time:
1 hour
40 minutes
Our Bacon Beef and Beer Chili has everything that a chili fan wants in a bowl of chili. It's thick, savory, hearty, and full of goodness!
Ingredients
2 lbs ground beef, browned and drained.
2 15.5 oz cans of Brooks Chili Beans ( I used one mild and one hot)
1 14.5 oz Diced tomatoes
1 8 oz Tomato sauce
One cup of water
1 teaspoon Worcestershire sauce 
3 tbsp Chili powder
1/4 cup flour
2 tsp. Paprika
2 tsp Cumin
1/2 cup celery, diced (2 stalks)
1 small yellow onion, chopped.
12 oz stout beer
4 slices of bacon, cooked and diced
Instructions
Wash the celery and let it dry.
In a large cast iron skillet, heat the pan and then add in the hamburger and add salt (to your preference).
While the ground beef is cooking, chop up the celery and the onion. Once the hamburger is almost thoroughly cooked, add in the celery and onion and finish cooking.
In a large Dutch oven, add in the rest of the ingredients and also the beef mixture when it's ready.
Simmer on low for approximately 30 minutes to an hour. That is if you can wait that long!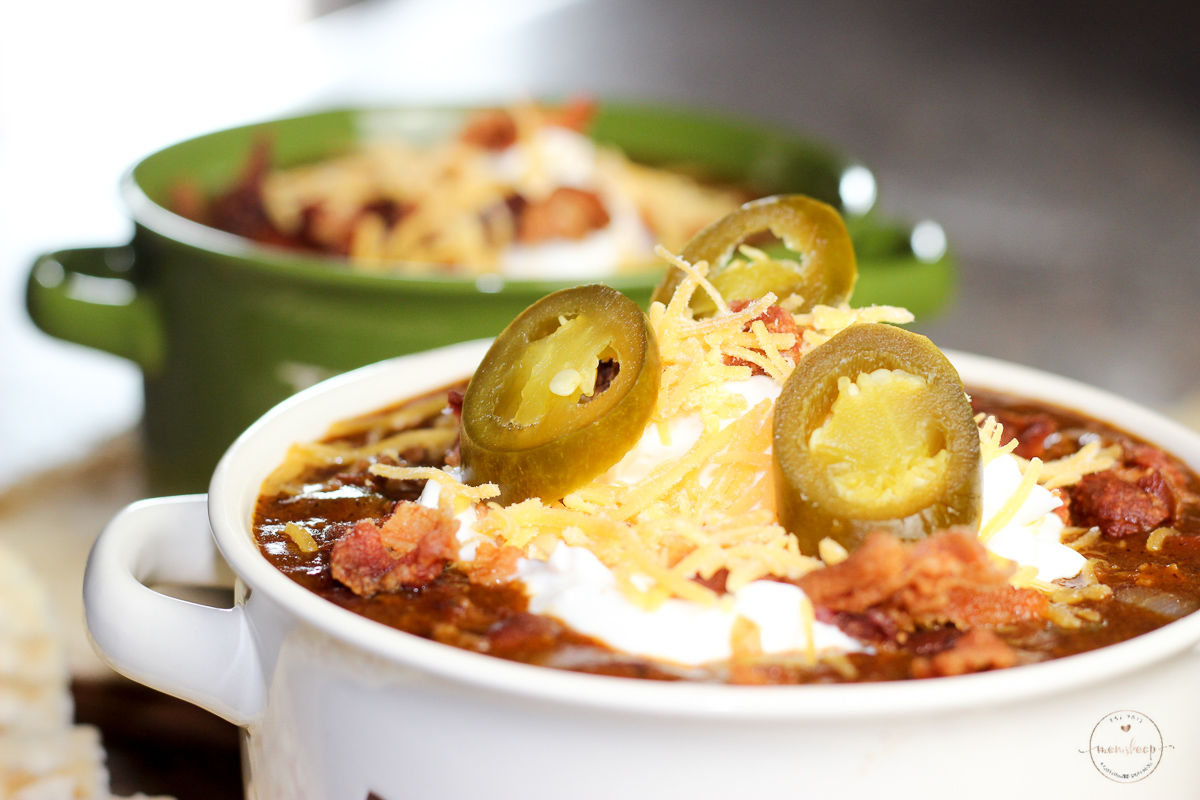 Notes
This will be a darker and thicker chili than you are used to.
Nutrition Information:
Yield:

12
Serving Size:

1
Amount Per Serving:
Calories:

274
Total Fat:

15g
Saturated Fat:

6g
Trans Fat:

1g
Unsaturated Fat:

7g
Cholesterol:

71mg
Sodium:

356mg
Carbohydrates:

7g
Fiber:

2g
Sugar:

2g
Protein:

23g