Post contains Amazon Affiliate links. As an Amazon Associate I earn from qualifying purchases. Please refer to our disclosure policy for more information.
Our three "B"s Bacon Beef and Beer Chili has everything that a chili fan wants in a bowl of chili. It's thick, savory, hearty, and full of goodness! If you are looking for a chili recipe with beer that even the pickiest chili connoisseur would love, this is one to bookmark. Another great thing about this chili is that while it is amazing when you first make it, it is absolutely out of this world the next day after the flavors have had a chance to marinate together.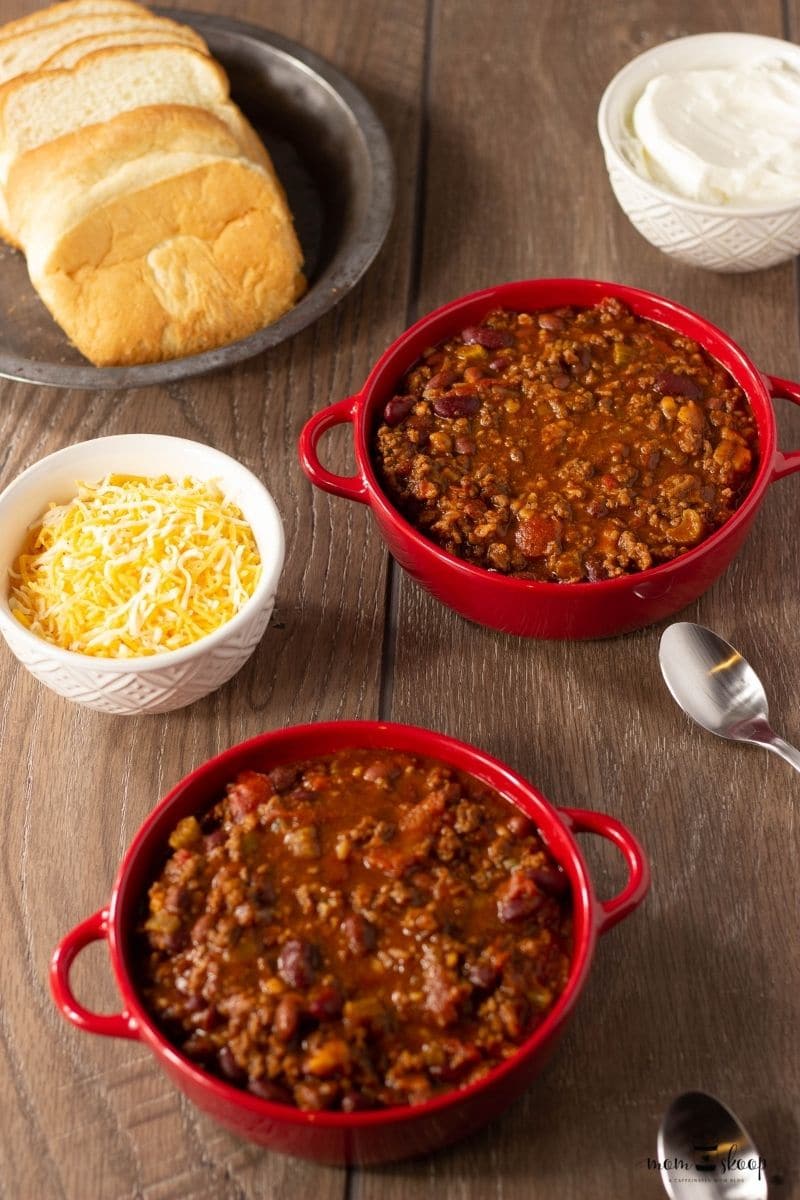 How to Make Bacon Beef and Beer Chili
Don't get me wrong, I have a staple recipe for chili that was given to me from my Mother-in-law that I make a lot, however, when I am looking to get more creative with the soup, I try different variations of ingredients to see what works the best.
Have we ever had a bad bowl of chili? Yes, unfortunately so. Just because someone "says" their recipe is the best, doesn't always been that's the case.
If your family loves chili, then I have a couple of other recipe suggestions you might enjoy. Like our Chili made with chicken and white beans. Or if you are looking for another hearty chili, then this chili recipe is the one for you.
Expert Tips, Ingredient List and Suggestions for Recipe Success
Hamburger
Chili Beans
Diced tomatoes
Stout or Amber beer
Bacon
Why Do You Add Beer to Chili?
Adding beer to your chili really takes your recipe to a whole other level. There is just something about the combination that really creates a lovely taste profile.
Does Beer Cook Off?
Yes, eventually the majority of the alcohol will burn off, however, there will still be about 5% left in the chili.
What Type of Beer Should I Add to Chili?
I recommend either an ambar or a stout beer. Something that has a lot of body to it.
What are the Best Secret Ingredients to Add?
Besides beer, there are a lot of other ingredients that you can add into your chili such as:
chocolate
coffee
liquid smoke
cinnamon
vinegar
What Toppings Do You Add?
I normally serve up onions, jalapenos, shredded cheese, and sour cream. Some people like adding crushed crackers or tortilla chips to their chili.
How Do You Use Up Leftovers?
We normally make either spaghetti noodles or macaroni noodles and turn it into Chili Mac or Three-way Spaghetti. You can also make coney dogs and serve the chili over those and add on your favorite toppings.
Another one of our favorite ways to use up the leftovers is to make nachos! Just add chips, top with the leftover soup, add chili and put it in the oven at 350 degrees for 30 minutes or so.
This will make a great recipe for tailgating, Fall, Winter, Summer, or Spring! It's really a great go to recipe anytime you are craving chili!
What is the Best Hamburger for Chili?
Normally I always use 80/20 ground beef. However, there are other cuts that are just as good. Different types of meat that will work are:
beef chuck that has been slow cooked
stew meat
brisket
Do you Drain Kidney Beans for Chili?
Yes and no. The thing to remember is that there is a lot of sodium in that can of beans. If you are trying to watch your salt intake and you are keeping track, then yes, you will want to use a strainer and not only drain but rinse off the beans. Then add them into that pot. If that isn't a problem for you, then by all means, just open up the can and dump the beans into the pot.
Should You Cover Chili While It Simmers?
No. If you are trying to thicken the chili, you will want to simmer it uncovered so the liquid will start to reduce.
Should I Drain the Ground Beef for Chili?
This is actually very debatable. Some will say yes, some will say no. I do because I don't like that big pool of fat that forms on the top of the chili the next day that has to be spooned off. It's really a personal preference.
Step by Step Directions:
Step 1: Prep the celery and the onions.
Step 2: Cook the ground beef and then add in the onions and celery.
Step 3: Transfer the hamburger mixture into the pot and add in the remaining ingredients and simmer.
Step 4: Enjoy.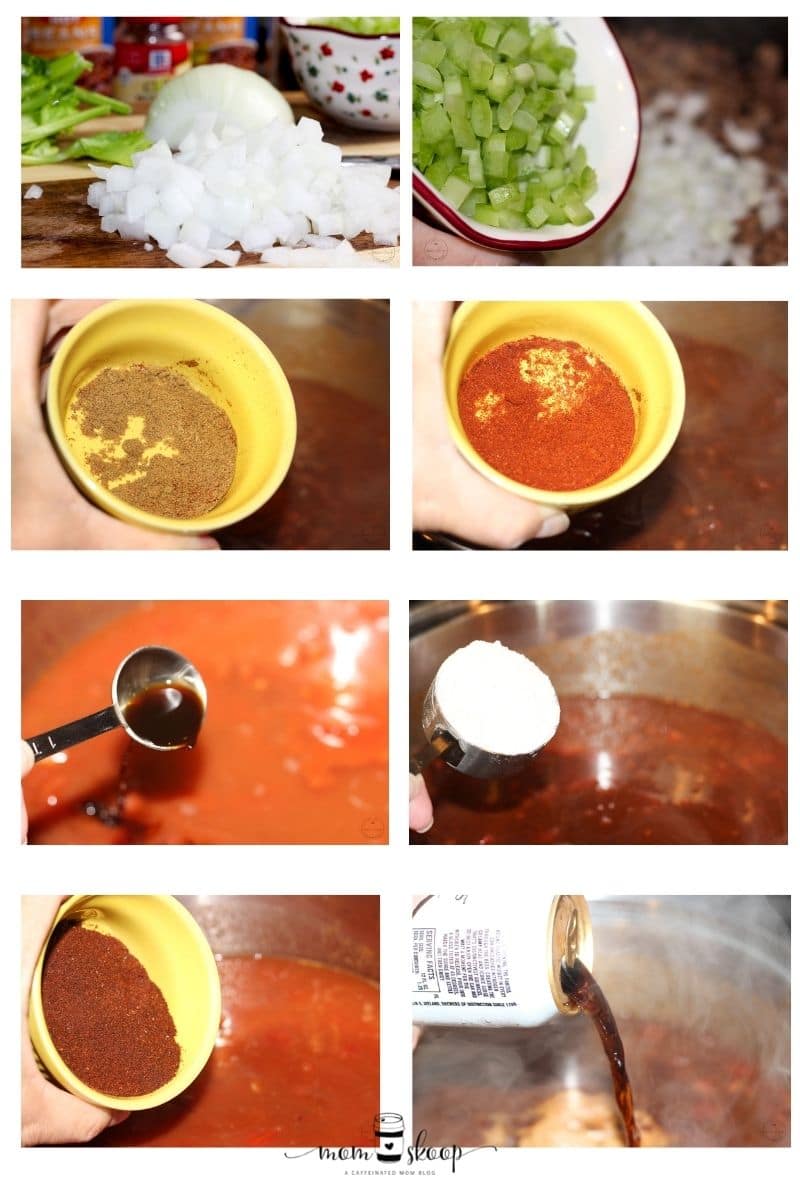 Related Posts: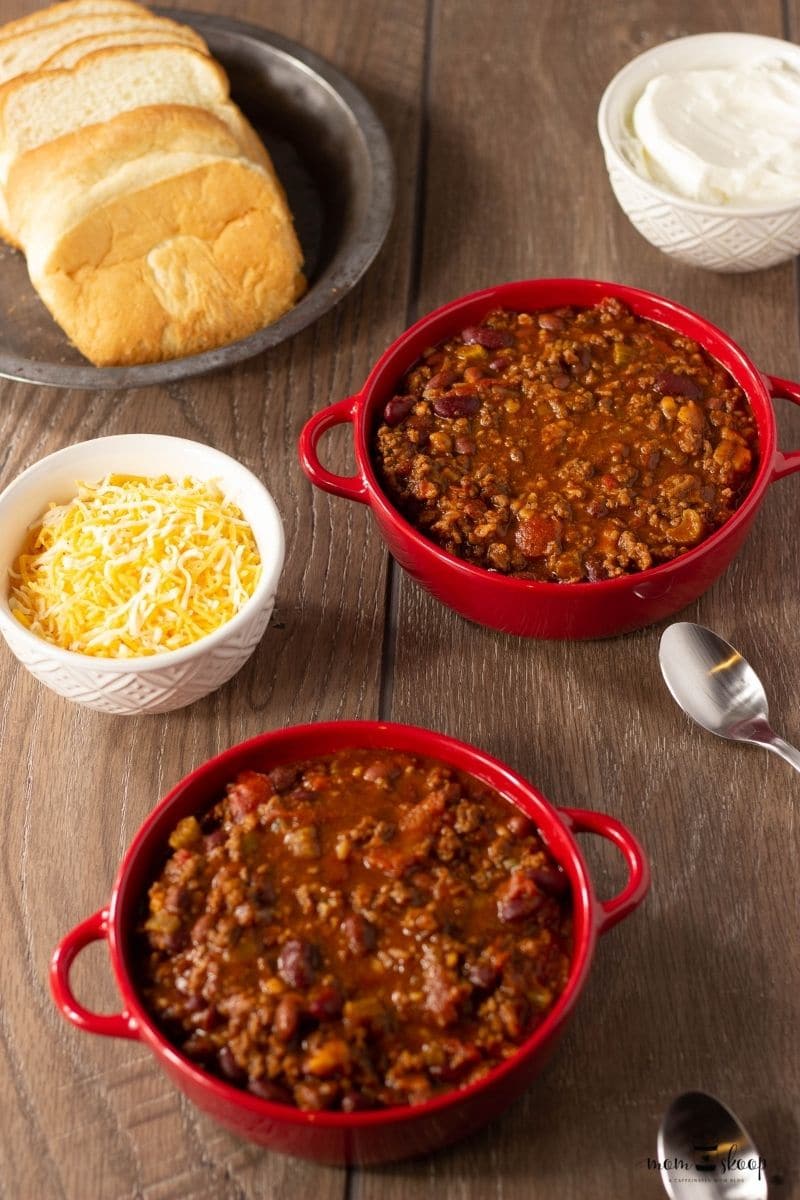 📖 Recipe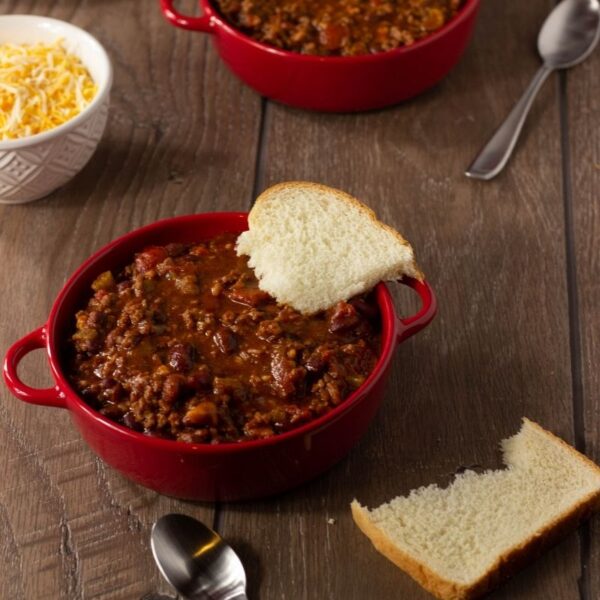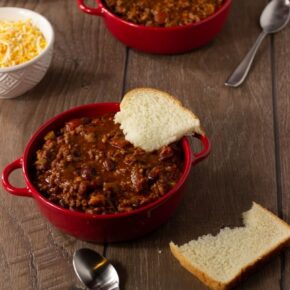 The BEST Bacon Beef and Beer Chili!!
Our Bacon Beef and Beer Chili has everything that a chili fan wants in a bowl of chili. It's thick, savory, hearty, and full of goodness!
Ingredients
2

lbs

ground beef

browned and drained.

2 15.5

oz

cans of Brooks Chili Beans

I used one mild and one hot

1 14.5

oz

Diced tomatoes

1 8

oz

Tomato sauce

One cup of water

1

teaspoon

Worcestershire sauce

3

tablespoon

Chili powder

¼

cup

flour

2

tsp.

Paprika

2

teaspoon

Cumin

½

cup

celery

diced (2 stalks)

1

small yellow onion

chopped.

12

oz

stout beer

4

slices

bacon

cooked and diced or raw
Instructions
Wash the celery and let it dry.

In a large cast iron skillet, heat the pan and then add in the hamburger and add salt (to your preference).

While the ground beef is cooking, chop up the celery and the onion. Once the hamburger is almost thoroughly cooked, add in the celery and onion and finish cooking. You can also add in chopped up bacon at this time if you want to cook the bacon in with the hamburger. Or you can fry it separately and add it on as a topping.

In a large Dutch oven, add in the rest of the ingredients and also the beef mixture when it's ready.

Simmer on low for approximately 30 minutes to an hour. That is if you can wait that long!
Notes
This will be a darker and thicker chili than you are used to.
Nutrition
Serving:
1
g
Calories:
274
kcal
Carbohydrates:
7
g
Protein:
23
g
Fat:
15
g
Saturated Fat:
6
g
Polyunsaturated Fat:
7
g
Trans Fat:
1
g
Cholesterol:
71
mg
Sodium:
356
mg
Fiber:
2
g
Sugar:
2
g