Post contains Amazon Affiliate links. As an Amazon Associate I earn from qualifying purchases. Please refer to our disclosure policy for more information.
Say goodbye to needles and salon appointments. Now a Non-Surgical Eye Lift can be yours in minutes, right from the comfort of home. If you've been tracking your fine lines and wrinkles in the mirror lately, you may think returning to a youthful smooth appearance requires hours of work or Botox appointments.
Not so. Thanks to the Instant 60 Sec. Non-Surgical Eye Lift from D'OR24K.
Smooth, wrinkle-free skin is literally 60 seconds away.  Unfortunately, the price tag may be a bit of a shocker.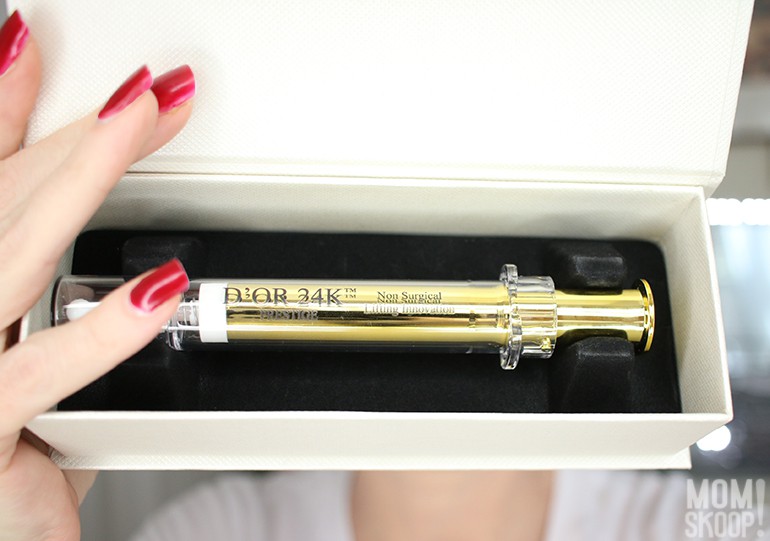 Instant 60 Sec. Non-Surgical Eye Lift - From D'OR24K
Using ingredients such as sodium silicate and magnesium aluminum silicate, the Non-Surgical Lifting Syringe from D'OR 24K tightens the skin and lifts wrinkles while absorbing excess facial oil. After applying the Non-Surgical Lifting Syringe, the appearance of wrinkles and fine lines disappear, making your skin look and feel softer, smoother, younger, and tighter. The results, which are instant, typically last six to eight hours, depending on your skin type.
Watch our VIDEO REVIEW below!
Whether you want to use this product every day or just for special occasions, the results can be dramatic. As you feel the product begin to work, you will see sagging tissues and puffiness disappear. You'll be amazed at how much just one drop can do.
• Tightens pores within 60 seconds of application
• Visibly reduces bags and fine lines
• Instant, on the go lifting and plumping
• Effects last several hours
Make Sure to Check Out Our Video Review Below!
MomSkoop took this innovative skin treatment for a test drive.
Here is the Before & After:
Application Notes:
Apply to a clean, dry face
Smooth on (do not rub) a very thin layer.
Use below eyes, on eyelids, between eyebrows, and any other area you experience fine lines and wrinkles.
Keep your face as expressionless as possible until the product has dried.
Do not use lotion or a liquid makeup product. You may apply powder makeup.
A white layer on the face means you have applied too much. Smooth over any white areas with a damp finger.
Note: in the rare instances you may experience an allergic reaction. If this occurs, wash the product from your face.

amzn_assoc_tracking_id = "momskoop20e-20";
amzn_assoc_ad_mode = "manual";
amzn_assoc_ad_type = "smart";
amzn_assoc_marketplace = "amazon";
amzn_assoc_region = "US";
amzn_assoc_design = "enhanced_links";
amzn_assoc_asins = "B081299HPL";
amzn_assoc_placement = "adunit";
amzn_assoc_linkid = "767eea6f9c2c263a32421ef20ac6d269";


More Products to Check Out