Post contains Amazon Affiliate links. As an Amazon Associate I earn from qualifying purchases. Please refer to our disclosure policy for more information.
A Winter Emergency Car Kit should be one of the first things on your to-do list once the weather starts to cool down. It's always better to be prepared than not.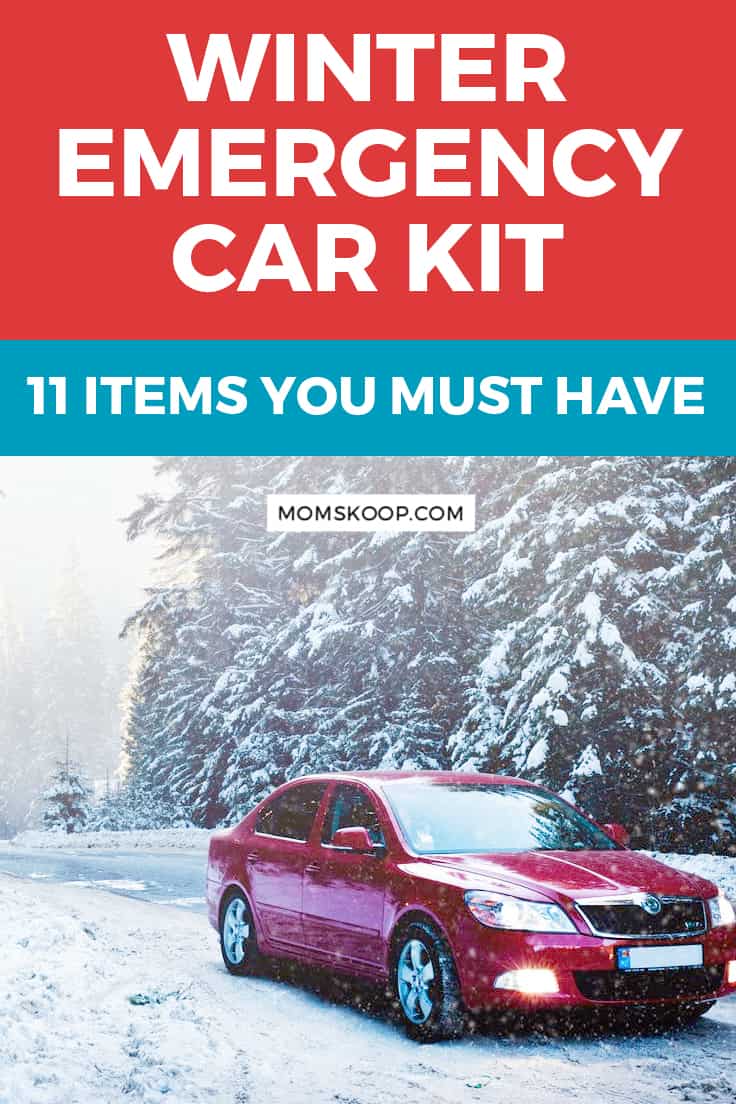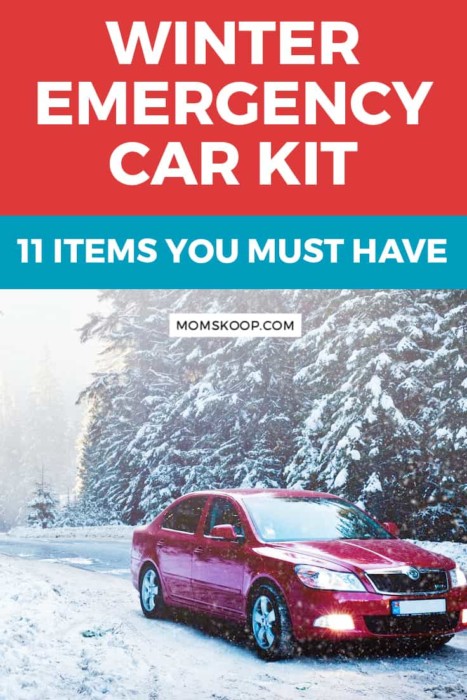 Winter Emergency Car Kit
Once the snow and ice start to form in the winter, it's easy to forget how such a pretty scene can be deadly.
Everyone traveling in snowy states should be prepared in case they break down, become stuck, or any other reason they might be stranded on the road.
Anyone driving in areas where cold weather is common should carry a Winter Emergency Car Kit.
Driving can be hazardous at any time of the year, however, winter driving is a totally different type of situation.
In the case of an accident or being stranded for any other reason, it could save both you and your passengers.
What Should Be in My Winter Car Survival Kit?
The following list is in addition to the more common items carried on the road in the winter:
Extra dry clothing
Bottled water and dry foods
Booster cables
Kit and Roadside Emergency Tips
It's a good idea to store your car emergency kit items in the back seat or another area you can access from inside the passenger areas of the car.
Severe cold or snow coverage can often make opening your truck difficult if not impossible.
Make sure your kit includes everything you may need (and in sufficient quantity to last overnight or longer) so that you can stay with your vehicle.
Leaving the scene and attempting to walk in bad winter weather is more dangerous than waiting until morning.
When selecting items for your kit: choose function over comfort. You may have a soft blanket, but it won't block out cold as well as a thermal sheet.
You may not like the taste of protein bars, but they'll provide more energy than something like chips or candy.
If you have something brightly colored, try to tie to it your antenna so that it can be seen over snow piles and alert anyone passing by.
Two items that should always be in your car, regardless of the time of year are a pair of jumper cables and duct tape. Those will come in handy more than you can imagine.
The following are items that should be in every snowy climate emergency car kit.
1. Compact Snow Shovel
Often you can avoid being stranded simply by having a shovel to dig out a tire stuck in the snow. It can also come in handy to lend assistance to others you find in need of help.
Have you seen the selection that Amazon has of compact snow shovels?
2. Windshield Scraper
If you live in the North or Midwest, you should already have one of these....or three. It's best to get a model that offers both an ice scraper and a brush. Some are attached to a mitt so your hand stays warm and dry.
3. Weatherproof Flashlight or Lantern
The only thing worse than being stranded on the side of the road in winter - is being stranded in the dark.
Make sure your light sources have fresh batteries and always carry extra. Avoid rechargeable or solar lights unless they have a battery backup.
4. Crank Powered Emergency Radio
With emergency radios, you can avoid batteries completely. Some may also offer solar power, but crank power will be the most reliable for roadside strandings.
5. First Aid Kit with Utility Knife
Everyone knows how valuable a first aid kit is and most of us to have one at home. But, not everyone remembers to put one in their car.
Look for a kit that offers tools for more serious injury (sprains, open wounds) and also includes a utility knife.
6. Emergency Blankets and/or Sleeping Bags
Whether you're just waiting 2 hours for a tow or you're forced to stay in your vehicle overnight - these thermal blankets will help keep you warm and your body temperature at a safe level.
Also, make sure to keep an extra pair of gloves and a hat for all of your family members in your vehicle too.
7. Ice Melt
A good compliment to the snow shovel, ice melt can help you get up inclines that may otherwise have you stranded. It can also serve to enhance the shoveling of snow when you're stuck.
If you can not find any ice melt, kitty litter will work great as well.
8. Emergency Flares
Luckily, road flares are no longer only fire and sparks. Now you can easily find electronic lights that flash to attract anyone nearby, signal rescue workers, and also warn oncoming traffic of your location.
9. USB Car Charger
Along with your regular adapter, consider also storing a car phone charger in your Winter Emergency Car Kit that comes with a cord attached just in case you left yours at home.
A USB charger is no good if you can't connect it to your phone.
10. Emergency Food & Water For Pets
Don't forget your furry passengers. Cats are more versatile with food so having an extra bag of dry kibble should suffice.
For our puppy pals (especially the larger breeds) there are dog meal bars that are perfect for emergency situations. Place a few in your glove compartment along with a water bottle that serves as a drinking bowl.
11. Hand Warmers
Still, a favorite in all cold climates and great for a Winter Emergency Car Kit, hand warmers can be invaluable when stuck in the cold.
Use them for your hands and feet as needed by simply shaking them to activate the heat for several hours.
12. Tire Accessories
In the event of a flat tire, make sure you have the following items ready to go. One key thing to make sure you have is a spare tire. Many people don't realize they don't have one until they actually NEED it.
Another must-buy for your roadside emergency kit is a tire pressure gauge. This will be invaluable and something you won't realize you need until you need it.
If you are in certain weather conditions, then you may want to invest in tire chains.
More Tips for Winter Roadside Emergencies
Be prepared: Make sure you keep your gas tank at least half full during cold months. During harsh weather or when a storm is expected, stay home if possible. But if you must go out......be easy to find.
Always let someone where you are going and the route you will take. Check-in with a friend or family member when you are departing on your trip and then arriving at your destination.
Call 911 as soon as you believe you are unable to continue to your home or other safe destination.
Don't try to walk and stay to the side of the road with your vehicle. Do not try to signal traffic while standing in the road.
Don't run your vehicle unless you've checked your exhaust pipe. Snow and ice can clog the exhaust and create dangerous fumes inside the car or truck. If you do run the engine for warmth, make sure to crack at least one window. This provides safe ventilation and also allows you to hear if rescue vehicles, plows, etc are in the area.
If you are planning on using your GPS or Navigation system in your vehicle, make sure to also print off your directions. These paper directions will come in handy in the event that you can not get any cell service due to weather or your location.
Lastly, try to stay calm. If your children are with you, they will be looking at you and your reaction. If you stay calm, they will as well.
Also, make sure to have everyone's Winter coats within arms reach too. We all normally take our coats off on a long road trip, however, keep them close by in the event you have a roadside emergency.
Planning a winter road trip? Check out 10 Family Friendly Podcasts for Your Next Road Trip and 52 Family Road Trip Resources.