Post contains affiliate links. Purchases made through links provide us with a small commission. As an Amazon Associate I earn from qualifying purchases. Please refer to our disclosure policy for more information.
Copycat Cosmic Brownies are not only a classic sweet treat, they are full of chocolate goodness and can be customized for a special day or just for a snack.
Do you remember the first time you ever tried cosmic brownies?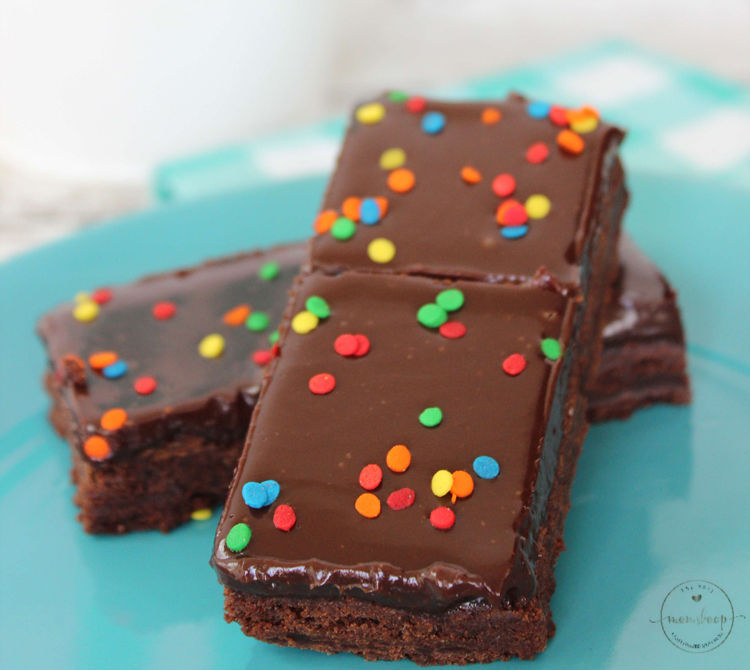 Most of us could probably share a story or two involving lunch box snack cakes. Some of my favorites were oatmeal pies and crunches. My oldest always loved the brownies. That ooey-gooey chew. The crunchy sprinkles. It would make his mouth water thinking about it until lunch time.
Now you can make your own Copycat Cosmic Brownies right at home. Who says you need a bag lunch to enjoy them? They're just as perfect for summer play days by the pool or sprinkler.
Don't get me wrong, there is nothing wrong with the pre-packaged snack cakes. They are just as delicious! However, for those who are dealing with food allergies/sensitives, this homemade recipe makes it's easy to substitute so the whole family can enjoy them!
This recipe is also versatile as you can use whatever sprinkles you prefer! Customize them for a birthday party, special celebration, or just for the fact it's a Monday!
Before you get started making this recipe, here are a few helpful hints.
WHAT INGREDIENTS ARE NEEDED TO MAKE THESE COSMIC BROWNIES?
Light brown sugar, sugar, flour, unsweetened cocoa powder, chocolate chips, vanilla, eggs, heavy whipping cream, unsalted butter and candy sprinkles!
WHAT CAN I SUBSTIUTE FOR HEAVY CREAM?
You can use milk and butter to make your own heavy cream. There are several great recipes out there how to make your own.
I hope you enjoy making these with your family! I think they will become a family favorite!
Here are a few other scrumptious brownie recipes that I think you will enjoy too! These S'Mores Brownie Cupcakes are not only easy to make, with this recipe they can be made indoors when the weather isn't cooperating! Our Tiramisu Brownie Cupcakes are a decadent sweet treat.
Ready to make your own homemade Little Debbie's Copycat Cosmic Brownies?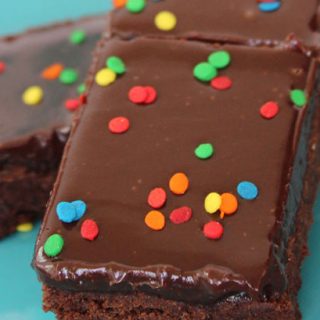 Homemade Little Debbie's Copycat Cosmic Brownies
Yield: 24

Prep Time: 5 minutes

Cook Time: 30 minutes

Additional Time: 20 minutes

Total Time: 55 minutes

Copycat Cosmic Brownies are not only a classic sweet treat, they are full of chocolate goodness and can be customized for a special day or just for a snack. 
Ingredients
3/4 cup melted Butter
2 Eggs
1 cup Sugar
2/3 cup Brown Sugar
2 tbsp Water
2 tsp Vanilla
3/4 cup Unsweetened Cocoa Powder
3/4 cup Flour
1 1/2 cup Semi-Sweet Chips
1/2 cup Heavy Cream
Confetti Sprinkles
Instructions
Preheat oven to 350.

Line a 9×13 pan with parchment paper or aluminum foil and spray with non stick spray.

Combine melted butter, eggs, sugar, brown sugar and vanilla in a large bowl and whisk to combine.

Whisk in the cocoa powder until incorporated.
Add the flour and stir until just incorporated.

Pour batter into prepared pan.

Lightly smooth and level the top.

Bake 25 30 minutes or until toothpick inserted in the center comes out clean.

Allow to cool in pan.

Microwave chocolate chips and cream in a medium bowl for 1 minute

Whisk until smooth.

Pour icing over cooled brownies and lightly smooth.

Refrigerate for 15-30 minutes to allow icing to slightly firm.

Add sprinkles to top and return to refrigerator to finish setting.

When icing is completely set, Slice and serve.
Nutrition Information:
Yield: 24 Serving Size: 1
Amount Per Serving: Calories: 170Total Fat: 9gSaturated Fat: 5gTrans Fat: 0gUnsaturated Fat: 3gCholesterol: 36mgSodium: 73mgCarbohydrates: 20gFiber: 1gSugar: 14gProtein: 2g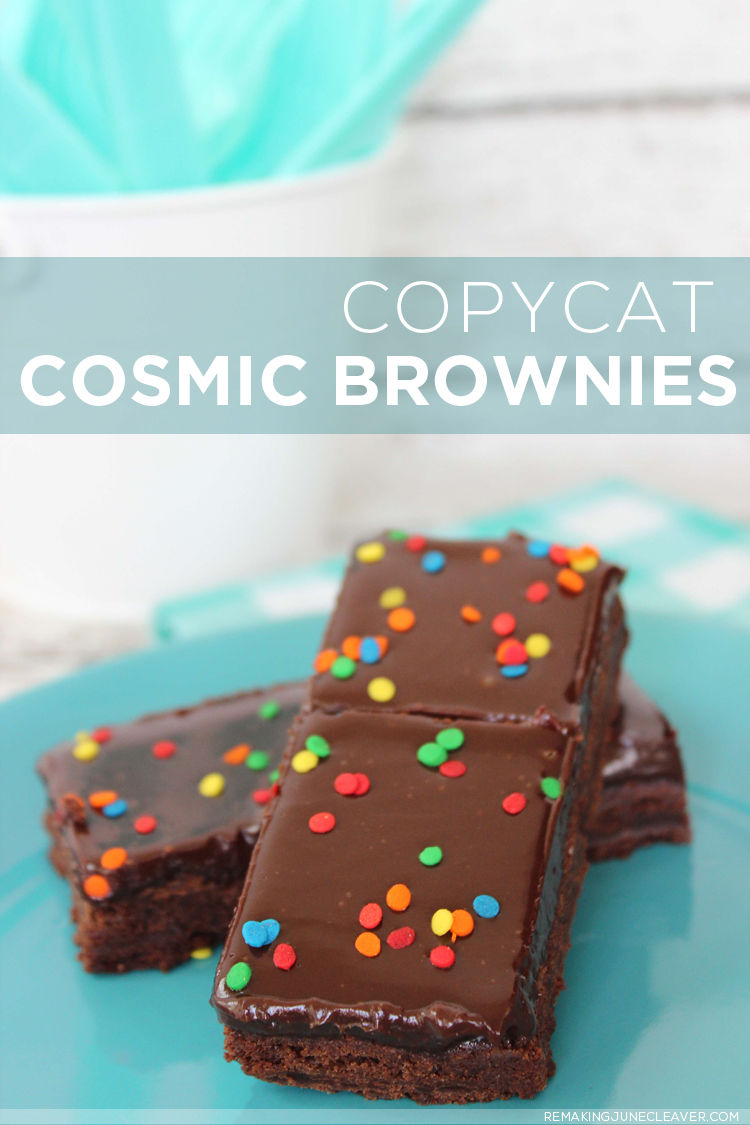 This post was originally posted in 2014 and was next updated on Apr 29, 2018