Post contains Amazon affiliate links.As an Amazon Associate I earn from qualifying purchases. Please refer to our disclosure policy for more information.
Dalgona Whipped Coffee is the newest trend for coffee flavored beverages! This butterscotch hued drink is taking the world by storm.
One of the great things about being a coffee drinker is that there is never a shortage of drinks you can try!
Whipped coffee seems to be the hottest new must do out there right now. I gotta say until I had my own, I wasn't quite sure what to expect. Now that I have, let's just say I am hooked! And I know you will be too!
Before you get started, here are a few answers to some questions you might have:
Is Dalgona coffee good?
Think of this coffee as coffee-flavored cream. There is a sweet aftertaste and of course it's a bit bitter, which you would expect since there is coffee in this drink.
Who started Dalgona coffee?
The Koren actor Jung II-woo showed how to make it in his home in January 2020.
Can you use regular coffee for whipped coffee?
No. To make whipped coffee, you need to use instant.
Dalgona is a Korean candy made with baking soda and melted sugar.
Is Dalgona coffee sweet?
Yes, it is definitely sweet and the texture is very soft and light.
WHAT INGREDIENTS ARE NEEDED TO MAKE DALONGA COFFEE?
To make this dreamy coffee, all you need is:
Boiling water
Instant coffee
White sugar
Cold milk
*If someone in your family has a dairy allergy, then a fantastic substitute is
vanilla Ripple plant milk
.
The full ingredient list is at the bottom of this post in the printable recipe card.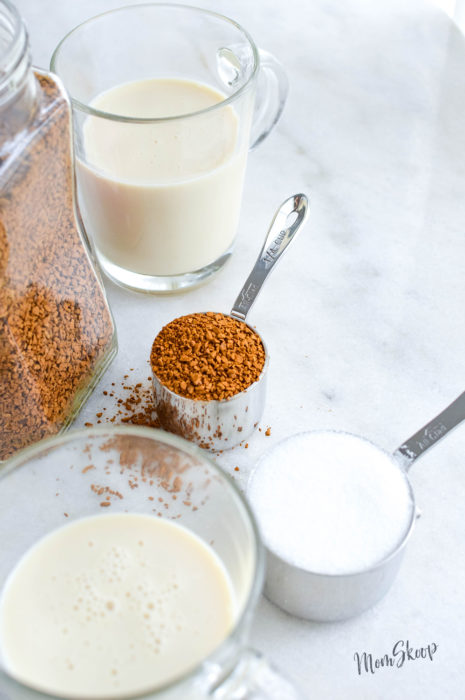 If you are looking for another
whipped drink recipe
, then make sure to check out our Whipped Peppermint Cream!
HERE ARE A FEW TIPS ABOUT MAKING WHIPPED COFFEE
This recipe can easily be cut in half, quarters or doubled to meet your needs.
This is a bit bitter on its own so adjust the sugar levels to your preference.
Try not to skip the sugar, you can try adding in less, but the sugar is the key ingredient that helps this become a light and fluffy whipped coffee.
Using hot water will help dissolve both the sugar and instant coffee really quickly speeding up the whipping process.
Any of the whipped coffee that isn't enjoyed right away can be stored in the fridge for up to 24 hours, you may want to whisk or whip it again to add a little more air back into it. Or you can store the freshly whipped coffee in the freezer. Because there is so much air in it, it does not freeze solid like ice or even ice cream, its closer to freezing a sticky foam that you will spoon out of the container to add to your milk or coffee, perfect for iced coffee.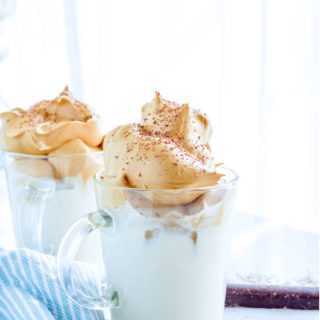 Dalgona Whipped Coffee Recipe
Dalgona Whipped Coffee is the newest trend for coffee flavored beverages! This butterscotch hued drink is taking the world by storm.
Ingredients
Whipped Coffee
½ very hot to boiling water
½ cup instant coffee
½ cup granulated white sugar
Drink
Instructions
To make the Whipped Coffee

Add the hot water, instant coffee and sugar to your stand mixer or you can use a hand mixer or
whisk.
We whip ours for about 10 minutes to achieve a thickness that will stand up on its own for hours at
room temperature.

To make the Whipped Coffee Drink

1 cup cold milk of your choice
We add a little bit of ice and shave some chocolate on top, cinnamon would also be a nice option.




Notes
The thicker and creamier the milk is the smoother the final drink will be
The coffee will lighten in color the longer you mix it for.
Nutrition Information:
Yield:

6
Serving Size:

1 cup
Amount Per Serving:
Calories:

86
Total Fat:

1g
Saturated Fat:

0g
Trans Fat:

0g
Unsaturated Fat:

0g
Cholesterol:

3mg
Sodium:

24mg
Carbohydrates:

19g
Fiber:

0g
Sugar:

17g
Protein:

1g