Post contains Amazon affiliate links.As an Amazon Associate I earn from qualifying purchases. Please refer to our disclosure policy for more information.
Amazon Fire TV is a great way to share your photos with your family! No more passing the phone around to show off your vacation photos!
Now you can see photos and play a slideshow of your albums on the Amazon Fire TV, just ask Alexa.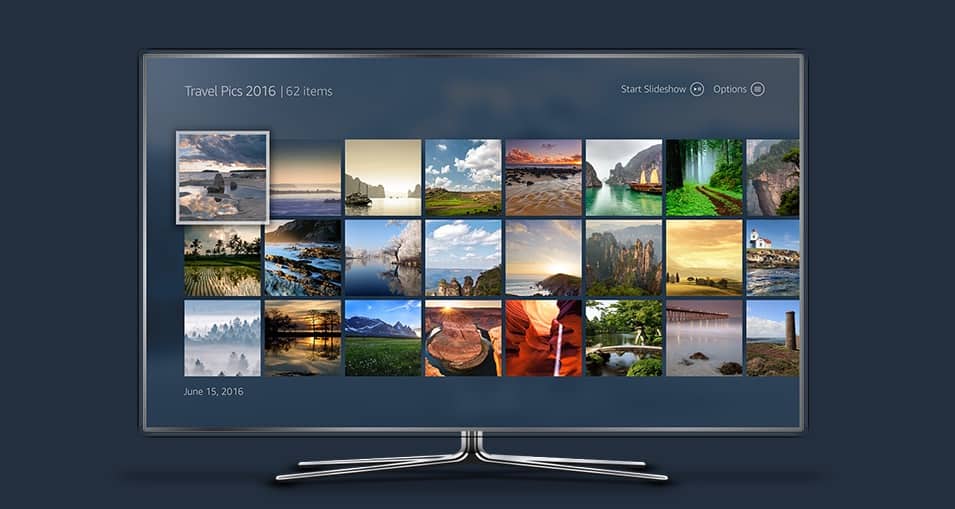 Amazon sent me a fire TV stick – now with Alexa Voice Remote (you can grab one on Amazon) to try out.
Our family is already a big fan of shows on demand and the Fire Stick makes watching even easier. You can enjoy Netflix, Hulu, HBO NOW, YouTube, Amazon Video, NBC, WatchESPN, Disney, and over 17,000 apps and games.
But it's not just about watching and playing. Now your tv becomes your family album!
View and Search Your Photos with Alexa Voice Remote & The Prime Photos App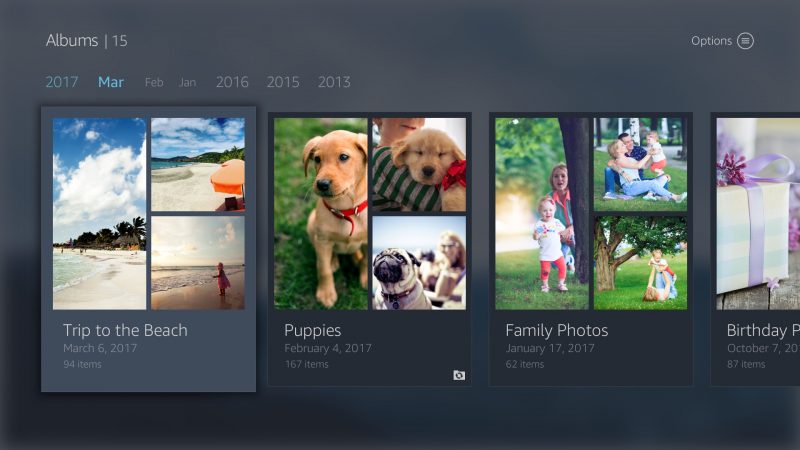 Amazon Prime Photo customers can view and search for their photos and photo albums with the Alexa Voice Remote and the Prime Photos app on their Fire TV. Prime members can also search for people, places, and things, with phrases like, "show photos of dogs," "Show my photos from December 2016", or "Show my photos from last summer… Play a slideshow." More Info
This is a great addition to what you can already do with your Fire TV. Check out more ways to use the Prime Photos Fire TV app here, hint: you can even change your screensaver. If that wasn't enough, all Prime members get unlimited photo storage, as well as 5 GB digital storage for other files and videos. Think of Prime Photos as your own personal family vault for your photos. You can even share photos with your extended family and friends!
The Prime Photos Fire TV App is works on both IOS and Android. You can also use this app as a desktop app.
Now, you can relax on your living room couch and flip through your uploaded photos and personal videos on the biggest screen in your home using your Alexa Voice Remote.
*Pro tip: You can also use Echo Show to showcase all the photos in your Photos account, with voice commands like, "Alexa, show my photos." In fact, all the same commands work with Echo Show – just add "Alexa" to the beginning of each one.
Are YOU Using Prime Photos Yet?
Prime's Photos helps keep your photos right at your fingertips, wherever you are. Keep your photos safe while you free up space on your devices when you store your photos online with the free Prime Photos apps. Prime membership includes unlimited photo storage and US members get 5 GB digital storage for videos and files.
Are YOU an Amazon Prime Member yet?
If not, you really must become one! There are so many great benefits to being one. The only problem I have with Amazon Prime is that I can ALWAYS find something I need! Did you know that you can get a month of Prime FREE? One of my favorite parts of Amazon Prime is the FREE two day shipping! It makes our chaotic lives a little less stressful.
Shop This Post
Amazon Fire TV Must Haves