Post contains Amazon Affiliate links. As an Amazon Associate I earn from qualifying purchases. Please refer to our disclosure policy for more information.
Our Free Halloween Scavenger Hunt Printable is perfect for either a classroom party, an at home party, or even a walk around the neighborhood. If you are looking for something unique to do with the kids while you are out trick or treating this year or even if you are staying at home, our fun and free printable will help keep the kids busy!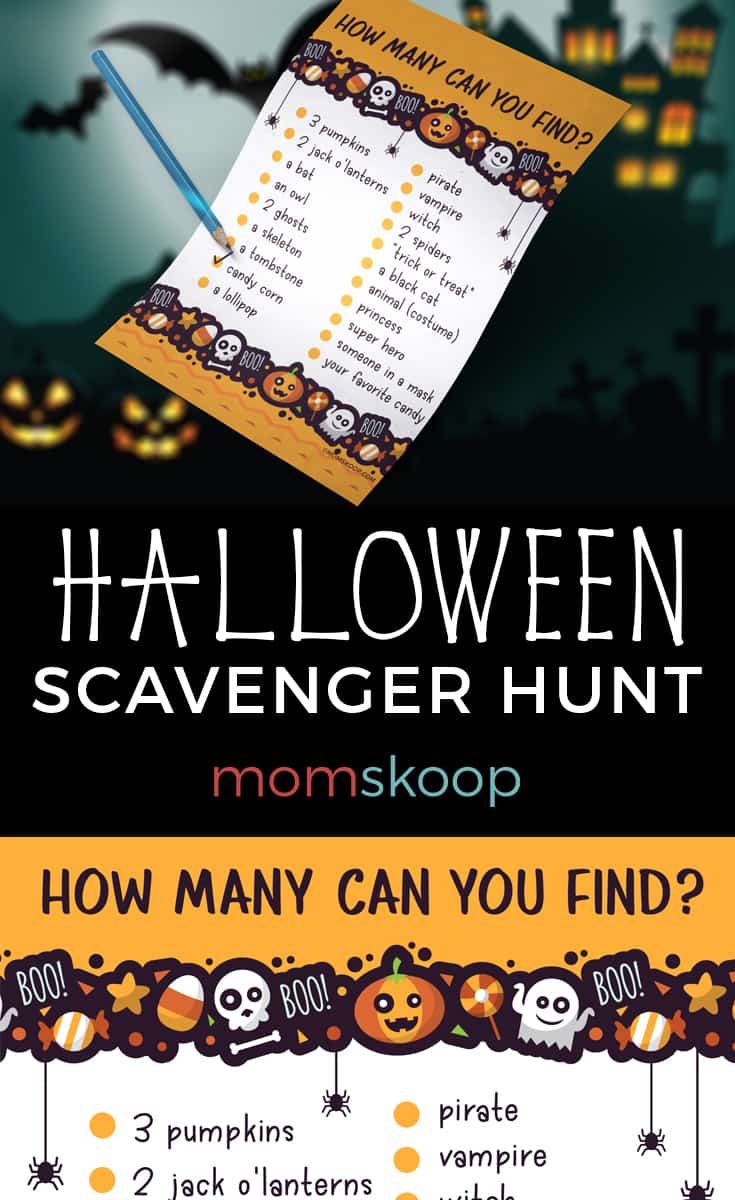 How To Plan A Halloween Scavenger Hunt
One of the great things about doing a Halloween themed scavenger hunt, is that the kids can keep their eyes open as they trick or treat - watching for all kinds of things related to the hunt!
Older kids will enjoy spotting specific costumes, while smaller candy hunters will have no problem finding classic Halloween items like pumpkins and skeletons.
Even adults can get involved in fun while they are walking the kids around.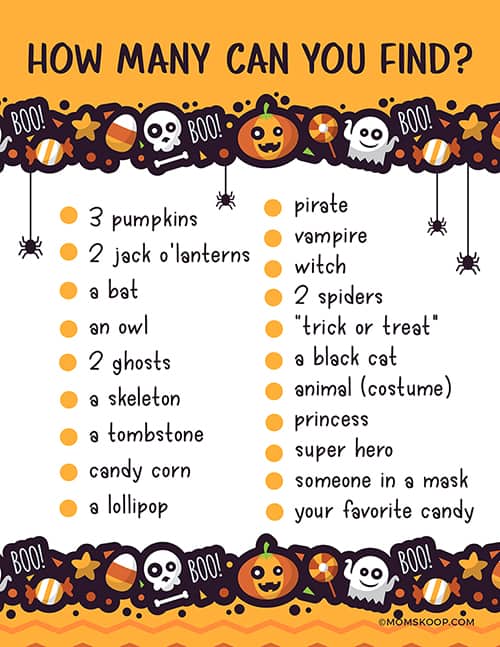 How To Do a Halloween Treasure Hunt
This is also a great "trick" for parents - keep it hidden away until you start to hear the usual complaints of "Are we done yet?" or "I just want to stop and go eat my candy!" while your family is out trick or treating.
Pull this Halloween Scavenger Hunt Printable out and turn the trip back home into a Halloween Treasure Hunt. Maybe make it a competition: "The first person to finish their list gets to have candy for breakfast!" Ok....maybe not that. ha! But there are plenty of ways to incorporate this into your night.
How To Do a Treasure Hunt for Adults  
This Halloween printable will definitely work if you are having an adult Halloween party!
For adults, you could set everything up outside and let them use flashlights to find everything when it's dark. You could add some extra Halloween fun to it by adding spooky music and noises.
You could also make your food and drink offerings more based on adult tastes such as a bourbon cocktail like our Witches Brew.
How to Create an Indoor Hunt for the Kids
If you are hosting an indoor treasure hunt for the kids this year, you can create quite a fun scavenger hunt inside! By using the our Halloween printable, you can hide things inside your home and let the kids find them.
All of the items on the hunt list are easily found at your local store or if you prefer ordering online, Oriental Trading is a great place to find a large selection of holiday items.
You could also create a game area where the kids can play indoor games that don't take up a lot of space.
What Are Good Prizes?
For the prizes you could put smaller amount gift cards to places such as Starbucks, Kohls, Amazon, Target, Macy's, Cabela's, or other restaurants in your area. These could be for around $5/$10 each for the adults.
For the kids, it could be a fun trinket, a large candy bar, or a bag of candy. You could also create fun gift bags that have a variety of a few smaller things for the winners. Of course gift cards for winners of the kids treasure hunt isn't a bad idea either.
If you are looking for prizes for a teen scavenger hunt, then you could have prizes such as an iTunes gift card, mini Bath and Body Works goodies, Nail polish, a gift card to Sephora, or a Steam gift card.
Food Ideas for a Kids Treasure Hunt
Food for a kids Halloween party shouldn't be scary at all! You can create Halloween themed cookies, cupcakes, and healthy snack ideas.
The main thing to keep in mind is that having fun is what creates the best memories!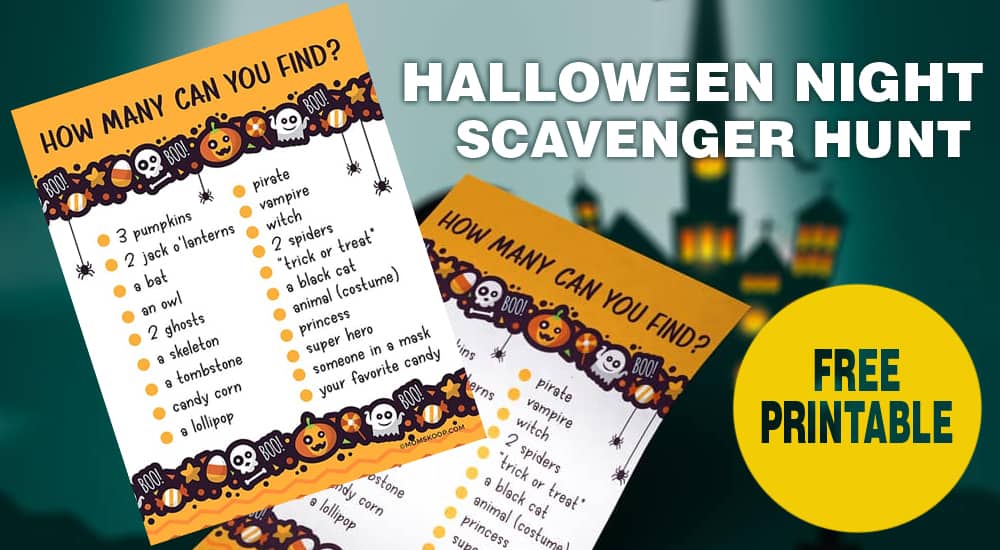 Related Posts
Disney Descendants Inspired Pumpkins