Post contains Amazon Affiliate links. As an Amazon Associate I earn from qualifying purchases. Please refer to our disclosure policy for more information.
Nutter Butter Ghost cookies are really one of the easiest ever Halloween treats to make! They only take three ingredients PLUS the kids can help make them!

NUTTER BUTTER GHOST COOKIES
One of the great things that I love about these Ghost cookies is that you can use this recipe for any type of creations you and your kids want to create with store-bought Nutter Butter cookies! You can change up the candy coating and use a different color, different sprinkles, you can use edible food safe markers to make super cool designs!


WHAT INGREDIENTS ARE NEEDED TO MAKE THESE GHOST COOKIES?
To make these Ghost cookies, all you need is candy coating (white), Nutter Butter peanut butter cookies, and either miniature semisweet chocolate chips OR large black sprinkles for the eyes. For our cookies, I used the black sprinkles since we already had those in our Pantry.
CAN YOU USE CANDY BARK TO MAKE THE NUTTER BUTTER GHOSTS?
Yes, you can either use white candy bark or white candy melts. It doesn't matter. Both will work well.
HOW DO I MELT THE CANDY MELTS?
You can either melt them in the microwave following the directions on the back of the bag or you can use a double boiler to melt them. The more I use candy melts, I prefer to use a double boiler system.
HOW DO I KNOW I OVERHEATED THE CANDY COATING?
When it starts to clump up. You want the coating to be smooth and glossy.
If you are looking for additional Fall cookie recipes, make sure to check out our Acorn Cookies and our Banana Spice Cookies.
Here is our easy recipe for Nutter Butter Ghost Cookies!

To get the full printable recipe card as well as the full ingredient list, scroll down to the printable card at the bottom of the post. Here is a quick breakdown of the instructions.
Melt candy coating.
Dip cookies.
Add chocolate chips to make the eyes.
Dry
Enjoy!
amzn_assoc_placement = "adunit0";
amzn_assoc_search_bar = "true";
amzn_assoc_tracking_id = "momskoop20e-20";
amzn_assoc_ad_mode = "manual";
amzn_assoc_ad_type = "smart";
amzn_assoc_marketplace = "amazon";
amzn_assoc_region = "US";
amzn_assoc_title = "Shop This Post";
amzn_assoc_linkid = "b0ff06592a4eac88fcc572a4918822cd";
amzn_assoc_asins = "B000F9Z2C2,B07D9Z7W91,B00BNQFZCI,B00LGLHUA0";
📖 Recipe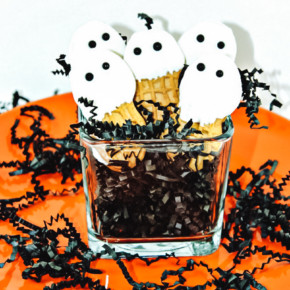 Ghost Cookies - Perfect for Halloween
These easy to make Nutter Butter Ghost Cookies are kid-friendly and a perfect Halloween treat!
Ingredients
* 1 pound white candy coating

coarsely chopped

* 1 package

1 pound Nutter Butter peanut butter cookies

* miniature semisweet chocolate chips
Instructions

In a microwave-safe bowl, melt candy coating according to directions and stirring occasionally.
Dip cookies into coating, covering the cookie either half way or completely.
Place on waxed paper or on silicone baking mats.
Place either the chocolate chips or the sprinkles on the cookies for the eyes.
Touch up the ends of the cookies where your fingers touched if needed.
Let the cookies set until the candy coating is hardened.
Place the cookies in an airtight container.
Yield: 3 dozen

Nutrition
Serving:
1
g
Calories:
80
kcal
Carbohydrates:
16
g
Fat:
2
g
Saturated Fat:
1
g
Polyunsaturated Fat:
1
g
Cholesterol:
1
mg
Sodium:
11
mg
Sugar:
11
g